If you would like to join this exclusive challenge in aid of Crohn's and Colitis UK please use the Dates and Availability Calendar ;opposite to select the above date and hit "Book Now". To participate in this challenge there is a non-refundable registration fee of £75 per person, payable to Adventurous Ewe at the time of booking.
Crohn's and Colitis UK is a national charity in the battle against Crohn's Disease and Ulcerative Colitis. We are fighting to achieve a better quality of life for the 300,000 people in the UK suffering physically and emotionally from these and other forms of Inflammatory Bowel Disease (IBD).
Ultimately, we want to find a cure. By registering for this challenge you understand it's purpose is to raise as much money as possible for Crohn's and Colitis UK. 80% of this is minimum fundraising is required to be sent to Crohn's and Colitis UK no later than four weeks prior to departure in order for your place to be secured. The remaining 20% is due to the charity no later than four weeks after the event.
Itinerary
We begin our 3 Peaks challenge in Glasgow on Saturday morning, with pick up points from Glasgow International Airport & Glasgow Central Train Station. Our transfer to Ben Nevis will take us along the shores of Loch Lomond and through Glen Coe before arriving in Fort William for lunch, where you will have time to buy any last minute supplies for your 3 Peaks Challenge.
On arrival in Glen Nevis you will be given a safety briefing and kit check by your leader before beginning your 3 Peaks challenge at approximately 3pm/4pm, starting late afternoon helps us to avoid traffic and walking in the dark on both Ben Nevis and Scafell Pike.
Itinerary suggestions
Please note timings are approximate and depend greatly on the group. All times are set trying avoid walking in dark as this will slow the group down, especially in poor weather, with large groups we find that the best option is start your 24hrs at the base of Ben Nevis and finish your 24hrs on the summit of Snowdon, this does not mean that fast groups cannot reach the base of Snowdon within the 24hr period.
Included
Organisation of event
Qualified UK Mountain Leaders
First aid trained Staff
Minibus & driver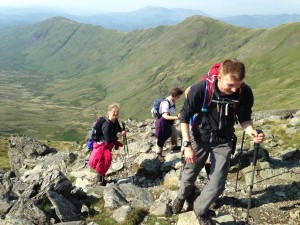 Support vehicle
VHF Radio Backup
1 night's accommodation including breakfast
Hot/cold drinks & snacks.
Light meal after completing Ben Nevis.
Light breakfast at Scafell.
9 Week Training Program
15% Discount Voucher for Cotswold Outdoor
3 Peaks Mug
Timetable
Meet group in Glasgow 11.00am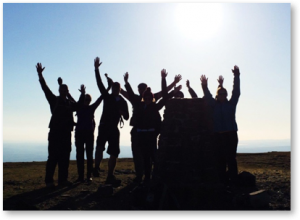 Arrive Fort William 2.00pm
Begin Ben Nevis 4-5pm
Average time to complete Ben Nevis 5hrs
Depart Fort William 9-10pm
Arrive Wasdale Head 3-4am
Average time to complete Scafell Pike 4hrs
Depart Wasdale Head 7.00-8.00am
Arrive Snowdon 12.00 -1.00pm
Summit Snowdon 2-3pm
Complete Snowdon 4-5pm
Difficulty Rating