White Water Rafting on the Tryweryn River in North Wales has to be one one best rivers to raft in the U.K. Situated in the Snowdonia National Park it makes for a stunning location and easy to access from all over the U.K.
We have number of rafting adventures to choose from, all make for a perfect team building event, Stag & Hen parties or a good old adrenaline packed day out.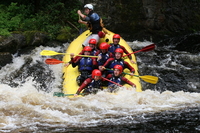 White Water Rafting Full Session: This is our most popular rafting session, with two hours of non-stop white water action, The Treweryn is a grade 3/4 river offering plenty of action while tackling this adrenaline pumping river. During your 2 hour session if time allows you will get 4 runs on the river each run taking around 20 minutes to complete, after each run you will be driven straight back to the top of the river for another run of 2kms of pure hydro therapy.
Midweek Full Rafting Session: £280.00 per raft (4-7 passengers)
Weekend Full Rafting Session: £350.00 per raft (4-7 passengers)
Individuals: Session times vary and cost: £66.00pp

White Water Rafting Taster Sessions: Our taster sessions our perfect for individuals or groups of 4 or less. Taster sessions offer two runs down the river surfing on the cafe wave or blasting down the grave yard, lasting just over one hour it will leaving wanting to come back for more !
Taster sessions run every hour and a half at weekends and midweek.
Cost: £32.00pp
For further information on our White Water Rafting please get in touch with us via the contacts page or send us an email at info@adventurousewe.co.uk.