Thank you so much for coming to find out more about our overseas trek to Morocco and trekking 100km  in the Sahara desert, one of  most remote deserts areas in Morocco.

Our trek allows a maximum of 16 trekkers to sign up for this unique, once- in-a-lifetime experience, trekking 1ookm through the Sahara Desert. The funds you raise will help us add to the much needed 100 schools and 180 wells we have already constructed.
This exciting Sahara trek takes us to one the most remote and southern areas of the Moroccan Sahara, bordering Algeria this is a true desert wilderness. Trekking an area in its natural state untouched by humans is a rare and humbling experience, Once you've tasted the exhilaration of trekking for days through the Sahara desert you'll never want to leave.
Our Route
Our route take us from the desert gate way of Ouarzazate to the most southern areas of Morocco, the main challenge lies in the remoteness and the heat of the desert, each day has been carefully designed by our local Berber guides to give you the most challenging and enjoyable trek possible in this spectacular desert. Each day the landscape changes from the Sahara stretching as far as the eye can see, huge rolling dunes to the multi colored rock of Jebel El Mrakib.
Day 1: U.K. to Ouarzazate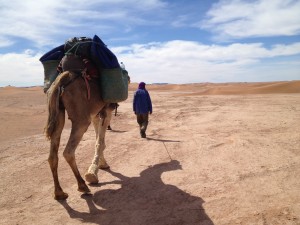 Day 2: Ouarzazate –   Ait Tamgharte
Day 3: Ait Tamgharte  –  Ighil n'tamlaline
Day 4: Ighil n'tamlaline – Ikhefnirir
Day 5: Ikhefnirir  – Jbel El Mrakib
Day 6: Jbel El Mrakib  – Boulaadam
Day 7: Boulaadam –  Ouarzazate 
Day 8: Ouarzazate – U.K
Date: 3rd October 2014
Please get in touch with us via the contacts page or send us an email at info@adventurousewe.co.uk if you would like information on the Sahara trek.