This exciting and rewarding challenge will have you trekking over the famous Yorkshire 3 Peaks within a period of just 12 hours. These peaks form part of the Pennine Range and encircle the head of the valley of the River Ribble in the Yorkshire Dales National Park. The route is extremely scenic and provides spectacular views over the stunning Yorkshire countryside. The total distance of 23.5 miles, should take approximately 11-13hrs for fit walkers.
Pen-y-Ghent 691m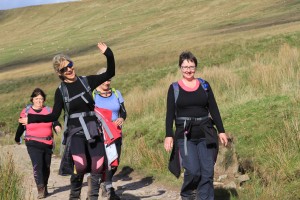 We begin our Yorkshire 3 Peaks challenge in Horton-in-Ribbleside early morning usually around 5am depending on the time of year.
The first peak, Pen-Y-Ghent, is the smallest peak of the challenge, standing at 691m, with spectacular views as you trek into the sunrise, it is a stunning way to start the challenge. The walk to the Pen Y Ghent takes approximately 2hrs. Once on the summit you will have the chance to enjoy the breath-taking views of the area.
As we near the famous Ribblehead Viaduct we reach our first check point of the challenge, where we have time for a short break and a warming cup of tea.
Whernside 728m
It's a long gradual climb to the summit of Whernside taking approximately 7.5hrs walking a total distance of 14.5 miles to this point. Once on the summit we will stop for a short break and a quick snack, before we begin the steep descent to Chapel-le-Dale, with 17miles now in the bag, we arrive our final check point of the challenge before our climbing our final peak Ingleborough.
Ingleborough 723m
At 19 miles and 10hrs walking, our final hurdle of the Yorkshire 3 Peaks is insight, slowly climbing the zigzag path to the summit you are rewarded with views across all 3 peaks. Our descent into Horton-in-Ribbleside should take us approximately 1.5hrs, arriving at our finish line for a celebration and a glass of bubbly.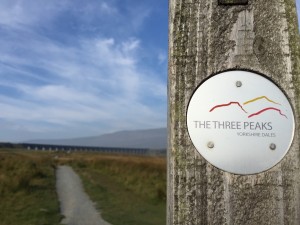 Timetable
Total Distance – 37km/23miles
Ascent: 1381m/4531ft
Target time: 12 hours
Meet in Horton-in-Ribbleside 07.00am
Begin Ben Pen Y Ghent 07.30am
Check point 1 Ribblehead 12.30am
Summit Whernside 15.00
Arrive check point 2: 16.15
Ingleborough Summit 17.20
Arrive Horton-in-Ribbleside 19.00
Included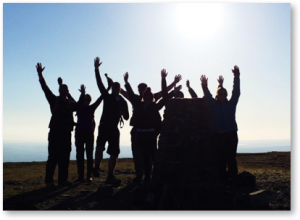 Organisation of event
Qualified UK Mountain Leaders
First aid trained Staff
Support vehicle & driver
VHF Radio Backup
Hot/cold drinks & snacks.
9 Week Training Program
15% Discount Voucher for Cotswold Outdoor
Not Included
Personal drinks and meals.
Travel to and from the Challenge.
Accommodation.
How to book your challenge
The easiest way to book your trip is online via the website, simply click Date and Availability, You will need to pay a non-refundable deposit of £35.00 at the time of booking.
It is possible to reserve a place on this challenge by email to info@adventurousewe.co.uk, however you will need to pay your deposit of £35.00 to confirm your place on this trek together with completing a booking form.
The full balance is required to be paid no less than 4 weeks prior to departure.
Difficulty Rating

Snowdonia is one of the most rugged and beautiful mountain areas in the UK. It's easy to see why. As well as being an area of outstanding natural beauty the area has an endless number of walks for beginners and experienced people alike.
Climb Snowdon with Adventurous Ewe. Our Trips are with experienced Mountain Leaders so while en route you can pick up a few new skills and find out more about the local history and flora and fauna while enjoying the best Snowdonia has to offer. There are endless different treks in Snowdonia. Below are just a few different routes that can either be combined or broken up into sections.
Snowdonia Horseshoe
This trip follows the Snowdonia Horseshoe and is a high level route for those with a head for heights. The route can be carried out in two ways, clockwise and anti-clockwise. The route takes us over Crib Coch 923m, over the summit of Snowdon 1085m and finally Lliwedd 898m
Max ratio 6 clients to 1 guide
Cost £40.00pp or £185.00 per Group
Tryfan Scramble
At just short of 1,000m high Tryfan, with its craggy peak, is one of the most recognisable peaks in Snowdonia. It's also quite a challenging climb as the mountain has a number of areas where scrambling is needed.
Ratio 6 clients to 1 guide
Cost £40.00pp 0r £185.00 per Group
Climb Snowdon
Known in welsh as Yr Wyddfa and at 1085m Snowdon is the highest mountain in England and Wales and reputedly the burial site of a mythical giant. We have a great choice of different routes, some relatively straight forward and some challenging. We will attempt the most suitable one for the group and weather conditions.
Ratio 6 clients to 1 guide
Cost £30.00pp or £150.00 per Group
Private Guided Days
Call or email to talk to us about what you would like to achieve. We can organise anything from 1/2 day to 3 day walks in Snowdonia.
Accommodation
There is a great choice of accommodation in Snowdonia, from luxury welsh cottages to bunkhouses. There is also a great range of campsites. Should you wish us to book your accommodation please contact us via email.
Further Information
For further information on any of the climb Snowdon trips please get in touch with us via the contacts page or send us an email at info@adventurousewe.co.uk.