St George Developments National 3 Peaks Challenge

Overview
This National 3 Peaks Challenge is for employees of St George Developments Limited only.
Climbing the 3 highest mountains in Scotland, England & Wales within 24 hours is certainly a memorable challenge. The National 3 Peaks Challenge is definitely not to be underestimated and is a real test of endurance and stamina. It is a unique and memorable challenge where you will have to dig deep and keep on going.
Make your own way to arrive in Glasgow on the evening of 9th August 2018 and check into your hotel. Please note, dinner in not included so you are welcome to make your own arrangements.
The following morning you will be transferred from Glasgow to Fort William to tackle the first of your three peaks, Ben Nevis, the highest mountain the the UK at 1,344m. Once on the summit you will be rewarded with breathtaking views of the Scottish Highlands before making your descent back to the minibus and starting the overnight journey to the Lake District.
Scafell Pike, the highest mountain in England at 978m, is next and head torches are needed here as the climb takes place during the night with the aim of reaching the summit for sunrise.
The final challenge takes on the highest mountain in Wales, Snowdon at 1085m. Once on the summit there will be time for a quick photo before making the descent down to Llanberis relishing in your 3 peaks achievement. Upon completion of your challenge you will be transferred to London via minibus.
Timetable
Thursday 9th August 2018
Arrive in Glasgow and overnight in hotel
Friday 10th August 2018
Depart Glasgow 9am
Arrive in Fort William 12.00pm
Event briefing
Begin Ben Nevis 1pm
Average time to complete Ben Nevis is 5hrs
Depart Ben Nevis 6pm-7pm
Saturday 11th August 2018
Arrive Wasdale Head Midnight-1am
Average time to complete Scafell Pike is 4hrs
Depart Wasdale head 4am-5am
Arrive Snowdon 10am-11am
Average time to complete Snowdon is 5hrs
Complete Snowdon 3pm-4pm
Transfer to London
Participants need to pay their own registration fee of £75 per person and then St George Developments will cover the remaining costs of your challenge. Your team will fundraise for the Honeypot Children's Charity.
Included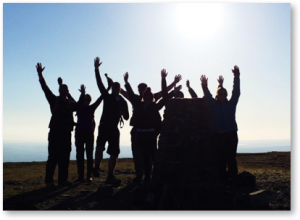 Planning and organisation of event
1 nights accommodation in Glasgow prior to the challenge (twin share basis)
Qualified UK Mountain Leaders with remote first aid
Professional group and safety management
First aid supplies and medical kit
Minibus and driver
VHF radio communications
Hot drinks and snacks
Light meal after Ben Nevis
Light breakfast before Scafell Pike
15% Discount code for Cotswold Outdoor and Snow & Rock Retail stores (both online and in store)
Training programme
Risk assessments and safety management
Public Liability Insurance
3 Peaks Mug
Transfer to London on completion of the challenge
Evening prior to challenge
Arrive at your hotel in Glasgow and check in. Rooms are on a twin share basis. Dinner is not included so you are free to make your own dinner arrangements and timings. Your Adventurous Ewe Team will meet you the following morning at 8.30am to start your challenge and provide a full event and safety briefing.
Day 1
You will meet your Adventurous Ewe Team at 8.30am before departing at 9am on your transfer from Glasgow to Fort William to tackle the first of your three peaks. Your team will consist of qualified UK Mountain Leaders and minibus driver/s. You will be accompanied and guided by your Mountain Leader on each peak.
Scotland – Ben Nevis (1344m) – 15kms
The first peak, Ben Nevis, is the highest mountain in the UK, standing at an impressive 1,344m. You will experience spectacular views over the Grampian Mountains and feel in ore of the Scottish Highlands, a stunning way to start your challenge.
The trek begins on the main path from Glen Nevis. The path was originally built to service a meteorological observatory of which the remains still stand at the summit. The walk to the summit takes approximately 2.5hrs and involves 1,370m of ascent. On summiting you will have the chance to enjoy the breathtaking views and grab a team photo of your first peak in the bag.
Your descent should take approximately 2.5hrs. Once back in Glen Nevis you'll have time for a short break and light meal, before jumping on the minibus for some rest as you will drive through the night towards the Lake District. There will be a chance for a short break on route to pick up some snacks and re-fuel.
The transfer time from Fort William to Scafell Pike takes approximately 6hrs, arriving at Wasdale Head in the early hours, there will time for a hot drink and a light breakfast before starting ascent of England's highest mountain.
Day 2
England – Scafell Pike (978m) – 11kms
Your second summit of the 3 peaks challenge, Scafell Pike, is the highest mountain in England standing at 978m.
The ascent begins from Wasdale Head, a tranquil part of the Lake District, also known as the birth place of British climbing. The challenge here is trekking by the light of head touches and under a starry sky.
Once on the summit of England's highest mountain and with the sky becoming lighter, you will be rewarded with views stretching as far as Scotland and the Isle of Man. Following another group photo of your second peak in the bag, you will begin your descent with your sights firmly fixed on your final summit. The ascent and descent should take approximately 4hrs. Once back at the minibus it is time to relax as your driver transfers you to Snowdonia passing through some of the most stunning scenery in the UK. There will be time to stop en-route for a short re-fuel break. The transfer time from Wasdale Head to Snowdonia is approximately 5hrs.
Wales – Snowdon (1,085m) – 14km
Arriving at Snowdon mid morning, your final challenge takes on the highest mountain in Wales, Snowdon or Yr Wyddfa in Welsh, standing at 1085m. Snowdonia is unique for its bio-diversity of plants and wildlife and with breath taking views from the summit is a great end to the last of your 3 peaks.
Your ascent route will be on the Pyg track which rewards us with those classic Snowdon views. The ascent should take approximately 2hrs.
Once on the summit you will have time for your another team photo with your final peak in the bag and enjoy the views before starting your decent down either the Llanberis path or the Pyg Track. The descent should take approximately 2hrs and finish with a massive cheer of accomplishment having completed the National 3 Peaks Challenge!
Upon completion of your challenge you will be transferred back to London.
Please note timings are approximate and depend greatly on the group. All times are set trying avoid walking in dark as this will slow the group down, especially in poor weather, with large groups we find that the best option is start your 24hrs at the base of Ben Nevis and finish your 24hrs on the summit of Snowdon, this does not mean that fast groups cannot reach the base of Snowdon within the 24hr period.
Essential Information
Weather & Safety
The weather in the mountains can change very quickly, what can start out as a good day can soon become very poor. It is very important to be well equipped and prepared for all conditions. We will be crossing terrain varying from moorland to lose rocky ground. Our route will be ascending and descending a great deal and therefore a good level of fitness is required.
The Leader reserves the right to change the itinerary at any time should the conditions require it.In these circumstances we will make the best alternative arrangements possible that maintain the integrity of the original itinerary. All our guides are first aid trained and carry fully equipped medical kits for serious medical emergencies.
Accommodation
Your accommodation will be in Glasgow in a Travelodge hotel or similar. Hotel details will be provided closer to the event date. The rooms are on a twin share basis.
Trekking Experience
To complete the 3 Peaks Challenge, it is preferable that you have completed some training walks.
The walking is not technically difficult, but you must be a confident walker with a good level of fitness.This is the perfect challenge if you have an adventurous spirit and an open mind. The more prepared you are, the more you will enjoy the challenge.
What are the group sizes?
Our maximum size group is 11 per Mountain Leader and minimum we run with is a group of 9 participants.
Who will be leading the group?
We employ experienced and fully qualified Mountain Leaders to accompany and lead you. They are Mountain First Aid trained and have extensive experience in leading in the mountains and the 3 Peaks Challenge. They will be ultimately responsible for your safety on the mountain and the rest of the group. They will be carrying full safety equipment and mountain first aid kits with them.
How fit do I need to be?
Training and a good level of mountain walking fitness is definitely required, this is not for the faint-hearted.This is a tough challenge and physically and mentally draining, sleep deprivation plays a part here, affecting some people more than others, particularly with awkward sleeping conditions. As much preparation and training you put in beforehand the better chance of success you have.
What do you do to protect the environment?
We limit the impact we have on the surrounding environment by remaining on the paths at all times so as not to cause further erosion on the mountain. We will ensure that all rubbish is disposed of responsibly and take all rubbish away with us.
How to book your challenge
Please book on this challenge via the website. You will need to pay a non-refundable registration fee of £75.00 at the time of booking. St George Developments Limited will then pay your remaining balance. The team will be fundraising for the Honeypot Children's Charity.