Team McKeown Kilimanjaro Trek
Highlights
Team McKeown members exclusive climb of the world's highest freestanding mountain, Kilimanjaro
Follow the bootprints of famed explorers and mountaineers and climb to the Roof of Africa at 5895m
A bespoke 8-day route, carefully designed to maximise time for acclimatisation
Camping under a mesmerising blanket of stars from the famed African skies
Supported by the unwavered energy of your experienced local crew
Be part of Macmillan's Worlds Highest Coffee Morning enroute
At the heart of the Mt Kilimanjaro National Park is the 5895m Mt Kilimanjaro, Africa's highest mountain and one of the continent's most magnificent sights. It's also one of the world's highest volcanoes, and the highest free-standing mountain on earth, which rises from cultivated farmlands on the lower slopes, through lush rainforest to alpine meadows, and finally across a lunar landscape to the twin summits of Kibo and Mawenzi. Trekking Kilimanjaro is one of the greatest experiences that you will undertake. It will fill you with incredible memories and a huge sense of achievement for years to come and all in support of people living with cancer.
Lemosho Route
Team McKeown will take the challenging and less-travelled Lemosho route, considered by many to be the most beautiful path up the western breach of the mountain to the impressive Shira Plateau. This route allows eight days on Africa's highest mountain, which means plenty of time for acclimatisation and soaking up the ever changing scenery. Passing the spectacular formation of the lava tower and onto the exciting climb of the Barranco Wall with the support of your expert Mountain Guides and Assistant Guides. From here your trail passes below the Heim Glacier and through the alpine desert of the Karanga Valley with a fantastic view of Mt. Kilimanjaro. You will make your final ascent to the summit by the stunning Barafu route. Conquering the rim of the main crater under the glow of the early morning sky, then cross the scree to Stella Point for a quick cuppa and toast to Macmillan's Highest Coffee Morning before continuing around the crater ridge to reach the summit at Uhuru Peak and that famous summit sign. Your descent is via the Mweka route where there is a chance of seeing Colobus monkeys and plenty of bird wildlife. Lemosho is our preferred route due to its beauty, remoteness and high summit success rate.
PAYMENT
Please note, this mountain trek is for members of Team McKeown only and in support of Macmillan Cancer Support.
Registration fee: £495 per person. Payable on booking and is non-refundable.
Sponsorship: you must pledge to raise a minimum of £5,790 in sponsorship for Macmillan Cancer Support. 80% of your fundraising (£4,632) must be received by Macmillan no later than 8 weeks prior to the departure date (22nd July 2020). The remaining 20% of your fundraising (£1,158) is to be received by Macmillan no later than 4 weeks following the completion of your trek (16th October 2020).
All sponsorship money is to be sent directly to Macmillan Cancer Support.
How much will it cost Macmillan?
Your registration fee of £495 will go directly to Adventurous Ewe, plus the first £2,895 of sponsorship, which will be paid by Macmillan on your behalf to our tour operator as the cost of your participation.
At least 50% of the £5,790 minimum sponsorship will be treated as a donation to Macmillan. If you raise over £5,790 100% of any extra sponsorship will come straight to Macmillan.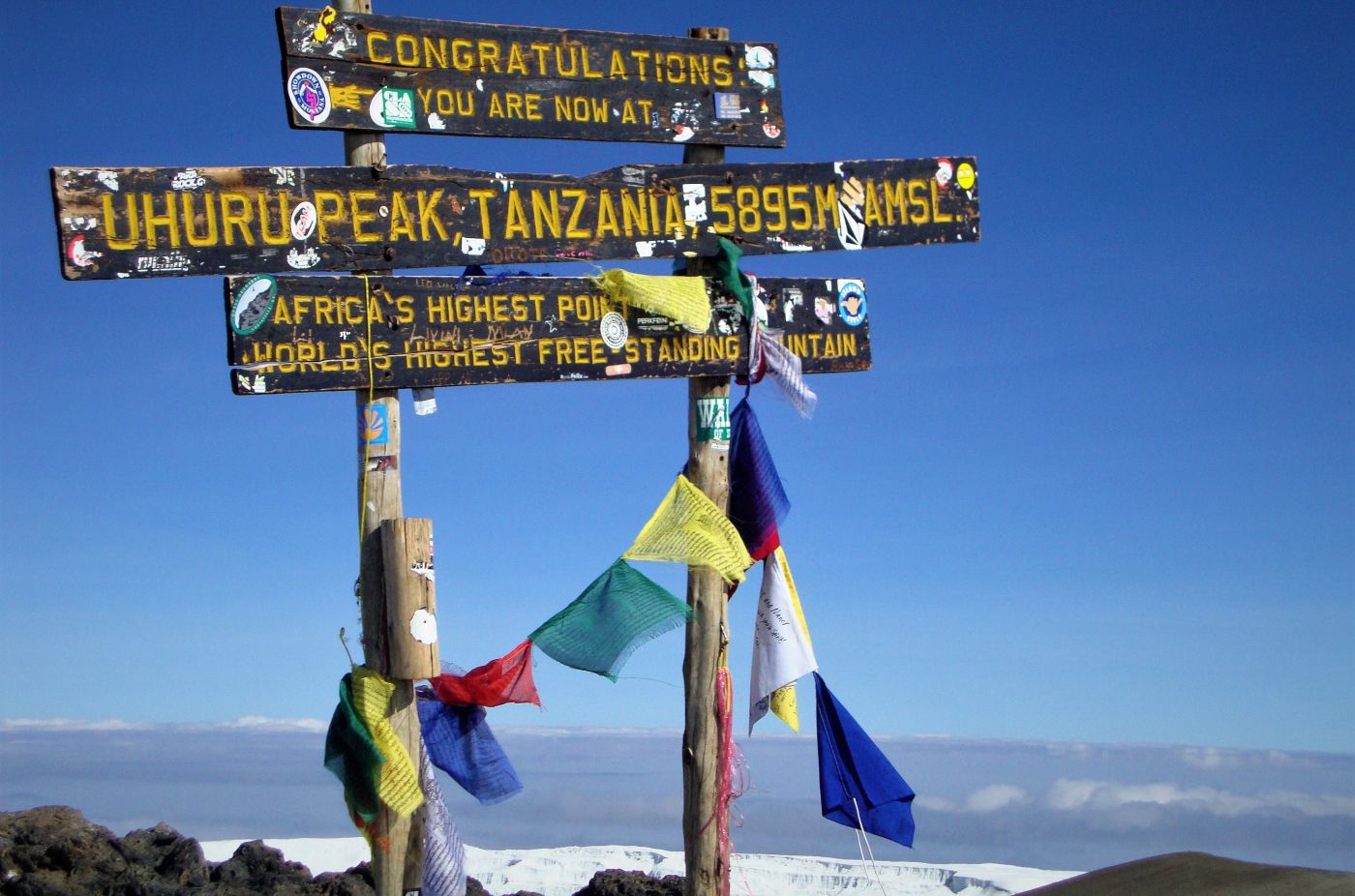 INCLUSIONS & EXCLUSIONS
Pre-trek inclusions:
– Kilimanjaro information document with everything you need to know in preparation for your trip
– Training guide
– Support from experienced Adventurous Ewe staff
– Exclusive discount on ashmei merino wool apparel, both online and in store
– 15% discount code for Cotswold Outdoor Clothing and Snow & Rock retail stores, both online and in store
– All risk assessments and safety management
– International Passenger Protection cover
– Tree donation in support of Tanzanian environmental conservation projects
– Adventurous Ewe will make a donation towards climate change charity, Cool Earth
Trek inclusions:
– International return flights from Glasgow economy class
– Qualified and experienced high altitude UK Mountain Leader
– UK doctor who is experienced with high altitude trekking
– Qualified Local Mountain Guides and Assistant Guides (ratio of 1 Guide per 2 trekkers on summit night/day)
– All other crew including porters and kitchen crew
– Satellite phone and radio communications between crew and the office base in Moshi town
– Pre & Post Trek accommodation in Moshi town (twin share basis)
– All campsites on the mountain with 3 Season mountain tents (2-person tents)
– Breakfast, lunch and dinner during your expedition
– Katadyn filtered water throughout the trek
– Transfers as required for the expedition
– All applicable local taxes
– Park fees, camping fees & rescue fees
– Luggage transfers each day of the trek via porters
– Portable flush toilets with a toilet tents
– Supplemental Oxygen & Pulse Oximeter
– Full back-up support including first-aid qualified staff and first-aid supplies
– Fair wages for the mountain crew as approved by the Kilimanjaro National Park Authority (KINAPA), Kilimanjaro Association of Tour Operators (KIATO)
– All safety management, risk management and emergency evacuation
– Complimentary transfer to Moshi town on your free day
Exclusions:
– Travel to and from Glasgow airport
– Travel insurance – mandatory
– Visa – Tanzanian single entry tourist visa currently $US50
– Upgrade to business class flights (available upon request)
– Vaccinations
– Kit and equipment as listed on your kit list (kit hire available)
– Tips for local crew – recommended minimum of $US150.00
– Single room supplement
– All meals are provided other than one lunch and one evening meal in Moshi – please allow about £20.00
– Personal drinks and expenses
– Any associated costs with leaving the expedition early including any airline surcharges if you opt to change flights
– Any increases in government taxes, airport taxes or park fees. This will be at the participants expense
If anyone needs to leave the group at any point during the trip (for reasons such as an early descent from Kilimanjaro due to altitude sickness or other reasons), all expenses incurred until re-joining the group on the itinerary described in these Trip Notes are the responsibility of the individual(s) concerned and must be paid to our local operator before leaving Tanzania. Adventurous Ewe will provide as much assistance as possible for anyone needing to leave the group at any stage.

HOW TO BOOK
Please be aware that this Kilimanjaro Trek is for members of Team McKeown only and in support of Macmillan Cancer Support.
Registering
Please click on the date box found under 'Dates and Availability'. Then enter the 'number of guests' you wish to book for and click on the blue box in the calendar. Then complete your details and click 'next'. Check your details are correct and click on 'checkout'. Here you can enter your payment details for the registration fee of £495 per person and then click 'process payment'. On completion of your booking you will receive two automated emails, one from Adventurous Ewe with your account login details and one from World Pay for your payment. If you have any issues with your booking, please contact Sue at susan@adventurousewe.co.uk or call 01492 588 069.
Payment Information
Registration fee: £495 per person. Payable on booking and is non-refundable.
Sponsorship: you must pledge to raise a minimum of £5,790 in sponsorship for Macmillan Cancer Support. 80% of your fundraising (£4,632) must be received by Macmillan no later than 8 weeks prior to the departure date (22nd July 2020). The remaining 20% of your fundraising (£1,158) is to be received by Macmillan no later than 4 weeks following the completion of your trek (16th October 2020).
All sponsorship money is to be sent directly to Macmillan Cancer Support. Thank you.
Day 1 - Wednesday 16 September 2020
Depart Glasgow Airport for flight to Kilimanjaro International Airport with one stop enroute.
Day 2 - Thursday 17 September 2020
Arrive Kilimanjaro
A warm African greeting is awaiting you on your arrival at Kilimanjaro International Airport where you will be transferred to your hotel in Moshi. Both your UK Leader and Local Guide will brief you on your upcoming trek and do an equipment check to make sure you have all the necessary clothing and equipment. Gear which is missing can be rented.
Time to enjoy dinner and get a good night's rest before leaving for the mountain the following day.
Meals included: Dinner
Accommodation: Weru Weru River Lodge (or similar alternative)
Day 3 - Friday 18 September 2020
Lemosho Glades (2385m) to Big Tree Camp (2780m)
After breakfast at your hotel, you will be transferred to the Lemosho Gate on the west side of Kilimanjaro, firstly on the main road and then through a mix of small farms and larger coffee estates that thrive at this altitude on the fertile soil of the mountain's lower slopes.
After meeting your local support crew, you will start trekking in the late morning through plantation pine forest and remnant rainforest, arriving at camp mid to late afternoon. Your first camp on Africa's greatest peak is at Miti Kubwa (Big Tree) camp at 2780 metres.
Distance covered: 7kms / 4.3miles
Approx. trekking time: 4 hours
Meals included: Breakfast, lunch & dinner
Accommodation: twin share tents

Day 4 - Saturday 19 September 2020
Big Tree Camp (2780m) to Shira 1 Camp (3500m)
Today the team will trek across a plateau of grassy moorland and heather scattered with volcanic rock formations. Your destination for the day is Shira 1 Camp from where there are often views of Kibo Peak floating above the clouds. There is the chance of seeing some wildlife here, especially birds of prey, including the Auger Buzzard. The team will gain a reasonable amount of altitude on this day and parts of the route are fairly steep.
Distance covered: 8.5kms / 5.3miles
Approx. trekking time: 7 hours
Meals included: Breakfast, lunch & dinner
Accommodation: twin share tents
Day 5 - Sunday 20 September 2020
Shira 1 Camp (3500m) to Shira 2 Camp (3900m)
Today you will get the chance to view the Northern Ice fields from the western side of the mountain with some impressive views of Kibo. Your steady climb across the moorland of the Shira Plateau will help with acclimatisation and you will enjoy great panoramic views. The team's destination for the day is the Shira 2 Camp. During the afternoon you will have an acclimatisation walk before heading back to camp for dinner.
Distance covered: 8kms / 5miles
Approx. trekking time: 5 hours
Meals included: Breakfast, lunch & dinner
Accommodation: twin share tents
Day 6 - Monday 21 September 2020
Shira 2 Camp (3900m) to Barranco Camp (3960m)
Your trek starts with an ascent resulting in far-reaching panoramic views. The team will be trekking in to the climatic zone of the upland desert and on the lava ridges beneath the glaciers of the Western Breach. You will reach the distinct pinnacle of the Lava Tower (4640m), the highest point of the day. In the afternoon you will make a steep descent to your camp for the night. Camp is located at the base of the Great Barranco Valley (3960m) and is sheltered by towering cliffs but with extensive views of the plains below.
Distance covered: 10kms / 6.2miles
Approx. trekking time: 7 hours
Meals included: Breakfast, lunch & dinner
Accommodation: twin share tents
Day 7 - Tuesday 22 September 2020
Barranco Camp (3960m) to Karanga Camp (3963m)
Your day starts by trekking to the start of the Great Barranco, a huge ravine. The team will ascend the Baranco Wall following a line in the rock barrier that takes you up onto the southern slopes of Kibo. Whilst the ascent is not technical there are a few sections where the Guides and support team will be there to help you negotiate some of the steeper areas. On a clear day you will be rewarded with one of the best views on the mountain and an ideal place for a group photo. Passing underneath the Heim and Kersten glaciers, you will then head towards the Karanga valley along an undulating path. From here the team have a steep climb up from Karanga valley to camp at Karanga camp, set at 3963m. For those feeling strong there is a mid-afternoon acclimatisation trek up to around 4200m before descending back to camp for the night.
Distance covered: 5.5kms / 3.4miles
Approx. trekking time: 5 hours
Meals included: Breakfast, lunch & dinner
Accommodation: twin share tents
Day 8 - Wednesday 23 September 2020
Karanga Camp (3963) to Barafu Camp (4640m)
After a good night's rest and breakfast, the team will set off across the rugged volcanic wilderness to Barafu camp at 4640m. The climb will take you across desolate scree slopes with no vegetation. It's a tough steep walk made more difficult by the altitude. The views become more spectacular with the high gain above the clouds. You will overnight at Barafu camp, with Kibo rising above us to the north and good views of Mawenzi Peak, the eastern-most summit of Kilimanjaro. This will be your base for the final climb to the summit. On arriving at camp you will have lunch and spend the afternoon resting as you prepare for a long night and day ahead. It is important to keep hydrated and warm. You will have an early dinner and then try to get some sleep as you will be getting up between 11pm and 12am to start the climb to the summit.
Distance covered: 3kms / 1.9miles
Approx. trekking time: 3 hours
Meals included: Breakfast, lunch & dinner
Accommodation: twin share tents
Day 9 - Thursday 24 September 2020
Barafu Camp (4640m) to UHURU PEAK (5895m) & down to Millennium Camp (3790m)
The team will start off around midnight to take advantage of the best surface conditions (frozen scree and possible snow), and walk steeply upwards to the summit glaciers. You will be climbing scree for 4 to 5 hours but gain incredible height over a short distance following the line of head-torches. Your trekking through the night will be rewarded with one of the most incredible sunrises and welcomed glow will push you onwards and upwards. Spectacular ice cliffs within the crater surround you and the views to jagged Mawenzi peak and beyond are breathtaking and makes for one of the best sunrises you will encounter. The team should be on the crater rim at Stella Point (5739m) as the sun has cleared the horizon. Here your support crew will have a cuppa ready for you to toast Macmillan's 'Highest' Coffee Morning so be sure to snap a quick photo and enjoy a hot drink before continuing on to the infamous Kili summit sign. Another hour's walking along the crater rim and you have arrived at the summit, Uhuru Peak (5895m). Congratulations. After enjoying your fantastic summit achievement, you will begin your descent by returning to Stella Point and then descending on scree slope and track back to Barafu camp for breakfast. It is then a long trek down to Millennium Camp for a well deserved dinner and rest.
Distance covered: 13.4kms / 8.3miles
Approx. trekking time: 12 – 16 hours
Meals included: Breakfast, lunch & dinner
Accommodation: twin share tents
Day 10 - Friday 25 September 2020
Millennium Camp (3790m) to Mweka Gate (1630m)
A long yet gentle trek takes you down through the rainforest to Mweka Gate, where you have the chance to see Colobus monkeys and birdlife. On arrival at Mweka Gate you will complete park formalities and receive certificates, which you can display with an immense sense of pride and achievement! You will be met by your local ground crew to be transferred back to your hotel in Moshi. Now it's time for a very welcomed shower (and a cold beer or two!) before your big celebration evening. Overnight at the Weru Weru River Lodge (or alternative).
Distance covered: 12.1kms / 7.5miles
Approx. trekking time: 6 hours
Meals included: Breakfast, lunch & dinner
Accommodation: Weru Weru River Lodge (or alternative) twin share basis
Day 11 - Saturday 26 September 2020
Free morning in Weru Weru River Lodge or visit Moshi town
Today is a free day for you to relax after your epic mountain trek before your flight home. Depending on flight times you may opt to explore Moshi town and grab some souvenirs or simply relax at the hotel. There is a complimentary transfer available to Moshi town.
Transfer to Kilimanjaro International Airport for your return flight home.
Meals included: Breakfast only
Transfers: To and from Moshi town and to Kilimanjaro International Airport
Day 12 - Sunday 27 September 2020
Arrive back at Glasgow Airport with an immense sense of achievement and the pride of further supporting Macmillan Cancer Support.

PASSPORT, VISA, INSURANCE & VACCINATIONS
Passport
All nationalities require a full passport that must be valid for 6 months beyond the intended length of stay. Airlines may not carry passengers holding passports with less than 6 months validity.
Visa
All British passport holders need a tourist or business visa to enter Tanzania. We strongly recommend that you secure your tourist visa prior to travel. The Tanzania High Commission in the UK have advised that the new e-visa (online visa application) has officially been launched. We recommend that you apply for an ORDINARY VISA (SINGLE ENTRY VISA).This visa is granted to foreign national for the purposes of Visit, Tourism, Leisure, Holiday, attending Conference, Humanitarian and charity activities, Family Visit, Health Treatment or any other purpose as may be determined by the issuing authority. Its validity does not exceed 90 days for a single entry.
For more information and to apply for your visa, please visit the Tanzania High Commission in the UK website at https://tzhc.uk/
Please visit the UK Foreign & Commonwealth office website, or your respective nationality governing website, for the latest travel information on Tanzania at:
https://www.gov.uk/foreign-travel-advice/tanzania
Insurance
Travel insurance is compulsory for all our overseas expeditions. It is a condition of joining this trek that you must be fully insured against medical and personal accident risks (to include repatriation costs and air ambulance or helicopter rescue services where appropriate). We strongly recommend that the policy also covers trekking at high altitude (5895m), personal liability, cancellation, curtailment and loss of luggage and personal effects.
At a minimum of 4 weeks prior to departure please ensure you send through your travel insurance details to Adventurous Ewe including your travel insurance company, policy number and the insurance company's 24-hour emergency contact number.
Vaccinations
For the most up to date information on vaccinations, please consult with your GP or travel healthcare practitioner 6 – 8 weeks in advance of travel.
Yellow fever vaccination certificate required for travellers arriving from countries with risk of yellow fever transmission and for travellers having transited for more than 12 hours through an airport of a country with risk of yellow fever transmission, this includes the airports of Nairobi (Kenya) and Addis Ababa (Ethiopia).
Recommended vaccinations are: Polio, Tetanus, Typhoid, Hepatitis A. Malaria prophylaxis is essential and we suggest that you seek advice from your GP or travel health clinic about which malaria tablets to take. Dengue fever is a known risk in places visited. It is a tropical viral disease spread by daytime biting mosquitoes. There is currently no vaccine or prophylaxis available for Dengue, and therefore the best form of prevention is to avoid being bitten. We recommend you take the usual precautions to avoid mosquito bites.
If you will be travelling with medication (including over the counter medication) you should check for any restrictions on medications before you travel. You can do this by contacting the Tanzanian embassy.
For up to date vaccination information please check the NHS government website 'Fit for Travel' at:
https://www.fitfortravel.nhs.uk/destinations/africa/united-republic-of-tanzania
FOOD AND DRINKS
All meals are included within the trip cost apart from on your last day of the challenge in Moshi where you will have some free time.
On trek the emphasis is on a varied and well-balanced diet with a greater amount of fresh fruit and soup to maximise the daily intake of fluids to help with acclimatisation. The menu has a high liquid and carbohydrate content; the two important elements for successful high altitude mountain ascents. At higher altitudes, stimulants (such as coffee) and less digestible foods (such as meat) are not recommended. At mealtimes a selection of hot drinks are available. Soup is served twice daily.
Fully purified and treated water provided whilst trekking. All other drinks whilst at the hotel/restaurant will need to be paid for on an individual basis.
Vegetarians are well catered for but please inform us prior to departure of any special dietary requests. Please note that in Tanzania the availability of certain specialised products for restricted diets, e.g. gluten-free or dairy-free, is minimal or non-existent and we strongly recommend you bring these specialised dietary items from home.
Daily Meals
Bed Tea – tea or coffee served to your tent door in the morning (a real treat).
Breakfast – normally consists of seasonal fresh fruit, porridge, cooked eggs, sausage, bacon and toast.
Energy snacks are provided for the daily walk such as biscuits, bananas, and chocolate bars. Bringing your own snacks can often be a treat especially when trekking at higher altitudes. Be sure to bring some of your favourite snacks for summit night as these will be a welcome boost in so many ways.
Lunch – either a packed lunch on longer days or, more usually, a hot lunch served in specifically set up lunch camp. A hot lunch typically consists of soup, bread or pancakes, cheese, tuna, jam, peanut butter, pasta salad and cake.
Afternoon tea – served in late afternoon. It is an opportunity to drink lots of hot drinks and snack on peanuts or popcorn.
Dinner – the main meal of the day usually consists of three courses; starter: soup and bread / main: rice, potatoes or pasta with fish, meat or vegetables / dessert: usually fruit.
Water
You will be provided with Katadyn filtered water throughout your mountain expedition. If you wish to bring your own water purification treatment in order to be extra safe, you are welcome to do so.
Staying hydrated is important when undertaking any physical activity but particularly so at altitude where it is generally recommended to drink at least 3-4 litres per person per day.

SAFETY AND SECURITY
Safety and Emergency Support
Adventurous Ewe prioritises the safety of all of their trekkers and staff, and as such have developed a thorough safety management system. This encompasses comprehensive risk assessments and procedures together with audits of all aspects of your expedition from vehicles to accommodation to the high altitude trek activities. Your health and safety is our top priority.
There will be 2-way radio contact between Adventurous Ewe Mountain Leader, Local Leaders & crew and the Office Base in Moshi Town at all times during your trek. Your Mountain Leader will also carry a Satellite phone for emergencies only and have 24-hour contact with Adventurous Ewe office in UK. In the unlikely event evacuation be required the Tanzanian National Park rescue service have emergency vehicles on standby at exit routes from the mountain. All staff are highly trained with the evacuation procedures. A member of our staff will be carrying medical supplies and oxygen, should it be required.
If for any reason you need to leave the group early and come off the mountain, local staff will assist you with your descent and will arrange transfers, accommodation and medical care if necessary. All costs incurred due to an early descent will need to be covered by the individual before departing the hotel.
Security
Tanzania is one of the safest African countries for travellers and serious crimes are rare. But as with all places where tourists and crowds gather petty theft can be a problem. In the same way that health risks can be avoided with a few sensible precautions, so can security risks. Whilst we will do everything to provide adequate safety for the group and security for your possessions, the general rule is that if you don't need it, don't bring it. This includes jewellery, necklaces, rings and even watches. Any valuables such as your passport and money should be kept on you at all times or kept in the hotel safe.
Do make photocopies of all your important documents, including passports, and keep copies of emergency.
Travel Aware
The Foreign & Commonwealth Office and NHS have up-to-date advice on staying safe and healthy abroad. To keep informed of current travel news visit https://travelhealthpro.org.uk/
TRANSFERS
Internal road transfers
Airport transfers and transfers to and from the start of the trekking point will be via mini bus. All mini buses are fitted with seat belts.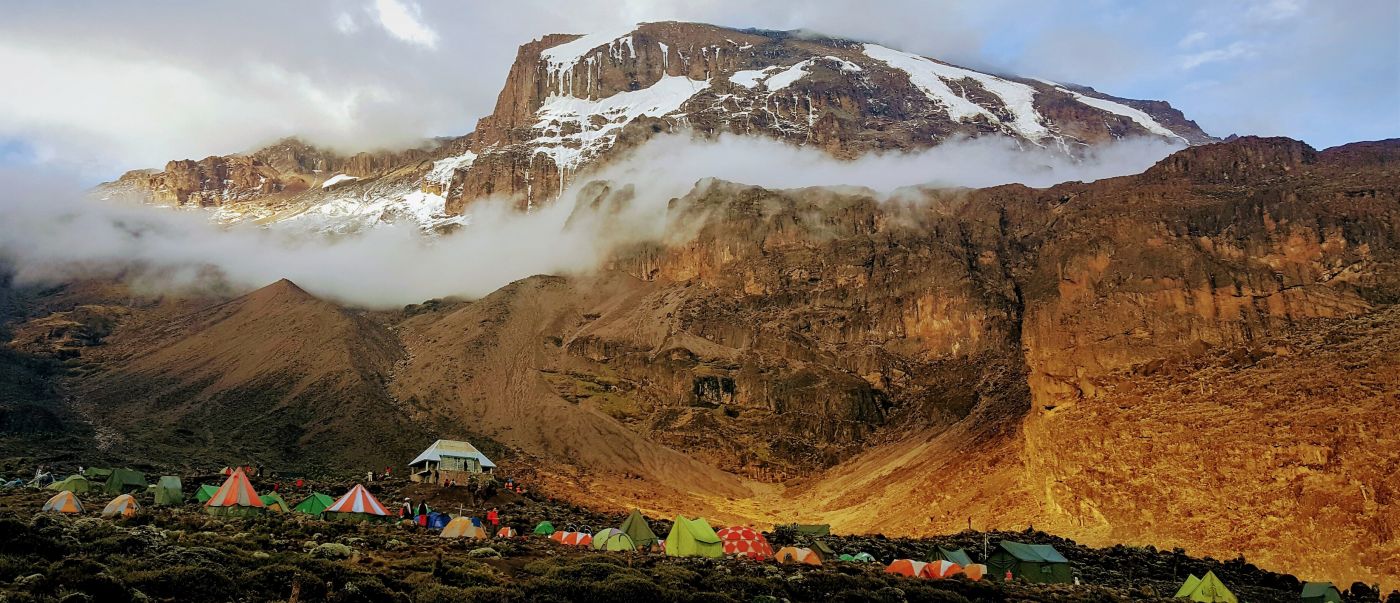 EXPERIENCE
This is a tough trek, which reaches an altitude of 5,895m. Even if you consider yourself fit, you might still find the climb very challenging, depending on how well your body acclimatises to high altitude. There is no scientific way to determine how easily you acclimatise, and be aware that the acclimatisation process can also differ from climb to climb.
Trekking experience and level of difficulty
To complete this trip comfortably, it is preferable that you have previous trekking experience in varied and irregular terrain carrying a 30-35 litre day-pack although this does not have to be at altitude. The walking is not dangerous or technically difficult, though you must be a confident walker with a good level of fitness and head from heights in order to manage sections of the trek. During the trek you will be required to carry your own kit including packed lunches & snacks, drinking water, wet weather gear, additional warm layers and personal items such medication and toiletries. The walking hours stated are given as approximates only. Timings include lunch and photo stops though will vary depending on the pace of your group and weather conditions.
Most of the trails on trek are well defined and of good quality but some forest sections can be slippery particularly in poor weather conditions. There is a short rock scramble on Barranco Wall which rises 843 feet (257 meters) above the Barranco Valley. Steep, narrow paths cut back and forth along the rock face, making the Barranco Wall one of the more challenging sections of the mountain, but you will not need any technical climbing skills for the ascent. Though it's a demanding portion of the trek, most trekkers are thrilled that they get to experience the Barranco Wall and it is often a highlight of the ascent; the view from the top is simply jaw-dropping! Your guides will position themselves at strategic points on the Wall to support your ascent.
The final trek to Uhuru peak is almost entirely on scree and loose rock without permanent footpaths however you will be accompanied by Assistant Guides during the section in a ratio of 2 participants to one guide.
During the course of the trek we will spend time at both high and low altitude. The team will be trekking high and sleeping low on some nights to help with acclimatisation. Please be prepared for varied conditions and temperatures as you may experience extreme cold especially at night higher up the mountain. You should be prepared for an early start every day on Kilimanjaro and a long night/day of trekking on the summit bid.
Typical Day
The team will wake up between 06.00 – 06.30 and start the day with bed tea followed by a hot breakfast. Hot water in bowls will be available most days for washing your hands and face. Please remember to walk slowly around your campsites as you will be at altitude. Following breakfast and filling your water bottles, you will start trekking as a team. Your trek leader will set a slow pace, with the supporting staff and UK Leader walking amongst the group to offer support to the team. There will be regular short breaks to rest and refuel on snacks and water and a longer stop for lunch.
On arrival into camp, there will be time relax enjoy a hot drink, before sitting down together for your evening meal and a briefing by your leader on the following day.
All of your main luggage, tents and camping equipment will be carried by the supporting porters and will be already set up each evening as you arrive into camp.
All main meals – breakfast, lunch and dinner are prepared, cooked and served by your support team. Please ensure you use antibacterial hand gel at all times to help prevent any bacteria spreading amongst the team.
Your team will be accompanied by an experienced high altitude Adventurous Ewe Mountain Leader and experience high altitude UK doctor. There are approximately 2.5 members of support staff per person in the group including local guides, a medical porter, kitchen staff, luggage, tent and toilet porters.
Pre-Climb Preparation
Climbing Kilimanjaro is a tough challenge, but one that is very achievable with the correct training. It requires a reasonable level of strength, stamina, endurance and determination. Your training should incorporate aerobic (endurance building), anaerobic (strength building) exercises and some good long walks! We have put together a guide to training for your expedition which will be sent to you once you register for this trip. Training in your trekking kit with your ruck-sack on consecutive days in the outdoors is ideal to help with your preparations.
Altitude
This trip includes five or more overnight stays over 3500 metres/11500ft, where there is a genuine risk of being affected by Acute Mountain Sickness (AMS). If left untreated AMS can be life-threatening. We would expect the majority of the team to notice the effects of being at high altitude, and while most will only feel discomfort and headaches, it is not uncommon for a small number of people to need extra care which will be provided by our leaders, doctor and local staff.
All our trips that spend time at High Altitude follow our standard altitude safety measures. A number of medical conditions or medications can also reduce your body's ability to acclimatise, and thus will affect your performance at altitude and make you more susceptible to AMS. If you are worried about any pre-existing condition (e.g. heart problems), or unsure of your physical ability, you must seek medical advice prior to booking. You may also wish to discuss medication such as Diamox that may help aid acclimatisation. Please note that while we endeavour to assist all the team in achieving their goals, there may be times your leader or doctor makes the decision to either delay or stop your ascent based on your medical conditions and AMS symptoms. Please respect this decision for it is for your own safety and welfare.
GUIDES
Mountain Guides
Your UK Mountain Leader will have many years of experience on Kilimanjaro and be an experienced high altitude guide. Our Leaders are carefully selected to ensure you have the best experience on your trek and with a bit of humour thrown in for good measure. Your UK Mountain Leader will also have remote First Aid qualifications as well.
Local Guides
Our Local Guides are very experienced, well trained, knowledgeable and charismatic. They are constantly self-driven to go above and beyond to ensure you will have an amazing experience. Mountain climbing for the local guides is more than just a career, it's a passion which they are proud to share with others. They understand it's the little things that make a big difference and their keen attention to detail ensures that they always exceed expectations. Your team of local guides have received extensive training and certifications from local and international organisations including the Kilimanjaro National Park Authority and Training Expertise UK.
WEATHER
Trekking Kilimanjaro is unique for many reasons, and one of these is that from origin to summit, trekkers find themselves weaving through several distinct climate zones. It is said that the journey from the gate to the peak is like traveling from the equator to Antarctica in a matter of days! Mt Kilimanjaro has five major ecological zones, each approximately 3,280 feet (1,000 m) in altitude. Each zone is subject to a corresponding decrease in rainfall, temperature and flora/fauna as the altitude increases. January and February are the warmest months, April and May are the wettest months, June and July are the coolest months, and August and September are the driest months. Due to its proximity to the equator, My Kilimanjaro does not experience wide temperature changes from season to season. Instead, the temperatures on Kilimanjaro are determined more so by the altitude and time of day. At the start of the trek, at the foot of the mountain, the average temperature is around 21 to 27 degrees Celsius. From there, the temperatures will decrease as you trek through Kilimanjaro's ecological zones. At the summit, Uhuru Point, the temperatures at night can range between -7 to -29 degrees Celsius. Due to Kilimanjaro's great height, the mountain creates its own weather systems. Conditions can be extremely variable and difficult to predict. Therefore, it is essential that you are prepared for all types of conditions including rain, snow, wind and the very cold plus warm conditions in the rainforest at the start and finish of your trek. A comprehensive clothing and kit list will be provided once you have booked onto this trek.
RESPONSIBLE TRAVEL
Responsible Travel in Tanzania
Adventurous Ewe is committed to delivering travel experiences in a responsible and ethical manner and with sustainable development at its core. We respect and aim to operate our adventures and events to benefit local people, their cultures, economy and the environment!
Some of the responsible travel features embedded our Kilimanjaro Lemosho Route:
• Using local crew who are qualified Mountain Guides, support crew, cooks and drivers who are all extremely knowledgeable and willing to share their local way of life often with a big friendly smile
• Staying in smaller-scale locally owned accommodation.
• Buying locally produced food and drink, and dining in locally owned restaurants
• Minimising plastic waste wherever possible. Plastic carrier bags are prohibited in Tanzania
• Careful management of limited energy and water resources
• Offering real life experiences which promote cross-cultural understanding
• Operating with a 'leave no trace' ethos
New laws on plastic in Tanzania
The Government of Tanzania have made it official that from 1st June 2019 all plastic carrier bags will be prohibited from being taken into mainland Tanzania. Plastic or plastic packaging for medical services, industrial products, foodstuff, sanitary and waste management are not prohibited at this stage.
Visitors to Tanzania are prohibited to carry plastic carrier bags at any time including for packing items in their main luggage or hand luggage before embarking on a trip or flight to Tanzania.
Plastic 'ziplock bags' that are specifically used to carry toiletries will be permitted as they are expected to remain in the permanent possession of visitors and are not expected to be disposed of in the country.
Tipping
Our Tanzanian partner is a member of the Porter Protection Scheme under IMEC and adheres to fair wage and welfare policies for their porters, guides and staff. Nonetheless, the ground staff work very hard and any extra payment is greatly appreciated. A collective tip is usually organised at the end of the trek to split between the porters, guides and support staff. The amount is down to the individual and group size, but a good guideline is an average of USD$150 from each participant.
ANY QUESTIONS OR NEED MORE INFO
If you have any questions, queries or concerns, please get in touch with us at susan@adventurousewe.co.uk or call 01492 588 069 as we're only too happy to help and chat all things Mt Kilimanjaro. #ewecandoit