About Us
What is an adventure?
Let's take it back to what makes up the foundation of an adventure….
It's taking a leap outside your comfort zone; being drenched by tropical storms, searching for shade in unbearable heat and digging deep to keep going, blisters and all.

It's climbing mountains, crossing deserts, trudging through jungles and connecting with other people in far flung places

.
It's is a challenge taken on by ordinary, everyday people. A level playing field where teachers rub shoulders with chief execs, nurses mix with lawyers, builders work alongside bankers, and consultants team up with cleaners.
Adventure does not distinguish between experts or novices. There is nowhere to hide – if Mother Nature throws down the gauntlet, you all must be ready to face the same challenge. Tread the same muddy trail, endure epic long days, experience different or even difficult situations, face your fears and bond people from all walks of life.
It's about discovery, immersing yourself in new environments, customs and cultures.
Adventure will have you uncovering strengths, sharing laughter & tears and looking at the world in a whole new light.
It will teach you confidence, decisiveness and being self-aware.
It will give you a sense of freedom and opens up unlimited possibilities. Experiences that are so vivid and remarkable that they may even shape your life.
Here at Adventurous Ewe, adventure is what we're all about.
This is what we want ewe to be part of. To discover the adventure in ewe. Immersing yourself in adventures worldwide to create your own experiences, stories and memories, which may even raise an eyebrow or two over dinner. These stories and experiences are not only valuable to you but for other people to learn from, be inspired by and to be aware of the vast impressiveness of this planet and its people.
So join Adventurous Ewe flock and come with us to navigate through the wilds of this planet, the environments, the adventures, the wildlife and the customs & cultures of the people it houses. #ewecandoit.

Who we are…
Adventurous Ewe – Big adventures, small bootprints
Our vision
To provide extraordinary adventure travel experiences across the planet in a safe, sustainable, meaningful and fun manner with real connections to people and places.
Our mission
Our Big Adventures, Small Bootprints Travel Mission is all about making the world a more meaningful place for everybody by transforming tourism's impact on nature and people.
We aim to provide extraordinary adventure travel experiences worldwide in a safe, sustainable, meaningful and fun manner with real connections to the people we meet, the places we visit and the planet we explore. We care deeply about travelling in a way to minimise and mitigate our negative impacts on the natural environment and by being an active positive contributor to the local communities and environments that we're so fortunate to visit.
Our values
In 2007 Jim Young founded Adventurous Ewe following a jam packed 8 years of grassroots guiding across 4 continents for Exodus Travels. Discovering vast countries, cultures, environments, mountains, deserts, coasts and jungles; and always up for taking the path less travelled. Furnished with a huge passion for adventure travel, Jim returned to his home in Snowdonia with a burning desire to create authentic, personable, fun and ethical travel experiences in his homeland. Adventurous Ewe has since grown to provides extraordinary adventure travel experiences across the planet in a safe, sustainable, meaningful and fun manner with real connections to people and places. But the only thing that hasn't changed is Jim's inherent belief in the core values below that continue to inspire the heart and soul of the company today.
We believe in epic goals, trailblazing adventures and pushing boundaries
We cheer, salute and support every person stepping outside their comfort zone
We celebrate the things that make us different and doing things that make a difference
We dream big, aim high, inspire others and believe #ewecandoit

The people
More often than not it's the people that make adventures to very special. Whether it's the cultural exchange, the banter around the dinner table, the laughs shared with locals, the witnessing of humbling ways of life, the support & encouragement of guides or the friendly chat and advice from the team in the office. All these interactions create a powerful experience and we're passionate about ensuring all our interactions benefit everyone involved, leaving them feeling happy, included, valued, inspired and cared for. This unique combination of respect and enthusiasm prevents us from losing sight of what matters most – sustained communities, people's happiness, health & well-being and preservation of culture. We can all learn from each other no matter what our patch of the planet may be.

The planet
We are committed to ensuring our trips leave as light a footprint on the world as possible. We are always striving to be more responsible;
From working with a number of environmental charities both here in the UK and abroad by investing 1% of revenues into supporting sustainable conservation projects, and inviting our flock and partners to join in too.
Participating in tree planting projects in Snowdonia and China and litter collections wherever we travel.
Providing complimentary Water-to-Go bottles to all our overseas adventurers to help eliminate our single use plastic footprint.
Installation of velux windows and building all our office furniture from reclaimed wood, our HQ aims to help conserve energy use and offsetting CO2 emissions and using reclaimed wood to build our office furniture. We live by our ethos of reuse and recycle.
It's our mission to do everything we can for our planet.

Our Carbon Footprint
We're not sticking our head in the sand, the business we're in is a contributor to climate change, not just a victim of global warming. That's why we're passionate about the development and work of our Climate Emergency Plan to measure every gram of CO2 emitted for each trip is accurately recorded through a specialist consultancy, Ecollective. Not only does this partnership record the emissions, we work together on reducing our carbon footprint. For a small business, this is a big undertaking in terms of investment in time and money, however we're eager to ensure that the planet, it's landscapes, people, customs and cultures are here for many generations to come.
To compensate for each trips travel footprint, travellers can purchase carbon offset credits equivalent to the amount of emissions generated by the trip. We'll invest these credits in certified carbon reduction projects. Sustainable projects that also provide benefits that go beyond carbon reduction, they'll protect forests and the biodiversity within, create opportunities for communities to better their livelihoods and health. This is all coordinated through our partnership with Cool Earth and other carefully selected Blue Carbon projects through Center for Responsible Travel (CREST).

Adventurous at heart
We think, talk, love, live and breathe adventure. We tread lightly and explore mindfully. It's not just our business, it's our way of life. It's about discovery, immersing yourself in new environments, customs and cultures across the planet. It's challenges taken on by ordinary, everyday people.
Age, budget, travelling solo, with friends, a corporate group or raising money for a charity – it doesn't matter where you're from, what matters is you experience a new and exciting adventure. Our mission is to deliver the best adventure experience to anyone who's up for the challenge. Whilst we offer the classic adventures as they're simply too good not to experience, we pride ourselves in creating new adventures that are exclusive to Adventurous Ewe. Small group travel that takes you off the beaten track to experience incredible journeys and encounters that you'll cherish for a lifetime.

Safe yet fun
Adventurous Ewe puts the safety and well-being of you, our leaders & crew and the communities we visit at the centre of all our operations, always.
As well as being an experienced, well-travelled and reliable business, we're also a genuine down-to-earth and personable bunch who are welcoming, friendly and inclusive and always up for a laugh. We appreciate everyone has different reasons and levels of experience with taking on an adventure and we're here to help and make the whole experience as enjoyable as possible. From the moment you enquire through to completing your adventure, we aim for it to be a fun and positive one. One that you'll remember for the right reasons.

Transparency and reliability
All our adventures are fully transparent for our travellers, crew, guides, local operators and partners. We feel priviledged to do what we do so our people are our priority with protection for bookings & travel, insurances, memberships of tourism governing bodies and a genuine care to do the right thing, always.
We work directly with our carefully selected local operators to create and deliver unique and exciting adventures, in order to directly support destinations and local businesses as well. All trip inclusions and exclusions are listed for each itinerary in order to give our travellers a realistic budget of the overall cost, without any 'hidden extras'. We fundamentally believe in transparency and will be up front with any additional costs that may be incurred. This is all to allow our travellers to focus on getting the most out of their trip rather than receiving any untimely financial surprises.
We're also passionate about providing a comprehensive and transparent account of how we operate and track our social and environmental performance. We use an independent carbon rating specialist, Ecollective, to rate our carbon emissions accurately and demonstrate that we're committed to our purpose: using travel as a force for good across the planet.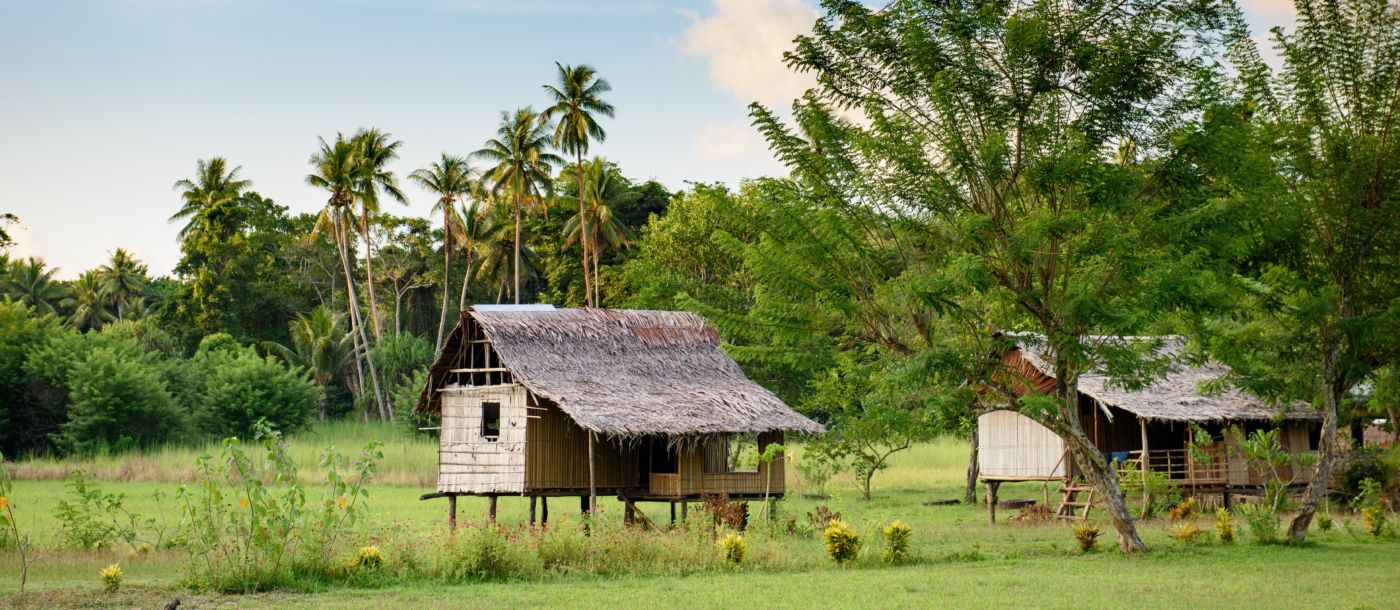 Making a difference…
We're very excited to have teamed up with leading climate change charity Cool Earth, who share our mission to protect the planet's precious environment in a sustainable manner.
Our mission: to harness the power of travel to conserve and protect the world's precious natural spaces, one epic adventure at a time.
Our goal: to ensure rainforest communities benefit from adventure tourism, and to educate and inspire our flock to help actively support these communities across the planet.
Cool earth is the non-profit organisation that works alongside rainforest communities to halt deforestation and its impact on climate change. Cool Earth puts local people back in control, giving them the resources they need to keep their forest intact.
Our partnership means that just by joining the flock and travelling with Adventurous Ewe, you will not only have an incredible experience but you can do so by knowing you are actively supporting rainforest communities across the globe. To date our partnership has contributed to the further protection of eight acres of rainforest (that's 2,000 trees), locking up to 2,167 tonnes of CO2 and we are determined for these number to grow significantly.
As the legend himself, Sir David Attenborough, said:
"Helping Cool Earth to halt tropical deforestation makes a real difference. Perhaps the biggest difference we will make in our whole lives."
So we will continue to invest a % of our revenue into supporting critical conservation projects around the world through Cool Earth.
Thoughtful and Responsible Travel
We believe that with great travel, comes even greater responsibility. For our Thoughtful and Responsible Travel Policy and how we operate ethically and sustainably to drive forward the future of tourism, please visit here.
Contact us
If you'd like more info about our ethos and approach, our business partnership with leading climate change charity Cool Earth or would just like to get to know us in advance of joining an adventure or commissioning an event project, please get in touch with us today. We look forward to speaking with you and chatting all things adventure.
Call us on: 01492 588 069
Jim Young, Director – jim@adventurousewe.co.uk
Susan Blunt, Event Director – susan@adventurousewe.co.uk