Adventurous Ewe's Partner-sheep with Cool Earth
We are very excited to have teamed up with leading climate change charity Cool Earth, who share our mission to protect the planet's precious environment in a sustainable manner. The future of rainforest protection is where everyone makes a difference to climate change!
Our mission: to harness the power of travel to conserve and protect the world's precious natural spaces, one epic adventure at a time.
Our goal: to ensure rainforest communities benefit from adventure tourism, and to educate and inspire our flock to help actively support these communities across the planet.
Cool earth is the non-profit organisation that works alongside rainforest communities to halt deforestation and its impact on climate change. Cool Earth puts local people back in control, giving them the resources they need to keep their forest intact. It is an approach that research proves to be the most effective way of keeping rainforest standing. It is also an approach that is transforming the lives of some of the world's poorest and most vulnerable communities.
This partnership means that just by joining the flock and travelling with or taking part in an event with Adventurous Ewe, you will not only have an incredible experience but you can do so by knowing you are actively supporting rainforest communities across the globe. To date our partnership has contributed to the further protection of eight acres of rainforest (that's 2,000 trees), locking up to 2,167 tonnes of CO2 and we are determined for these number to grow significantly.
As the legend himself, Sir David Attenborough, said:
"Helping Cool Earth to halt tropical deforestation makes a real difference. Perhaps the biggest difference we will make in our whole lives."
So we will continue to invest a % of our revenue into supporting critical conservation projects around the world through Cool Earth and we invite you, our valuable flock, to do the same. Please give what you can and help save the world's rainforests today by simply clicking here. Just £2.50 will save 10 trees and lock up 10 tonnes of CO2.
Together, we can all make a difference in helping preserve this precious and wonderful planet. Thank-ewe.
For more information, please get in touch with us at info@adventurousewe.co.uk.
How Cool Earth works
Cool Earth doesn't create reserves or put up fences. It doesn't buy land. Instead, Cool Earth puts local people back in control of the world's most endangered rainforest. These people have lived in the forest for countless generations but now find themselves on the frontline of deforestation.
Cool Earth only works with people that approach them. Our partners decide how funds are spent and they drive activity. By enabling their partners to invest in their communities and build better incomes, Cool Earth ensures rainforest protection goes hand in hand with better lives.
The Cool Earth model works by following eight simple steps which can be seen below.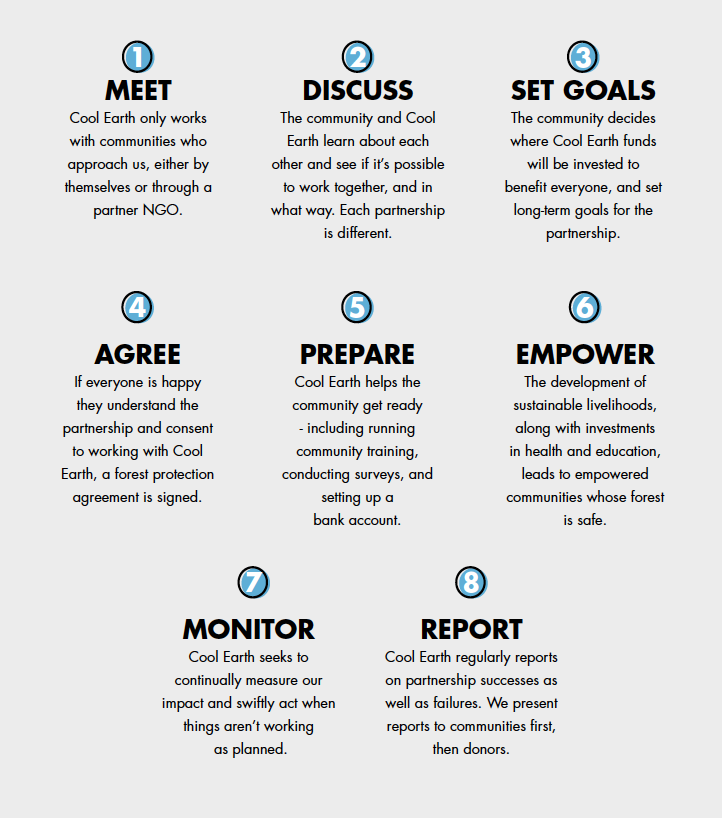 Cool Earth's impact so far
An award winning community-led conservation model that has been successfully replicated in all three of the world's major rainforest biomes.
116 village partners throughout the world, and more rainforest under the 24/7 protection of indigenous people than any other NGO or government
Protection of 901,000 acres of rainforest that would otherwise have been destroyed
Safeguarding the habitats of more than 80 species on the IUCN Red List.