Why use Adventurous Ewe
We believe in the power of challenges as a catalyst for change and growth. Challenges provide a powerful platform to raise substantial funds for charities, engage with people and create long term supporters, improve individuals health and well-being, create and strengthen friendships, boost people's confidence, disconnect from the hustle and bustle of everyday life and reconnect with what is important.
With Sue, our Event Director, having worked in the charity sector for over 10 years in both small and large charities, she is ready to help tailor a challenge event or expedition to your needs and deliver an exceptional event experience for your participants. Together, we'll work as a team on ensuring all your objectives are met.
The benefits of taking part in a challenge are game changing and we're here to maximise the advantages below for you.
Individual benefits
Increase fitness levels
Meet new people and make new friendships
Explore new places, customs and cultures
Step outside their comfort zone
Achieve personal development goals
Make a difference to charity and the work of that charity
Contribute to a local community
Be part of sustainable tourism activities
Charity benefits
Source for acquiring new supporters
Source for engaging and retaining existing supporters
Platform to create long-term supporters and ambassadors
Tool for raising substantial funds
Strengthen supporter relationships
Opportunity to host informal focus groups
Lead generation for corporate partnerships and high value individuals
Generate charity warmth and loyalty
Positive PR and great content creation
A force for good

What options are available to us as a charity?
Bespoke challenges
An overseas challenge or UK event can be tweaked and tailored to meet your objectives and recruit the targeted audience of participants. With our extensive experience in both international and national events, we're happy to make recommendations of the types of challenges which will engage your target audience/s. We also have the capacity and capability of creating new and exciting challenges with a variety of different activities such as trekking, cycling, mountain climbing, snow-shoeing, kayaking, gorge walking, community projects or a combination of these.
We can host your event on our website displaying your charity logo, use your tone of voice and add additional messaging and T&C's that you require. If you wish to host your own web-page, we can supply you with images and video content to help with website engagement and marketing activities as well.
Together we can create an event or series of events and play a pivotal role throughout the entire event cycle to ensure its success at each participant touchpoint for your organisation.
Open challenges
Adventurous Ewe have a range of open challenges available for your fundraisers. These challenges are designed, run and promoted by Adventurous Ewe of which your supporters can join as either a self-funded or on a minimum sponsorship package (which would be approved by you). Any individual or group of individuals over the age of 18 can participate and fundraise for a UK registered charity. Our team manages these challenges from start to finish with itinerary or event design, marketing and participant recruitment, participant support and pre-event briefing, event delivery and post-event follow up – what's next? All you need to do is promote the selected challenge event/s you wish to market to your supporters and support them with their fundraising. It's the ideal way to test a select number of challenge events to see which event/s work best for your charity.
We are an approved event supplier for Macmillan Cancer Support, Rethink Mental Illness, Mental Health UK, Wiltshire Air Ambulance, The Grand Appeal – Bristol Children's Hospital, Prevent Breast Cancer, Breast Cancer Now, St Barnabas Hospice Lincolnshire, St Luke's Hospice Cheshire, Cool Earth, MTV Staying Alive Foundation to name but a few.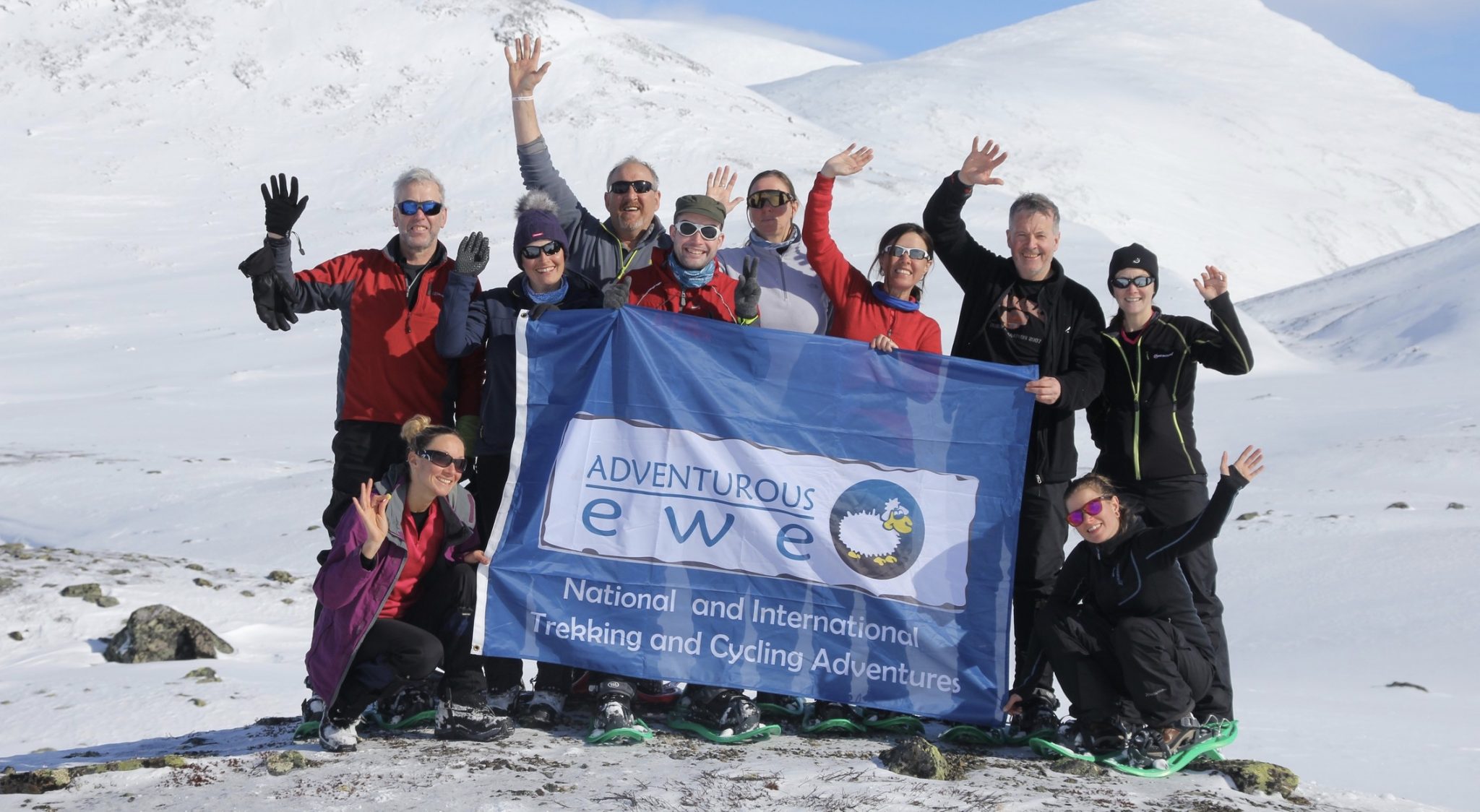 How we can help you
We listen to your needs
We are here to listen to your needs and tailor a challenge event to meet with your objectives. We understand the market and the challenges that you face, so we're here to try and make the whole process as smooth and prosperous as possible for you and your charity. From small groups to large corporate events, we understand that each event has its own purpose. We excel in making the whole process an efficient and very successful one for all concerned.
Marketing support and administration
Challenge events is an extremely competitive environment and having access to inspiring image and video content is essential to the success of any marketing campaign. Adventurous Ewe have a library of images which we are happy to share to help your marketing campaigns. Plus we are thrilled to be working with Wild Valley Productions, a professional video production company, who can assist with creating video content for your challenge.
We are more than happy to promote your challenge events through our social media networks as well.
We also provide efficient administration support for both your charity and your participants to ensure your level of administrative tasks are kept to a minimum and your team are well prepared. We are also making the necessary updates to be compliant with the 2018 General Data Protection Regulation.
Safety and well-being
We consider the safety and welfare of our participants, staff and support crew to be a top priority. With being in operation for nearly 20 years Adventurous Ewe is well positioned to ensure your event is an incredible experience as well as being safe, thoroughly risk assessed and well managed with all the necessary back up and emergency procedures in place. Our events are conducted in a responsible and sustainable manner within the local community.
Financial Protection
If your adventure needs to be cancelled for any reason, like say a global pandemic, you won't be left stuck and you'll be offered plenty of alternative options thanks to our financial protection through our insurance company. What's more, in the very unlikely event of Adventurous Ewe going under, you'll get your money back and be repatriated if you were on a trip at the time.
Experience
An excellent and personable event experience is fundamental to securing long term engagement and support from your fundraisers. Adventurous Ewe will always go the extra mile to ensure this event experience for your charity is of the highest quality with a strong focus on safety. We are known for our level of care, professionalism, flexible approach in tailoring products and delivery of inspiring and successful events.
Value for money
We're a small family business with small overheads and believe that adventures should be affordable and accessible wherever possible. We feel priviledged to do what we do and we're not aiming to become a super large tour operator. We work directly with our carefully selected local operators to create and deliver unique and exciting adventures, whilst cutting out any unnecessary agents in order to directly support destinations and local businesses as much as possible so you're money is helping local economies and livelihoods.
Our adventures include as much as possible in the price in order to give you a realistic budget of the overall trip cost, without any 'hidden extras'. We fundamentally believe in transparency and will be up front with any additional costs that may be incurred. This is all to allow you to focus on getting the most out of your trip rather than receiving any untimely financial surprises.
Our charity clients
We have worked with a number of charities over the years in creating, planning and delivering tailored bespoke overseas and UK challenges. Some of these charity clients include Macmillan Cancer Support, Breast Cancer Now, NSPCC, Glasgow Children's Hospital, Barnardos, The Grand Appeal – Bristol Children's Hospital, The Love Hearts Appeal – GOSH, St Luke's Hospice Cheshire, St Barnabas Hospice Lincolnshire, St Roccos Hospice, Wiltshire Air Ambulance and Fields of Life to name a few.
We have also delivered numerous charity corporate partner events for Boots + Macmillan, Viacom & MTV Staying Alive Foundation, Carnival UK & Breast Cancer Haven, Poundland & Macmillan Cancer Support, British Airways Flying Start & Comic Relief, Shrewsbury Town Football Club & In The Community, Galliford Try Partnerships & World Child Cancer.
Testimonials
Viacom & MTV Staying Alive Foundation – UK & Ireland 5 Peaks Challenge 2019
"Thank you so much to you and all the team. I know we said a lot of thank you's in person but I wanted to send a note to thank you and the whole team – especially Dan, Ben and Matt – for the most wonderful experience. They were such a wonderful group of helpful, experienced, thoughtful, playful, planful, thorough, funny, mature, attentive and patient guides and humans.
Thank you for such an enormous challenge, such precious memories, such great connections with people we would never have otherwise met, such great scenery, such great weather (!!!!) such a great opportunities to stretch ourselves and our life experiences. I am forever grateful to you and your team for such a precious lifetime memory and gift that was this trip."
Nina, UK & Ireland 5 Peaks Challenge for MTV Staying Alive Foundation
Viacom & MTV Staying Alive Foundation – UK & Ireland 5 Peaks Challenge 2019
"Couldn't have done it without your amazing leadership, on and off the mountain. Hats off to James Young, Daniel Roberts, Matt, Ben and the whole crew. Now the question is, what do we do next year?"
Cat Olyer, Vice President, Global & Public Health, Johnson & Johnson
The Love Hearts Appeal – GOSH – Coast to Coast Cycling Challenge 2019
"The Love Hearts Appeal – GOSH had such an amazing weekend 7/8 September 2019 when we cycled the Coast2Coast across some stunning countryside. We cannot fault the support and friendly nature of Jim and his crew who really were both professional and fun. Thanks to you all, and keep doing what you're doing . We hope to use your team again!"
Neil MacLachlan, Founder of The Love Hearts Appeal – GOSH