Pre-Trip Info
With listening to feedback from members of our flock regarding access to pre-trip info without the need of printing off pages and pages of documents, we came across the travel app, Vamoos, giving our team everything they need pre and also during their adventure at their fingertips 24/7. So with careful consideration we're delighted to have invested in this app which simplifies our pre-adventure info in one place and is accessible completely offline too.
So welcome to the world of Vamoos. When you join us for an adventure, all you need to do is download the free Vamoos app which is fully integrated across IOS, Android and the web.You'll receive your own personal log in for your bespoke trip info. This will then give you access to your itinerary, local information, interactive mapping and points of interest, weather forecasts, live flight alerts, sharing capabilities, and much more. Plus you can contact us whenever you need through the app too. Giving you peace of mind that there's always someone there if you need. A'ppy days.
Chief Ewe, Jim's thoughts on the travel app…
'We're really excited to be able to offer our teams access to all their trip info at the touch of a button and without printing out realms of paper documents or trying to find that particular email. Once people download the app and see how easy it is to use, they get really excited. Our teams love the countdown to the trip as the adventure ahead starts to become real for them and it builds the excitement, which a piece of paper and emails simply can't do. Its a brilliant travel companion with live updates and messaging available plus our travellers can share their adventure with friends and family like they were there too.'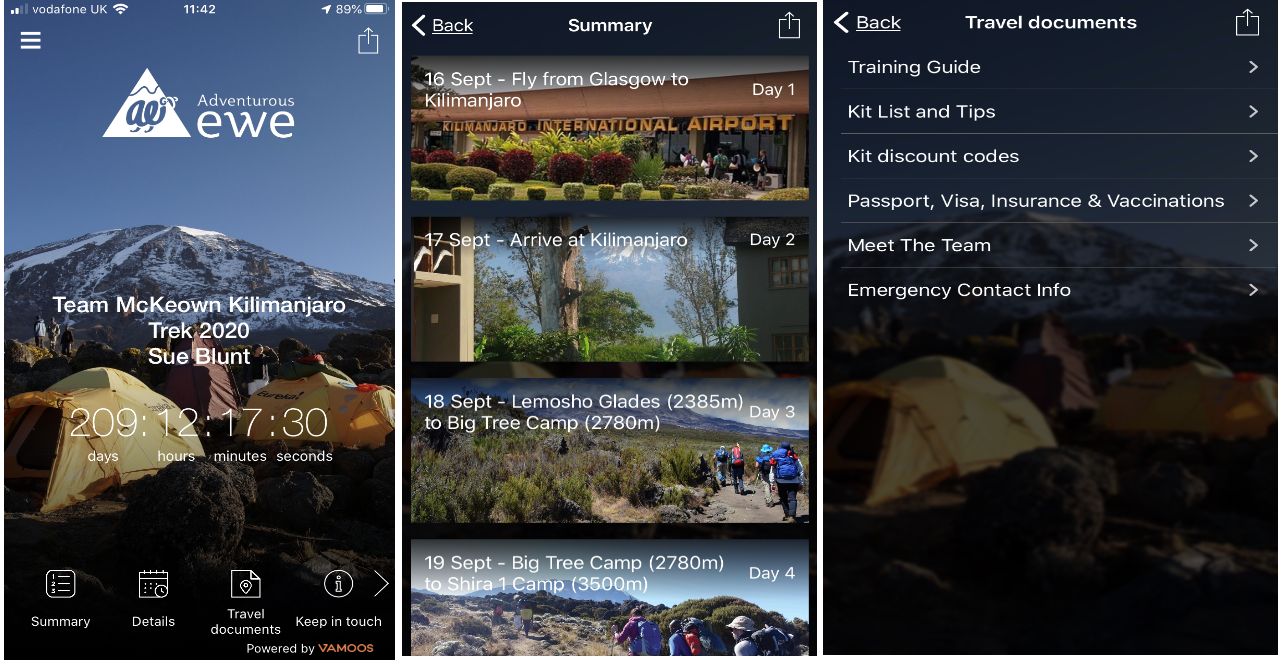 Pre-Trip Support
With being a small family business we pride ourselves with providing personal, professional and friendly service in the lead up to your adventure whether it's your very first, second or tenth. We appreciate that everyone has different levels of experience and reasons for wishing to embark on a trip and therefore require varying levels of support and guidance. We're here to help you every step of the way from the moment you enquire or join the flock all the way through to completing the challenge and beyond.
Jim and Sue's knowledge, expertise and genuine enthusiasm stems from dozens of years of travelling and exploring the destinations that we visit in order to fully support you in the lead up to your adventure. We've been to the places we host our adventures. Therefore can provide you with everything you need to know from the day to day experiences, to the terrain covered, to the food and accommodation, to kit requirements and advice, to training and preparation, to all the pre-trip admin requirements (visa, vaccinations, etc), the specific safety and well-being procedures in place, basically everything you need to know to ensure you're best prepared.
Booking with confidence

Travel safe
We are proud to have working in accordance with the new global Safe Travels protocols for the Travel & Tourism sector as best practice guidelines. The global protocols were developed in collaboration with World Travel & Tourism Council Members, leading industry associations & international organisations. They take into account the current guidelines of the World Health Organization (WHO) and the Centers for Disease Control and Prevention (CDC). Your health, safety and well-being and that of our leaders, crew and the communities we visit are the centre of all our operations, always.
Flexible date changes
If you need to change your booking 30 days or more before the start date you can make flexible date change to another trip, subject to availability, without incurring any admin costs. If you need to cancel your booking, you will be issued with a credit note to the value of your payment that you can use for another event of your choice, subject to availability.
Financial protection
If your adventure needs to be cancelled for any reason, like say a global pandemic, you won't be left stuck and you'll be offered plenty of alternative options thanks to our financial protection through our insurance company. What's more, in the very unlikely event of Adventurous Ewe going under, you'll get your money back and be repatriated if you were on a trip at the time.
Secure online payments
All bookings can be made online with Mastercard, Visa and debit card or via BACS. You can also opt to pay via monthly instalments. We use WorldPay to handle all our online payments as it is a payment platform which is a global leader in payment processing offering superior security for both you and us as a company. For any further info or to organise monthly instalment payments, please get in touch with us at info@adventurousewe.co.uk.
Kit support, advice and exclusive discount codes

A full kit list and top tips will be provided when you sign up for an Adventurous Ewe trip. Good kit can make the difference between a fantastic adventure and an uncomfortable one. To help you get the very best from your trip we will provide you with an exclusive Adventurous Ewe discount code to use in independent UK outdoor retailers Joe Brown / The Climbers Shop and ashmei sustainable performance apparel, both online and in store. They offer a large choice of kit that the staff themselves use whilst climbing, hiking, mountaineering, running, travelling or enjoying expeditions across the globe. The staff pride themselves on sharing their experience and knowledge of equipment so you can choose the right gear to suit you and the adventure you are about to undertake.
Training and preparation

Preparation is key when it comes to taking on an adventure. When you join an Adventurous Ewe trip you'll be provided with a bespoke training guide packed with plenty of tips and recommendations specific for your trip. To make sure you have the best experience on your challenge we highly recommend having a good level of strength, stamina, endurance and good ole grit and determination. Your training should incorporate aerobic (endurance building), anaerobic (strength building) exercises and some good long consecutive hikes/bikes!
We are thrilled to bits to have teamed up with the hugely enthusiastic personal trainer Peter Lant from Bath Kettlebell Society. Peter has previously completed our Welsh 15 Peaks Challenge, a gruelling 3-day mountain trek conquering the 15 highest peaks in Snowdonia, so he's very familiar with our adventures and the training needed to ensure you enjoy the experience.
Peter has three training packages available:
A subscription based training package of which the Adventurous Ewe flock has an exclusive 20% discount code
A 28 Day Online Challenge which is designed as an introduction to the above style of training. Again the Adventurous Ewe flock has an exclusive 20% discount code
Bespoke training plans available for your specific goals
All of these come with a downloadable app to deliver the programs along with a Nutrition app which has been developed by a UK Registered Dietician and both are super easy to use. For more info or to get in touch with Peter, please see the details below.
https://bathkettlebellsociety.co.uk/
https://www.instagram.com/peter.lant/
peter@bathkettlebellsociety.co.uk
Meet Pete below below….
Water-to-Go Bottles
The impact of single use plastic is having on our landscape, wildlife and oceans, it is now more important than ever that we all make changes in order to help our planet. We may not be a huge global company but we're passionate about playing our part and trying to make a huge difference collectively.
We're proud to have partnered with Water-to-Go, a filtration system that eliminates over 99.99% of all microbiological contaminants from any non-salt water source. Together we can dramatically reduce our consumption of single use plastics and support our responsible travel ethos of 'Take nothing but photos, leave nothing but boot-prints, keep nothing but memories.'
You can make a difference too with taking part in one of our trips. If you join the flock on a long haul adventure, you'll receive a complimentary Adventurous Ewe Water-To-Go Bottle which will be an essential piece of kit to eliminate the purchase of plastic water bottles in often developing countries. If you join us in the UK, you can purchase one of these environmentally friendly reusable alternative bottles using our exclusive 15% discount code. Not only does this eliminate the need to purchase plastic water bottles on your trip, you can also use it on a daily basis at home, at work and during your training. Some more great news is that Water-to-Go will donate a further 15% to our charity partner, Cool Earth if you purchase an exclusive Adventurous Ewe WTG bottle.
For more info please visit here or email us at info@adventurousewe.co.uk to buy your Water-To-Go bottle. Thank-ewe.

Contact us
If you'd like more info about us or would just like to get to know us in advance of joining an adventure or commissioning an event project, please get in touch with us today. We look forward to speaking with you as we simply love chatting all things adventure.
Office tel: 01492 588 069
Jim Young, Director & Chief Ewe – jim@adventurousewe.co.uk
Susan Blunt, Event Director & Deputy Ewe – susan@adventurousewe.co.uk