Our steps for your safety and well-being
Adventurous Ewe puts the safety and well-being of you, our leaders & crew and the communities we visit at the centre of all our operations, always. Your safety and well-being is our top priority. We have implemented a range of changes and precautions focused on ensuring strong hygiene practices and social distancing for all our adventures. This also includes ensuring our suppliers of accommodation and catering have strong hygiene practices in place too.
On joining us on an adventure, rest assured in you're in safe hands with this overview of our Safety and Well-being Guidelines. If you're joining us on an overseas trip, you will need to complete a 'Self Assessment Form' prior to travel until further notice.
With relation to COVID-19 and other potential pandemics, we have systems in place to ensure we keep ourselves up to date and make the necessary amendments to our procedures and operations swiftly and efficiently with you and our crew at the forefront, always.

As Chief Ewe, Jim, having ploughed plenty of time into training and preparation with safety measures and checks being at the forefront for his love of paragliding, it's the same great level of care and attention to detail when it comes to running Adventurous Ewe trips as safety and well-being of all our team (you, our leaders and crew) is paramount. Feel free to check out our COVID-19 'You're in Safe Hands' blog and below are all the steps we're taking to stay up-to-date with safety measures for the myriad of occurrences the world can throw into play.
Assessments
Navigating your way through the remote wilds of this earth on an epic adventure does attract an element of risk. All our overseas and UK based expeditions are intentionally challenging and require individual preparation as they are designed to take you out of your every-day comfort zones and achieve something amazing. Rest assured we have a thorough Safety Management System, indepth risk assessments, risk management systems, crisis management and new health and well-being procedures in place. Accidents can still happen, but our teams are trained and experienced to deal with these.
Emergencies
Whilst on your trip, Adventurous Ewe Leader/s and Crew will have a satellite phones, mobile phones and radios communications in case of emergencies. The team are trained to deal with these situations and pre-planned emergency evacuation procedures are in place. All leaders have necessary qualifications and experience to lead each activity that we offer (mountaineering, hiking, biking, kayaking or rafting) together with remote or wilderness first aid qualifications. Please ensure you listen to your Leader during these times and refrain from putting any posts on social media. Your Emergency Contact at Adventurous Ewe HQ is Jim Young on +(0)7747 346 588.
#SafeTravels stamp
We are proud to have adopted the new global Safe Travels protocols with health and hygiene global standardised practicies as produced by the World Travel and Tourism Council. Adventurous Ewe has received the World Travel and Tourism Council's Safe Travels stamp, which provides travellers with assurance that we have implemented health and hygiene protocols that are aligned with WTTC's Safe Travels Protocols.
These global protocols were developed in collaboration with WTTC Members, leading industry associations & international organisations and take into account the current guidelines of the World Health Organization (WHO), the Centres for Disease Control and Prevention (CDC) and the European Centre for Disease Prevention and Control (ECDC).
The objective is to ensure that protocols are in place across all relevant functions with an increased focus on health, hygiene, and reduction of physical contact guidance which travellers will need and expect to embrace a safe travel experience.
We have signed and adopted these protocols to help enable the building of safe travels across the globe in a consistent manner and ensuring the safety and hygiene of travellers are of top priority in all our operations. With being a small tour operator, we may only be a tiny drop in the massive ocean of tourism, but collectively and in collaboration, we can make a big wave to help establish a globally-consistent approach to recovery which will make a real difference to the planet and it's people. We are united in the common goal of tourism's comeback to generate benefits going far beyond the tourism sector.
For the purpose of alignment across industries within the Travel & Tourism sector, WTTC has divided the protocols in four pillars of which we have taken on board:
Operational and Staff Preparedness
Delivering a Safe Experience
Rebuilding Trust & Confidence
Implementing Enabling Policies
Ultimately, we envision a future of travel which is safe, secure, seamless and provides an authentic and meaningful experience to the traveller across the journey; one which supports the livelihoods of millions and contributes to sustainable economic growth.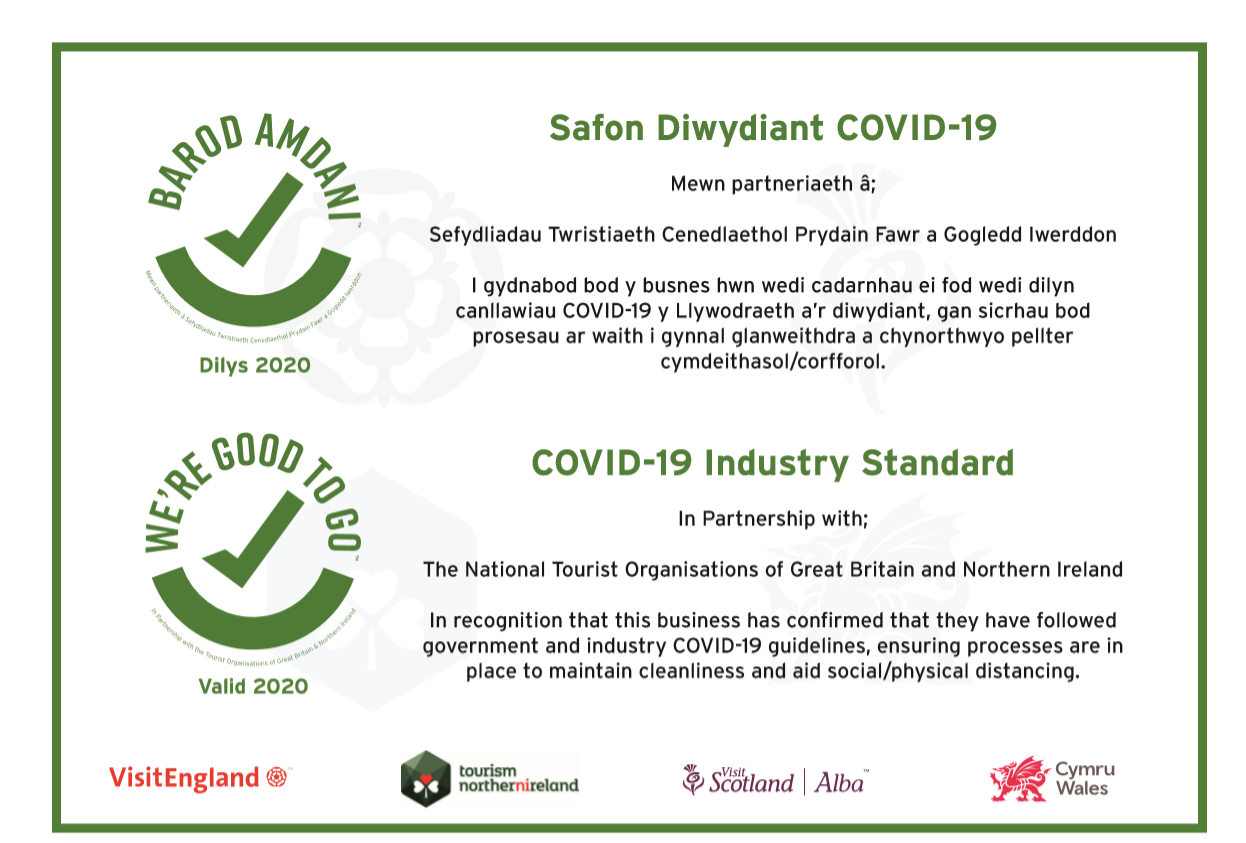 We're #GoodToGo
Following the COVID-19 Industry Standard in Partnership with The National Tourist Organisations of Great Britain and Northern Ireland, we have followed and implemented government and industry COVID-19 guidelines, ensuring processes are in place to maintain cleanliness and aid social/physical distancing.
Future of Tourism
Finally, we're really excited to be part of the movement to reshape the Future of Tourism with signing the new set of Guiding Principles launched by the Future of Tourism Coalition. As a signatory, we commit to place destination needs at the centre of our recovery strategies and do our part to build a better tomorrow for travel and tourism.
These transformative principles outline a bold vision for the future of tourism – one that retains the integrity of destinations, promotes inclusivity and equality, maximises positive impacts for communities and environments, and fosters collaborative change.
As a collective, we can build a better future for all and we're super excited to do our part.
Learn more at Future of Tourism #FutureofTourism