Testimonials
The Adventurous Ewe Crew across the globe continuously strive to exceed our flocks expectations and experience to ensure we receive feedback such as the examples below. This is why we do it.
Welsh 15 Peaks 2019
"One of the best weekends of my life. The organisation of each day was fantastic. The Guides were brilliant with the group throughout the challenge. Always helpful, understanding and informative. Special mention to our Guide Sam with whim I spent most of the trip. Well done Jim and all at Adventurous Ewe. You have given me a reason to keep on keeping fit. I will definitely be back for another challenge. Not felt as good as I did this weekend for years!"
Mark
Patagonia Trek 2019
"Patagonia! What a stunning country – breath-taking landscape and scenery. If it's on your bucket list, you must go! The entire trip was amazing, right from making the travel arrangements through to being totally supported by Jim and the local guides. The accommodation was diverse, from wonderful lodges to arty hotels in Buenos Aires, to wild camping. Fortunately we had great weather which made the nights of camping far more enjoyable! There are some difficult and testing sections on the trek including scrambling up mountains, crossing icy cold flowing rivers and zip wires over ravines, but we were always in safe hands and it all adds to the most wonderful experience! Viewing and even walking on the glaciers is one thing I will never forget, and drinking glacial water is a must! It's been a most amazing experience and thanks to Jim and his team at Adventurous Ewe for looking after us so well!"
Jaqui
Adventure Queens Winter Toubkal Trek 2019
"Top notch service, guidance and support from this excellent team of professionals. I thoroughly enjoyed the trip and felt safe, in good hands and supported all the way. I would highly recommend Adventurous Ewe for any adventure, trek, climb as from start to finish the attention to detail has been great. Thank you for keeping us all safe and I cannot wait to book my next trip with you guys."
Lucy
Arctic Snowshoe Expedition, Sweden, 2018
"At first I was so worried about taking part in this challenge as it was the first time I had ever taken part in something on my own let alone a challenge like this one. However, Jim was very helpful and reassuring throughout the whole booking process and the lead up to the trip with advice on kit and the trip itself, he always took the time to help.
During the trip itself I always felt incredibly safe, with an amazing Arctic Guide (Sofia, who was an expert and very helpful) along with a great UK Team Leader (Jim, who made the trip fun, enjoyable and safe).
I have had the most amazing time on the Kings Trail, and although it was mentally and physically challenging at times, the group helped me to the finish line with plenty of encouragement every step of the way. I have the most incredible memories of fun, laughs and team spirit let alone the beautiful landscape I was so lucky to experience and that's all down to Jim at Adventurous Ewe for making it happen.
I am already looking for my next adventure along with sharing pictures and my experiences with friends & family to ensure I promote this incredible company so they get to experience what I have!"
Emma
Patagonia Trek 2019
"What an unbelievable experience – something that I'll remember forever! Jim and the team at Adventurous Ewe are fantastic and you feel completely supported at all stages, from booking through to travelling and through the trip itself. The Local Guides and support teams are also brilliant and very knowledgeable, and you feel very safe with Jim and the team (even though there are some difficult sections on the trek). The scenery on this trip is truly amazing – no photos will ever do it justice! We were lucky to get such wonderful weather conditions and a great group, but I would highly recommend this trip to anyone fit and able enough. Absolutely Amazing"!
Brendan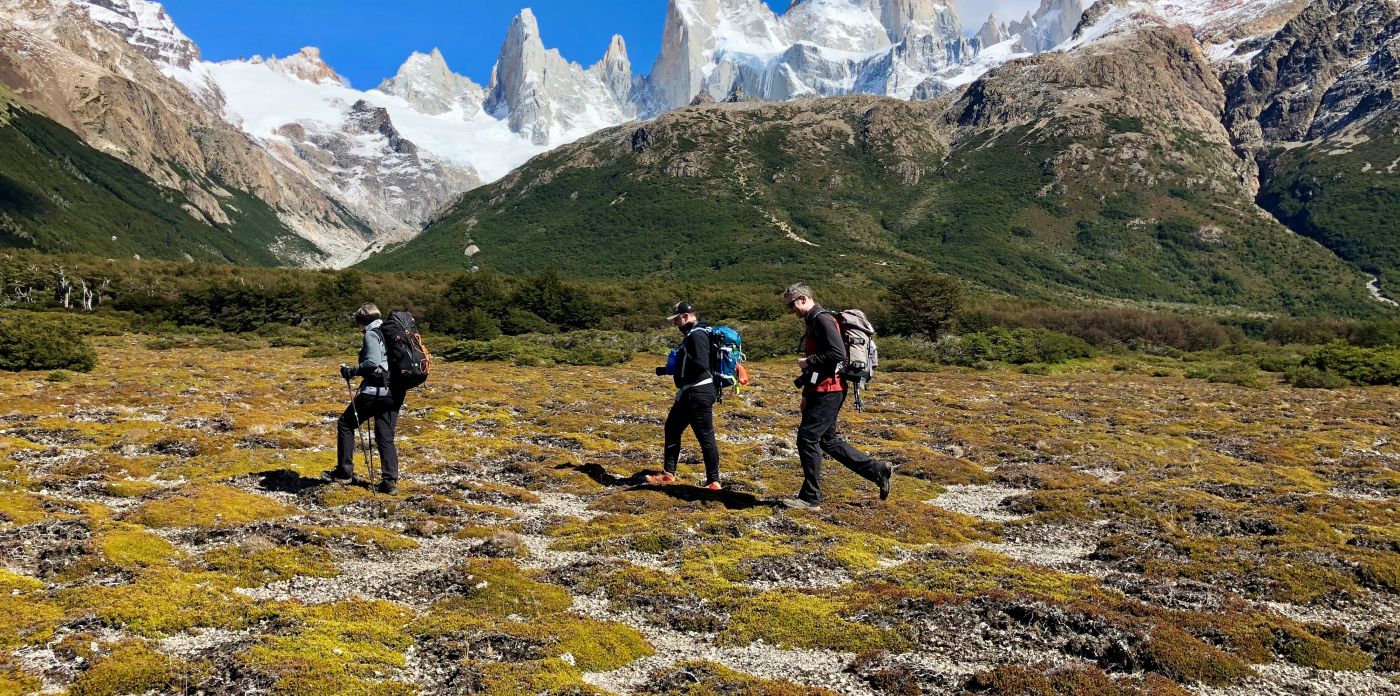 Snowdon Triple Challenge 2019
"Organising our Snowdon Triple Challenge with Jim and Sue at Adventurous Ewe was a pleasure from start to finish. They made it very easy for me. I had help with setting up my fundraising pages, to finding the right hotels and to advice on the actual event itself. The communication was brilliant. During the event itself the brief was excellent and the Guide was knowledgeable, friendly and got us all through the challenge. The whole experience was fantastic and one I would definitely recommend."
Fiona
Summer Toubkal Trek 2018
"This is the kind of service that makes a business shine. Jim was very friendly and helpful whilst planning my trip. The Guide and driver for our Morocco adventure were fantastic. The trek itself was enjoyable and we were well taken care of.
First class service throughout and I can't recommend Adventurous Ewe highly enough. I will be booking my next trip with them very soon. Thank you!"
Vicky
Patagonia Trek 2016
"Patagonia was my 4th trip with Jim and Adventurous Ewe. Always well organised, understands everyone's fitness levels and plans the most interesting and challenging treks. Jim's network of local Guides are the best. Always includes much appreciated treats and gets the balance right. Wouldn't trust anyone else to look after me and my fellow trekkers. Patagonia was soooo special! Next up, Camino de Santiago Trek!"
Anita
Outdoor Enthusiast Magazine Feature – Arctic Snowshoe Expedition 2018
Here at Adventurous Ewe HQ we were absolutely thrilled to bits that our Arctic Snowshoe Expedition along the Kings Trail in Sweden was featured in the Winter 2018 issue of the Outdoor Enthusiast magazine. Big cheers and hats off to Jacob Little, outdoor photograher and writer, for his honest and creative narrative which take you on this incredible journey of the Arctic Tundra whilst also giving you a glimpse into the Sami Culture.
Please visit the 'Content' page where you can click through to the article on page 38 'Snowshoeing the Kings Trail'.
We're extremely proud of this unique expedition that we created and the opportunity it gives people to experience the majestic, vast and precious Arctic wilderness. http://www.oe-mag.co.uk/imag/oewinter18/