Creative positive change through the wonder of meaningful travel – for the people we meet and the places & planet we explore.
Since founding Adventurous Ewe, an integral part of our vision has always been to have a positive impact on the society and environment in which we operate. Being able to offer a genuine layer of thought to what is being offered is what helps experiences transcend traditional ways of travel and really capture the imagination.
Travel has always helped present opportunities and fund local economies. Our immersive journeys has become increasingly adept at preserving culture and supporting conservation of lands and protection of ecosystems. Going a long way in creating empathy and understanding, and in being a great source of inspiration and education. It creates the human-to-human and human-to-nature connection that the world needs right now.
Through our expertise and first-hand knowledge of our destinations, we aim to create thoughtful and carefully crafted itineraries, which will leave a long-lasting positive impact on both our travellers and the people and places we are so privileged to visit.

Our Vision
We aim to protect and bring positive impact to the people, the communities and the places we visit with each and every trip we create and deliver.
We strive for continuous improvement in every area of our operations to be a significant contributor to worldwide sustainable tourism.
Our Mission
Our Big Adventures, Small Bootprints Travel Mission aims to provide extraordinary adventure travel experiences worldwide in a safe, sustainable, meaningful and fun manner with real connections to the people we meet, the places we visit and the planet we explore.

Our Making it More Meaningful Travel Policy
We care deeply about travelling in a way to minimise and mitigate our negative impacts on the natural environment and by being an active positive contributor to the local communities and environments that we're so fortunate to visit.
For us Responsible & Sustainable Travel coincides with responsible and sustainable business operations at every level; from how we operate day-to-day to designing and delivering adventures with local people, culture, nature and the environment at the forefront.
An Adventurous Ewe trip will not only deliver an exceptional and personable journey for you, it will also benefit the people whose lands we are so privileged to visit. To expand your horizons and provide you with greater insight and understanding of the places we explore. We continuously aim to help protect and make a positive impact on the places we visit, one adventure at a time.
As such we have created our Big Adventures, Small Bootprints – Making it Meaningful Tourism Policy for People and the Planet. This policy paves the way in which we carefully and passionately seek to improve life and connections through travel — for the people we meet, the places we visit and the planet we explore.

The people
The People pillar of our Making it Meaningful Policy seeks to protect the people we visit and drive economic empowerment in their communities. This means supporting local businesses, boosting employment opportunities, focusing on training and employing leaders & crew directly from the areas we visit and ensuring that your money has a positive impact on the communities you visit.
Our local teams
It's our local guides, crew, porters, drivers and hosts, that help form the backbone of Adventurous Ewe. They open the doors to their communities with enthusiasm, knowledge, warm hospitality and generosity, offering genuine insight into day-to-day life and culture – both past and present. And it's to these much-loved friends that we introduce our travellers, many of whom go on in to develop their own meaningful connections.
You – our travellers
Our Policy also aims to supporter you. These days with busy working lives, limited time or insight to research and plan a complicated or off the beaten track, yet you have a desire to make the most of every minute away whilst also making a positive difference during your travels. Our adventures are designed to give you the support you need to step outside your comfort zone and try something new, to really get under the skin of a destination and give you the opportunity and security of our experience to branch out further than you would independently. We encourage you to undertake trips in a more meaningful way that's better for yourself, better for the local communities and better for the environment.
Here are some of the ways we seek to support all people through the way we create and deliver our adventures…
We encourage and support you to step out of your comfort zone and explore the world in a more meaningful way;
We focus on all people being at the core of all our trips. All our itineraries are carefully crafted by people who care about each destination and the people within;
We support local – guides, accommodations, restaurants and experiences — which not only helps the local economy but makes our trips more meaningful for all;
We employ local leaders and guides so that our travellers can learn about other cultures and ways of life directly from those who live and breathe it. Plus it puts money into local hands and economies. Wherever possible we include indigenous communities so our travellers can learn about their relationship to the land and how they've practiced sustainable operations ie. agriculture for centuries;
We travel in small groups to have less impact on local communities and environments and provide more authentic experiences;
We promote and support gender equality across all our trips;
We pursue the protection of human rights across all of our trips, and have high standards of welfare and pay for guides, crew and porters through our Porters & Guides Protection Policy. We adhere to local and international legislation relating to employment, equality and pay, but we also strive to go above and beyond the minimum requirement;
We actively support the preservation of cultural and traditional heritage, through our carefully created trips and the knowledge of our local operators;
We adhere to a Vulnerable People Protection policy including women, children and minority groups, Responsible Travel Policy (section 4);
For further insight into how each of our trips supports is operated in a meaningful way and for tips on how you can make a difference, look for the Sustainable & Responsible Travel section on each trip web-page.

The Planet
The Planet pillar of our Making it Meaningful Policy shows our commitment to ensuring our trips leave as light a 'bootprint' on the world as possible.
We aim to contribute to the preservation of natural and built environments in the destinations we visit, and to reduce the negative impacts our operations may have on the environment.
Here are some of the ways we seek to support the planet through the way we create and deliver our adventures…
We support environmental charities both here in the UK (Snowdonia Society) and abroad (Cool Earth) by investing 1% of revenue into supporting sustainable conservation projects;
We're committed to reducing our carbon emissions impact on the planet and have started to calculate and publish the carbon footprint per traveller on our most popular trips which can be found under the 'Essential Info' tab. This is so our travellers can quickly and clearly see the carbon footprint of a trip and how it compares with others. And so that we can use these calculations as a starting point to begin reducing each trips carbon footprint and to accurately mitigate what's left.
We use local services. We engage locally owned and operated services, thereby supporting local people and avoiding the use of long, carbon-intensive supply chains.
We provide complimentary Water-to-Go bottles to all our overseas adventurers to help eliminate our single use plastic footprint in the destinations we visit
We supply train travel recommendations wherever possible for our itineraries as an alternate to flight travel;
We use local transport where safe, reliable and feasible, and when this is not feasible, we use private, locally owned transport suitable for the group size to reduce fuel usage per passenger;
We stay in locally owned and simpler styles of accommodation, and eat at locally owned eateries where the food has been locally sourced, therefore reducing food mile emissions;
We believe wildlife should be wild, and nature should be natural and have such created our Animal Protection Policy.
Adventurous Ewe is pleased to announce to have been admitted into the EU-funded SUSTOUR project that supports over 600 small and medium-sized tour operators and travel agents from 35 European countries in improving their sustainability performance. Sustainability is a core value of the tourism experiences that we want to provide for our customers. Therefore, we are happy to participate in this one-year support programme running from mid 2022 to mid 2023 and we commit to using this opportunity and actively improving our sustainability management and performance.
As part of this Sustainable Tourism Award, we have successfully completed the Travelife training on Tour Operators and Sustainability and Sustainability Management Cerfificates.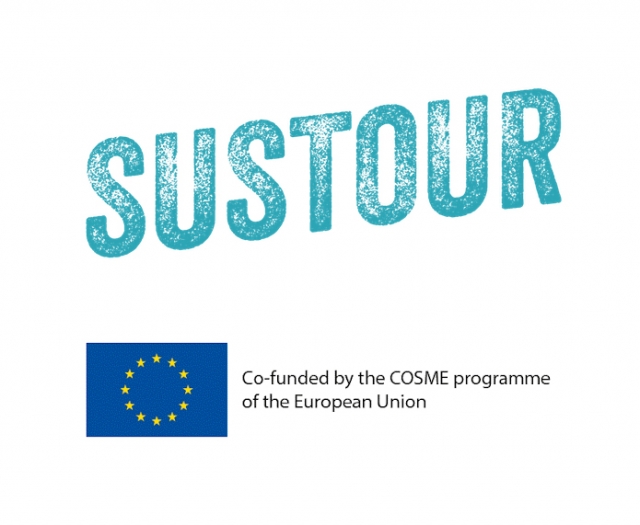 Travelife Partner
On 22 June June 2023 the Travelife Partner level award was received by Adventurous Ewe. The award recognises the long-term efforts of Adventurous Ewe regarding sustainability and Corporate Social Responsibility.
Adventurous Ewe complies with more than 100 criteria, related to an operator's office management, product range, international business partners and customer information. The Travelife Partner level standard is covering the ISO 26000 Corporate Social Responsibility themes, including environment, biodiversity, human rights, and labour relation.
Adventurous Ewe participates in the EU-funded SUSTOUR project that runs from 2020 – 2023 and aims to promote sustainability among the European tour operator sector through a business led approach. The project supports over 600 small and medium-sized enterprises from 35 European countries in improving their sustainability performance through training, coaching and peer-to-peer learning opportunities.
Mr. Naut Kusters, manager of Travelife for Tour Operators, "I am delighted to see that sustainability in the tour operator sector is obtaining momentum. The Partner award of Adventurous Ewe will inspire other companies in Europe to follow the same path'.
Travelife is the leading international sustainability certification for the travel sector. More than 35 national travel associations are promoting the scheme to their members including, SMAL, APAVT, UHPA, ANVR, ABTA, PATA and more.