NEW: Explore Colombia and The Lost City
Highlights
Discover the hidden enchantments of Colombia on this unique and hand picked itinerary
Trek deep into the jungle of Sierra Nevada de Santa Marta Mountain Range and uncover the ancient Lost City, Ciudad Perdida
Witness indigenous communities living in the heart of the jungle and learn about their traditions and way of life
Acclimatise to the balmy Colombian weather with a warm-up trek in Minca surrounded by magnificent cloud forest
Wake up on the unspoiled Caribbean coast in a family run eco-retreat who are a mix of the urban and Kogui culture
Explore the maze of cobbled streets inside the centuries-old colonial stone walls of Cartagena's Old Town, a Unesco World Heritage Site
Finish in Colombia's beating heart of Bogotá, an engaging and vibrant capital nestled between Andean peaks and steeped with both ancient and modern history
Receive a complimentary Water-To-Go bottle when on this trip to minimise our plastic footprint in Colombia!
Discover Colombia's towering Andean mountains, unspoiled Caribbean coast, vast jungle landscapes and communities, hidden archaeological ruins and cobbled colonial cities on this unique and hand picked itinerary. Following an indepth research trip to Colombia, Adventurous Ewe's Jim and Sue have pulled together this exclusive itinerary in order to showcase the highlights of this incredible country and provide the basis of an epic adventure that you'll talk about for years to come.
Minca – half day warm up trek
This ultra-remote mountain village famous for its organic coffee and incredibly varied birdlife, provides a picturesque paradise of cloud forest and soaring mountain-scapes. Minca will ease you into the hot Colombian temperatures given it's cooler location of being perched 600 metres high up in the Sierra Nevada above Santa Marta. The perfect place for your half-day warm up wander.
The Lost City Trek – 4 day jungle adventure
What could be more intriguing than trekking through the heart of the Colombian jungle to an ancient city? Ciudad Perdida (the 'Lost City') disappeared into the jungle around the time of the Spanish Conquest and was only 'discovered' again in the 1970s. It's time to head into the jungle to take on one of the most culturally mysterious hikes on the continent. You'll wade through rivers, cool off under waterfalls, learn the traditions of the indigenous communities that still live there before climbing the steep staircase to discover the pre-Hispanic Lost City and the myths and legends behind it.
The ancient wonder is often compared to Machu Picchu as both are archaeological sites perched on hillsides and tucked into South American rainforests. However, the Lost City of Teyuna is more than 600 years older and, unlike its Peruvian counterpart, there are no trains or buses allowing for easy travels to reach its ruins. The only way to witness its uncovered layers firsthand is on foot. This means there are over a million visitors to Machu Picchu every year compared to only 8000 hikers per year.
Caribbean Coast – Tayrona Park
Following your epic 4 day jungle hike, there's time to relax on soak up the picture perfect views of the Caribbean Coast in your family run eco-retreat nestled on the coast near Tayrona Park. Enjoy a meander along the palm-backed pristine beach, sample delicious cuisine of fresh food yielded by the sea & land and fall asleep to the sounds of the ocean. This place is a real hidden gem and the perfect reward following your Lost City Trek.
Colourful Cartagena
Time to explore a historic city of superbly preserved beauty lying within an impressive 13km of centuries-old colonial stone walls. Cartagena's Old Town is a Unesco World Heritage Site – a maze of cobbled alleys, balconies covered in bougainvillea, and massive churches that cast their shadows across leafy plazas. Nestled on the Caribbean Coast, you can also take a dip in the warm sea or wander along the beach. Cartagena's raw beauty, superb food, vibrant nightlife and historical significance make this city a must see highlight of Colombia.
Bogotá, Colombia's Capital
Bogotá is Colombia's beating heart, an engaging and vibrant capital nestled in the Andean peaks and this urban centre stretches her wings for endless miles across the valley floor. Your final day will see you exploring the markets, museums and the city's cultural epicenter, La Candelaria, the cobbled historic downtown of carefully preserved colonial buildings peppered amid 300-year-old houses, churches and convents.
This itinerary packs as much of Colombia's wildest places, jaw-dropping jungle & coastal views, thought provoking history, epic and meaningful treks and indigenous encounters into one big adventure. We love this country and hope to share this incredible experience with you.
INCLUDED:
Before your trip
– Plenty of support from your highly experienced Adventurous Ewe team
– All trek information available through our mobile travel app, Vamoos
– Exclusive discount code for Joe Brown & The Climbers Shop and ashmei athletic apparel, both online and in store
– Trek training guide
– All risk assessments and safety management
– Public Liability insurance
– International Passenger Protection
– Monthly payment plan on request
– Complimentary Water-To-Go Bottle to reduce our plastic footprint
– Contribution towards our partnership with environmental charity, Cool Earth
During your trip
– 4 nights hotel accommodation on a twin/triple share basis
– 1 nights accommodation in a family run eco-retreat, twin share basis
– 3 nights accommodation in a fixed jungle camp
– Adventurous Ewe Expedition Leader (for groups over 6 people)
– Expert English-speaking local Colombian guide
– Local crew including Lost City camp crew and chef; drivers and city guide
– All transfers as per itinerary
– All meals as outlined in your itinerary
– Drinking water for the duration of your Lost City Trek
– Bogotá city tour
WHAT'S NOT INCLUDED:
– Return flights to Bogotá. These can be arranged for you at an additional cost of approx. £580 – £700 per ticket.
– Internal flights: Bogotá – Santa Marta and Cartagena – Bogotá. These can be booked for you at an additional cost of approx. £75 per ticket.
– Meals in Minca plus 2 lunches and 3 dinners allowing you the flexibility to order what you wish
– Additional excursions outside the itinerary
– Personal spending money and drinks
– Kit and equipment as listed on your kit list
– Tips for local crew – recommend minimum of $US50.00pp+
– Single room supplement is not available given the nature of the trip
– Any associated costs with leaving the expedition early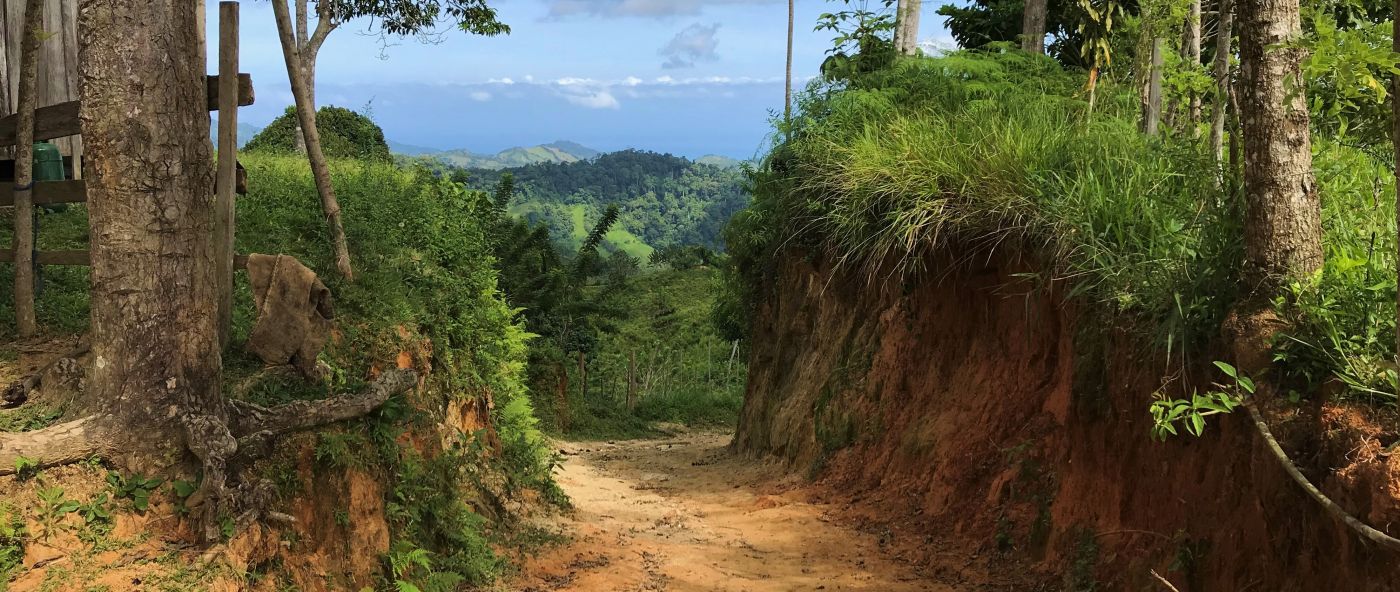 HOW TO BOOK
Simply book via the website by clicking on your preferred date. You will need to pay a non-refundable registration fee of £295 per person at the time of signing up. The remaining balance of £1,660 per person is required to be paid no less than 5 weeks prior to departure. You are welcome to pay via monthly instalments. Simply email us to find out more at
info@adventurousewe.co.uk
.
For a private groups, charity or corporate trips we require 10 people and the trip is available between in late November – March to avoid the rainy season.
Day 1
UK to Bogotá and to Santa Marta, Colombia
Overnight flight from London UK to Bogotá Colombia (approx 14 – 15 hours) and regional flight to Santa Marta (1.5 hours).
On signing up for the trip, we will provide you with the recommended flights to book or alternately, we can book the flights for you through our Flight Agent at an additional cost.
Day 2
Bogotá to Santa Marta (approx 1hr 30mins flight) and on to Minca
Welcome to Colombia. On arrival at Santa Marta airport you will have a private transfer to your colonial style and recently renovated hotel in the remote mountain village of Minca. It's time to relax in the company of hundreds of hummingbirds that visit the hotel balcony, marvel at the impressive view of the mountains of the Sierra Nevada de Santa Marta before your expedition briefing. Dinner is at your own expense so you can order either national or international cuisine from the hotel's restaurant.
Accommodation: hotel twin share basis
Meals: not included
Transfer: from Santa Marta to Minca included
Day 3
Half day trek in Minca and transfer to Santa Marta
Enjoy an early morning coffee and breakfast in the peaceful surrounds of the cloud forest. With being 660 metres above sea level, Minca will ease you into the heat of Colombia with it's cooler mountain temperatures. This is the ideal setting for your first hike in this breath-taking country. Escorted by your Local Guide, you will walk amongst nature and the rolling hills of the Sierra Nevada. At the top you'll be rewarded with some wonderful views of the mountains, Minca, Santa Marta and the coastline in the distance whilst listening to the chatter of a wide array of bird life in the trees. During the afternoon you will have a short transfer to Santa Marta, South America's oldest European-founded town and the second-most-important colonial city on Colombia's Caribbean coast. There's time to wander the streets and visit the myriad of market stalls or walk along the coastline, before preparing your kit for the Lost City Trek and enjoying an evening meal. The group will eat out at a local restaurant and you have the freedom to order what you wish.
Accommodation: hotel on a twin/triple share basis
Meals: breakfast included

Day 4
The Lost City Trek – day 1
Duration: Santa Marta – El Mamey (3 hour transfer); El Mamey to Camp 1 (4 hour trek)
Following breakfast you climb onboard a 4WD for a bumpy yet picturesque journey through the jungle to reach the start of your trek to the Lost City of Teyuna. After a freshly home-cooked lunch your 7.6km trekking journey starts through the small village of El Mamey and into the jungle alongside the Buritaca River. You will pass through farmland used for growing coffee or raising cattle and get a glimpse into daily life in the small communities en route. Climbing on this part of the trek can be challenging as the route progresses uphill from the riverbed and through the humid jungle. Halfway along the trek you will make a welcomed stop at the 3 Cruces viewpoint, where you can enjoy delicious fresh fruits and take in the incredible view. Continuing on through deep gorges in the path carved out by the rainy season, you will arrive in camp where you can cool off with a swim in the river before dinner. You will sleep in bunk beds under mosquito nets and enjoy a well deserved rest after your first day in the jungle.
Accommodation: fixed campsite with cold showers and toilet facilities
Meals: breakfast, lunch and dinner included
Transfer: from Santa Marta to El Mamey
Day 5
The Lost City Trek – day 2
Duration: approx 8 – 9 hours trekking
Today will see you venture further into the jungle en route to Ciudad Perdida. Be prepared – today is a tough portion of the trek with a lot of steep views. Your route takes you to Cabaña Wiwa, where you can enjoy a refreshing swim in the Buritaca River while you wait for lunch. Your adventure continues into the Sierra Nevada, bordering Mutanyi, an indigenous Kogui village. Walking alongside this amazing village of circular thatched huts, you will learn about local life in the jungle and the native inhabitants who live here. Women and children may emerge from their huts and go about their daily life as piglets snuffle around in the mud. Continuing through the dense jungle you will have a chance to snack on fresh fruits before reaching the third camp. Get settled in, have dinner and sleep here overnight in bunk beds covered with mosquito nets.
Accommodation: fixed campsite with toilet and cold shower facilities
Meals: breakfast, lunch and dinner provided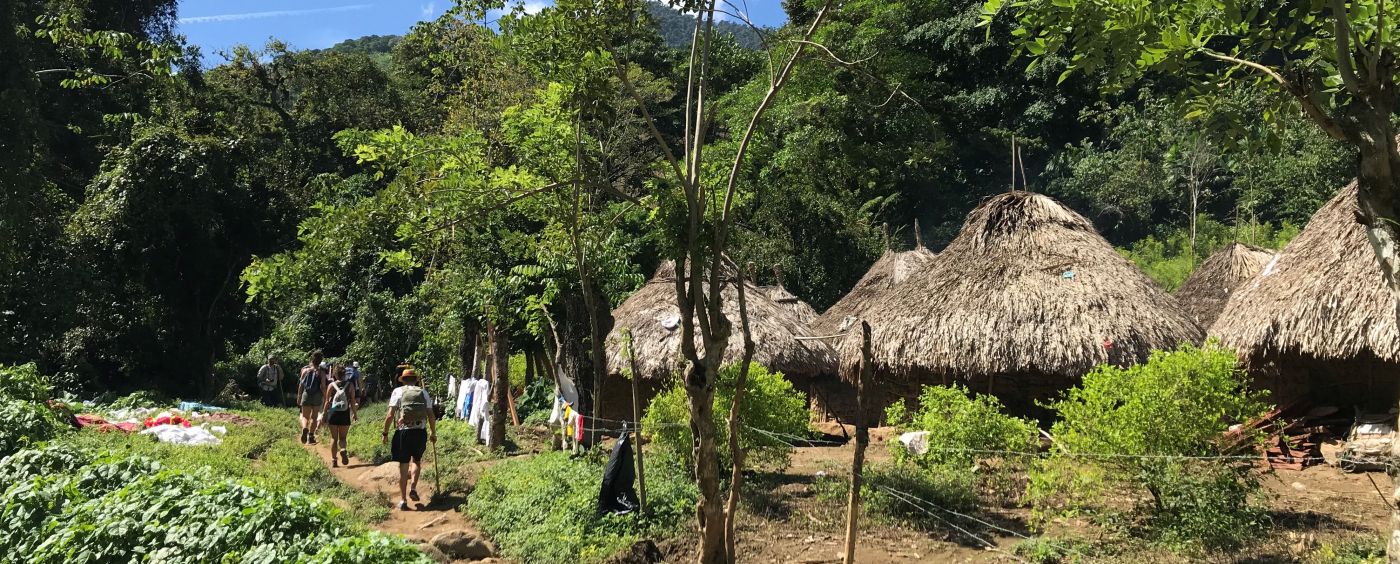 Day 6
Lost City Trek – day 3
Duration: approx 8 – 9 hours trekking
Very early in the morning you will have breakfast and begin the 2km journey towards Teyuna Ciudad Perdida. Climbing 1200 moss covered steps that will lead you to this majestic stone settlement in which you'll walk among the 170 stone terraces where the dwellings of the ancient Tayronas rested. To give you a better understanding on how large and spectacular this site really is, this was once the largest Tayrona city and major economic and political center. Surrounded by a magical forest with its unique flora and fauna, this is a truly amazing place to explore. Walking around the city you'll witness different views and landscapes that go from fantastic sunny gaps in the middle of the jungle to cloud forest covered by stunning vegetation. Your Local Guide will explain the history of the Lost City and what is known of its origins. It's estimated that only 10% of the site has been discovered. You may even meet the Mamo, leader and protector of Mother Nature, and witness the Kogui community going about their daily lives who are now living in the City. Following the Lost City visit, it's then time to return to Camp 3 for some food before making the long trek back through the jungle to Camp 2, thankfully most of it is downhill.
Accommodation: fixed campsite with cold showers and toilet facilities
Meals: breakfast, lunch and dinner included
Day 7
Lost City Trek – day 4 and on to the Caribbean Coast
Duration: approx 6 hours trekking and 4WD transfer to Palomino (1 hour)
Your adventure in the Sierra Nevada de Santa Marta is coming to an end. After breakfast you will head back along the same path through dense green jungle, pass by banana trees, Kogui communities and grasslands. Stop at Adán Camp for a dip in the cool river and some fresh fruit and snacks before another 4 hours winding your way back to El Mamey. Here you will enjoy a freshly cooked meal, rest those weary legs and recall the incredible journey you've just completed. A token cold drink (or beer) is always a great accompaniment with your lunch. Then it's back in the 4WD for your transfer to the Caribbean Coast for some well deserved R&R after your adventure in the depths of the jungle. You will be staying at a family run eco-retreat nestled near Tayrona Park and directly on the picture perfect Caribbean coast. The family are a mix for urban and Kogui culture of the La Sierra Nevada de Santa Marta. Tonight you can order off the menu to reward yourself with the meal of your choice and go to sleep with the tranquil sounds of the ocean. This is a very welcomed treat after your Lost City Trek and a real hidden gem on the beautiful Colombian coast.
Accommodation: family run eco-retreat
Meals: breakfast and lunch included
Transfers: El Mamey to Caribbean Coast eco-retreat
Day 8
Carribean Coast to Cartagena (approx 6 hours) After a leisurely breakfast and some free time lapping up all the goodness this tranquil eco-retreat offers together with wanders along the beach or in the forest, we say goodbye and make our way to the colourful city of Cartegena. Enroute you will pass other coastal villages along the Caribbean, drive across the newly opened Pumarejo bridge (Dec 2019) at 2,250 meters (7,380 ft) which is the longest road bridge in Colombia, pass through the bustling Barranquilla and on through barrios before reaching 'the Jewel of the Indies', Cartagena. Cartagena de Indias as it's known, brings together perfectly preserved colonial architecture, picturesque cobbled streets, a maze of boutique cafes, bars and restaurants, epic history and a photographic dream location. The city's beaches beckon, inviting you to unwind and enjoy yourself in the refreshing breeze and warm waters of the Caribbean Sea. Accommodation: colonial style hotel, twin share basis and within walking distance to the Old Town, the coast and many other great city areas Meals: breakfast included
Day 9
Free day in Cartagena
Today is a free day to simply relax and enjoy a Colombian coffee or explore Cartagena's architectural and cultural heritage and learn more about the historic influences of this vibrant city. Framed by its stunning bay, Cartagena de Indias is one of the most beautiful, well-preserved cities in the Americas. We highly recommend taking your time to wander around Cartagena's Old Town, a Unesco World Heritage Site, and discover the maze of cobbled alleys filled with boutique bars, restaurants and specialty shops. There are also a number of ancient churches and popular monuments that you can visit, such as the monument dedicated to India Catalina, los Zapatos Viejos, and los Pegasos. Centro's highlights include the San Pedro Claver Church, the Palace of the Inquisition and an evening cocktail at Café del Mar to watch the Caribbean sunset.

In addition to the hundreds of years of history behind the impressive 13km of centuries-old colonial stone walls, you can explore the Castillo de San Felipe de Barajas, a magnificent castle dating back to the 17th century and located in a strategic position on the Hill of San Lázaro, dominating approaches to the city by land or sea. It was built by the Spanish during the colonial era. There is much more to this diverse and beautiful place than simply the iconic walled city. From gritty, hipster-approved locales filled with bars and street-art to glamorous beachfront zones, Cartagena has a neighbourhood to suit all tastes. It's raw beauty, superb food, vibrant nightlife and historical significance make this city a must see highlight of Colombia.
Accommodation: colonial style hotel, twin share basis
Meals: breakfast
Day 10
Cartagena to Bogotá and return flight home
Following an early breakfast you will leave the Caribbean coast and fly inland to the vibrant capital city of Colombia, Bogotá. The bustling cradle of Colombia and third-highest capital city in the world. We'll take the opportunity to explore the highlights of Bogotá with a City Tour including Paloquemao Market, La Candelaria Historic District, the Gold Museum and the Botero Museum. Then it's time to leave this extraordinary country filled with incredible memories, more travel wisdom and new found friends. You'll share stories and experiences of a lifetime for many years to come.
Accommodation: NA
Meals: breakfast
Transfers: airport transfers in Cartagena and Bogotá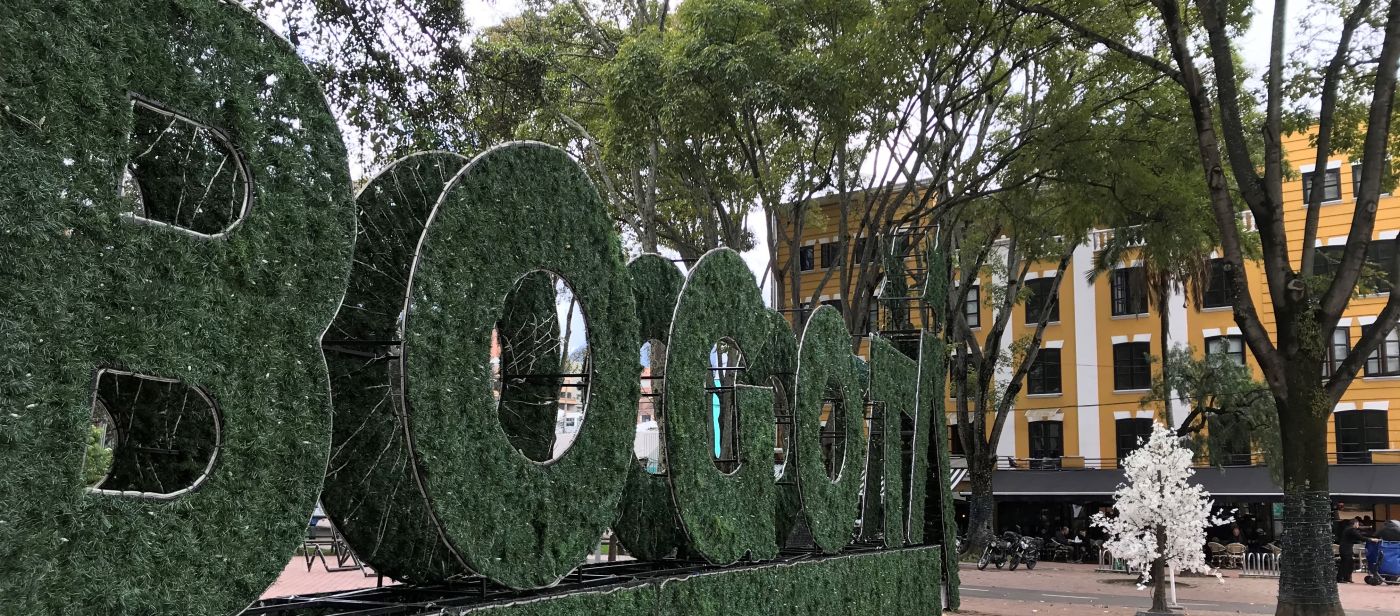 PRE-TRIP INFO
On booking your expedition, you will receive all the exciting trip information via our mobile travel app, Vamoos. You'll have access to all your event info, countdowns, live updates, contact info, weather forecasts, know before you go trip info, kit lists and much more at the touch of a button 24 hours a day via your mobile phone. No more unnecessary use of reams of paper and the need of carrying around documents with you. The app is free to download and all info is customary to your adventure ahead.
FLIGHTS
Flights are not part of the package allowing you the flexibility to book a flight from your nearest UK airport and also giving you the option to extend your stay in Colombia or use any frequent flyer points that you may have. There are a couple of airlines who operate flights from the UK to Bogota Colombia (BOG). Check out Avianca or Air France. We recommend using Sky Scanner to source flights to suit your requirements: https://www.skyscanner.net/ or you can book these through our Flight Agent. You will also need to book a domestic flight from Bogota to Santa Marta through Avianca Airlines. Again we will provide you with the flight information so as you can book this directly or through our Flight Agent.
Once you have booked on this trip, we will send you recommended flights which will have airport transfers available for you.
For further information, please email us at info@adventurousewe.co.uk.
LOCAL OPERATIONS
At Adventurous Ewe we pride ourselves in creating innovative adventures delivered by experienced and reputable local operators. Colombia is no exception as Jim & Sue spent time in country to carefully source our local operator and together create an exclusive itinerary affording you the optimal Colombia adventure experience.
Our Colombian operator is a leading company in sustainable tourism being recognised at the regional level, a source of employment generation, maintains good environmental care practices, supports socio-cultural manifestations of the Colombian regions and provides services on time, transparent, reliable and with quality at their core.
Our Local Leader is extremely knowledgeable when it comes to both ancient and modern history of Colombia and his passion for his country, it's people and adventure tourism is hugely admirable. The support crew and always on hand and willing to go the extra mile to ensure your adventure is a memory you will cherish for a lifetime.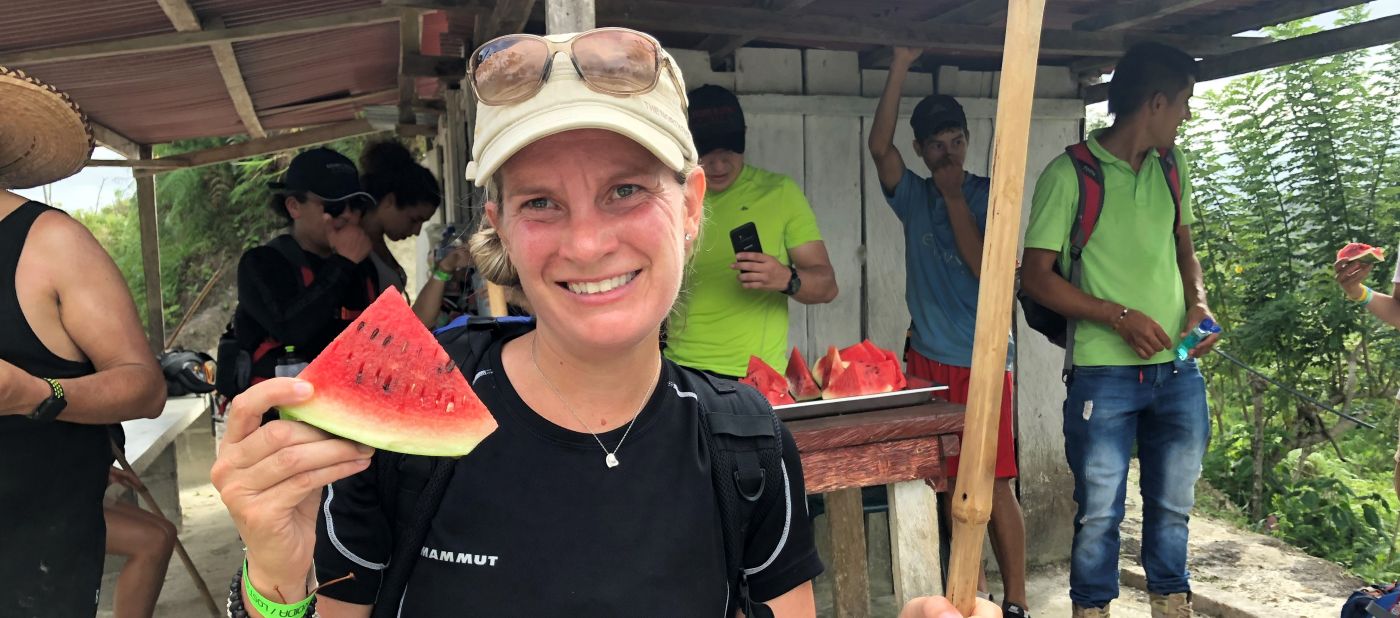 FOOD AND DRINKS
All meals are included with your trip apart from your meals on day one, 2 lunches and 3 dinners. This is to allow you to sample local food of your choice. Emphasis is placed on a varied and well-balanced diet with local fresh fruit and freshly cooked meals with carbohydrates. Included meals are a combination of restaurants, local food and delicious meals home-cooked by the local crew.
Vegetarians are well catered for but please inform us prior to departure of any special dietary requests. Please note that in Colombia the availability of certain specialised products for restricted diets, e.g. gluten-free or dairy-free, can be restricted in some areas, therefore we strongly recommend you bring these dietary items from home.
Daily Meals
Breakfast – consists of seasonal fresh fruit, porridge, cooked eggs, sausage, bacon and toast.
Checkpoints- energy snacks are provided for the daily checkpoints such as biscuits, fresh fruit, chocolate bars, etc. Bringing your own favourite snacks can often be a treat especially whilst trekking or cycling.
Lunch – either a packed lunch during your trekking days or meals in local restaurants
Dinner – the main meal of the day usually consists of three courses; starter: soup and bread / main: rice, potatoes or pasta with fish, meat or vegetables / dessert: usually fruit.
Eating is one of the wonderful experiences when travelling in Colombia. The local fruit and fresh fish is delicious and did we mention the coffee? Wow, it's a real treat.
Water
You will be provided with drinking water throughout your trip. You will also receive a complimentary Water-To-Go Bottle which will allow you to top up your water from designated mountain streams and in villages. We aim to eliminate our plastic footprint in Colombia and ask you to join us on this mission.
ACCOMMODATION
4 nights in hotels, 1 night in a family run eco-retreat and 3 nights in fixed jungle camps. The hotels we use are mid-ranged, locally owned hotels and will provide you with all the facilities that you'll require for the trip. The hotels are located centrally and within walking distance to local areas of interest. The hotel in Minca affords you fantastic mountain views whilst the hotel in Cartegena has a colonial feel and only a short walk to the Caribbean Coast or the cobbled streets of the Old Town, a Unesco World Heritage Site.
During the Lost City Trek you will be staying in fixed jungle camps which have open air bunk beds with mosquito nets. Pillows and blankets are provided. Often these camps are run by local families and a colourful display of blankets are often seen dotted around the outskirts drying off after being washed. Toilet and cold water shower facilities are provided though there are natural streams and waterfalls often located near these camps which are perfect for cooling off after a long day of hiking. If you plan to take any toiletries, please ensure they are biodegradable.
Please note, there is no single room supplement available for this trip given the nature of the expedition. Please contact us for further information at info@adventurousewe.co.uk
TRANSFERS
Internal road transfers
All transfers are included in this adventure and via an air-conditioned minibus. If you are booked on the designated flights, airport transfers are also included.
PASSPORT, VISA, INSURANCE & VACCINATIONS
Passport
All nationalities require a full passport that must be valid for 6 months beyond the intended length of stay. Airlines may not carry passengers holding passports with less than 6 months validity.
Visa
Most nationalities do not require a tourist visa for Colombia, including British nationals. We recommend that you check with the relevant embassy for the most up to date information regarding visas. It is your responsibility to have the correct personal documents and obtain your own visa, if one is necessary. Adventurous Ewe is not responsible for the actions of local immigration and customs officials, whether at points of entry or otherwise.
Please visit the UK Foreign & Commonwealth office website, or your respective nationality governing website, for the latest travel information on Colombia at: https://www.gov.uk/foreign-travel-advice/colombia
Insurance
Travel insurance is compulsory for all our overseas expeditions. It is a condition of joining this trip that you are fully insured against medical and personal accident risks (to include repatriation costs and air ambulance or helicopter rescue services where appropriate). We strongly recommend that the policy also covers jungle trekking, personal liability, cancellation, curtailment and loss of luggage and personal effects.
At a minimum of 4 weeks prior to departure you must send through your travel insurance details to Adventurous Ewe. You will also be asked to present evidence of travel insurance and the insurance company's 24-hour emergency contact number to your guide on arrival in Colombia.
We also recommend that you enrol with Global Rescue prior to embarking on your trip (optional). Global Rescue is the world's premier provider of medical & security advisory and evacuation services http://www.globalrescue.com/adventurousewe/.
Vaccinations
For the most up to date information on vaccinations, you should consult with your GP or travel healthcare practitioner 6-8 weeks in advance of travel.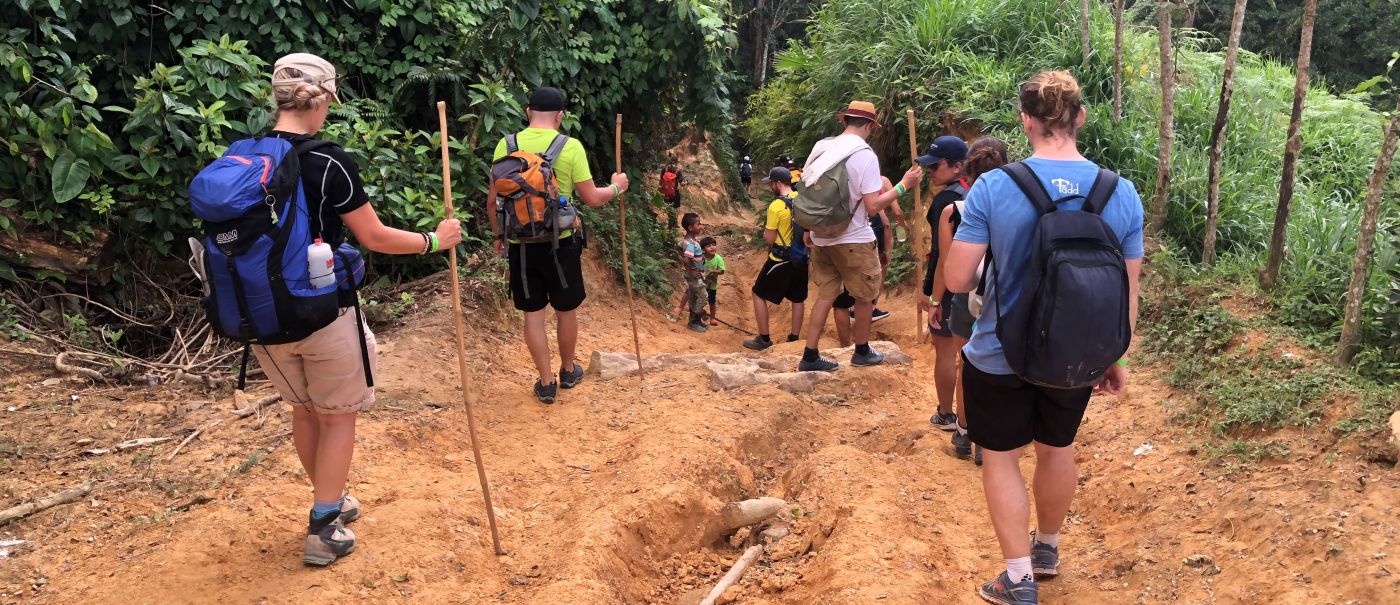 SAFETY AND SECURITY
Safety
Adventurous Ewe prioritises the safety of all of their trekkers and staff, and as such have developed a thorough safety management system. This encompasses comprehensive risk assessments and procedures together with audits of all aspects of your expedition from vehicles to accommodation to the jungle trekking activities. Your health and safety is our top priority.
Security
Security has improved in Colombia though for the most up to date information regarding security issues, please visit the Foreign & Commonwealth website at: https://www.gov.uk/foreign-travel-advice/colombia/safety-and-security. With creating this itinerary, we have taken into consideration security warnings regarding some areas of Colombia, in particular, Bogota. We do not venture to the city's grittier sides of the south and southwest, where working-class barrios continue to battle their (sadly, deserved) reputations for drugs and crime. While we will do everything to provide adequate safety for the group and security for your possessions, the general rule is that if you don't need it, don't bring it. This includes jewelery, necklaces, rings and even watches. Any valuables such as your passport and money should be kept on you at all times or kept in the hotel safe.
Do make photocopies of all your important documents, including passports, and keep copies of emergency.
Travel Aware
The Foreign & Commonwealth Office and NHS have up-to-date advice on staying safe and healthy abroad. To keep informed of current travel news visit https://travelhealthpro.org.uk/

EQUIPMENT
All camping equipment is provided during the Lost City Trek and you will be housed in shelters with bedding and mosquito nets. During the Lost City Trek you only need to carry a ruck-sack with your personal items for the 4 days of trekking – clothing, sun hat, hiking boots, trainers or Keens, towel, swimming costume, toiletries, sunscreen, water and snacks. Your main kit bag will remain at the hotel for the duration of your Lost City Trek.
We are travelling through remote mountains and jungle where we could be exposed to a variety of weather conditions at any time. It is essential that your ruck-sack has a waterproof cover or items are stored inside dry bags. Given you will be trekking in hot and hummid conditions, we strongly recommend that you keep the weight of your ruck-sack to a minimum.
KIT
A full kit list will be provided when you register for this trip. Good kit can make the difference between a fantastic adventure and an uncomfortable one. Well worn in waterproof hiking boots are essential together with a good quality waterproof jacket AND trousers. An exclusive Adventurous Ewe discount code will be provided for the independent outdoor retailers Joe Brown, The Climbers Shop and ashmei athletic apparel on registering for this expedition.
LEVEL OF DIFFICULTY – TOUGH
This expedition is graded as 'Tough' which is mainly due to the hot and very humid conditions of the Lost City Trek and the lengthy days of jungle trekking undertaken. The carefully created itinerary affords you 2 days in Colombia, one of which is a half day of trekking in the mountains of Minca, to give you time to adjust to the warmer temperatures.
To complete this trip comfortably, it is preferable that you have previous trekking experience and your comfortable with hiking 20km a day on consecutive days. The walking is not technically difficult, though you must be a confident with a good level of fitness in order to manage sections of the trip in the heat. During the Lost City Trek you will be required to carry your own kit including clothing, snacks, drinking water, wet weather gear and personal items such medication, sunscreen, insect repellent and toiletries.
There are a couple of river crossings during the Lost City Trek. These will be well managed by the Guides to maximise your safety.
WEATHER
Bogota is warm during the day but temperatures can drop quite significantly at night and rains occur at any time of the year. In the coffee region the climate is warmer during the days but again can be cooler in the evenings – be prepared for changeable weather. On the Caribbean coast the weather is generally hot and humid all year round.
For your Lost City Trek, the dry season runs from December through to early March. The river will be lower and the track will be less muddy. Some of the river crossings may not even come up to your knees. At other times of the year the river will be flowing faster and deeper. The jungle is always going to be hot at low altitudes. But the elevated camps at night can be quite cool and blankets are provided in camps. While you're walking it'll be hot and humid. You'll be sweating up steep hills and trying not to slip down the other side. In parts of the trail there will be no protection from the equatorial sun so it's good to have a hat or sun block ready and also make sure you have some very good insect repellent for the mosquitoes.
RESPONSIBLE TRAVEL
Responsible Travel in Colombia
Adventurous Ewe is committed to delivering travel experiences in a responsible and ethical manner and with sustainable development at its core.
We respect and aim to operate our adventures and events to benefit local people, their cultures, economy and the environment!
Some of the responsible travel features embedded our Colombia adventure are:
– Using local crew who are qualified guides, support crew, cooks and drivers who are all extremely knowledgeable and willing to share their local way of life often with a big friendly smile
– Staying in smaller-scale locally owned accommodation
– Buying locally produced food and drink, and dining in locally owned restaurants
– Minimising plastic waste wherever possible. You will receive a complimentary Adventurous Ewe Water-To-Go bottle for this trip
– Careful management of limited energy and water resources
– Offering real life experiences which promote cross-cultural understanding
– Operating with a 'leave no trace' ethos – take only memories, leave only footprints
– Adventurous Ewe will make a contribution towards our partnership with the environmental charity, Cool Earth

Difficulty Rating