Curious About Solo Travelling?
Life tends to move at a different pace for different people. And situations can change at the blink of an eye as we've all experienced. So when an opportunity presents itself, grab it by the horns and take the plunge, especially when it comes to travel.
If you find yourself dreaming of an adventure, make it happen and join us to discover a patch of the planet you're itching to explore. Our small group-trips are solo traveller-friendly. You'll meet a bunch of like-minded people and experience the personalised, professional and down to earth service of Adventurous Ewe. Whether you're a seasoned solo traveller or a first timer, we're here to immerse you in your very own adventure story with as much support as you need. All of our adventures are suitable for solos, no matter your age. Just a willingness to explore, a curious appetite to discover more and a zest to get amongst it. Our groups are small so you can immerse yourself in the destination, chat to local people, get off the beaten track and all without feeling like you're part of a big tour group.
Each journey starts with a single step, and below is how Adventurous Ewe can make your solo adventure an incredible one with some good company along the way….

Save time and focus on the fun bits
All the details have been sorted for you to enrich your journey, offer local insight, and allow you to pursue great experiences without you spending hours sat at a computer screen trying to figure out the best route options, places to stay and local transport. Adventures take months of research, prep and focus on all possibilities from a logistics, travel and safety. Therefore, let us do the graft so you can focus on the excitement of the journey ahead. We'll provide you with all you need to know before departure, a training guide & top travel tips, a kit list and we're always at the end of the phone, on an online chat or just an email away if you have any questions in the lead up to your adventure.
Peace of mind
Enjoy the safety and security of travelling with a reputable AITO specialist travel company together with a small group of people by your side. You'll also be accompanied by a local leader, many of whom have been with Adventurous Ewe for over 10 years, and are passionate and enthusiastic about their craft. Not only will they guide and support you on an incredible adventure, they will help with things like navigating language barriers, introducing you to new people and delving deeper into the destination, the culture, the traditions and general way of life. Check out our Book and Travel with Confidence for more info.

Expertise in preparation and on your trip
Having worked in the industry since the 1990's with guiding overseas expeditions to far corners of the planet for Exodus, a great deal of experience goes into shaping our itineraries to ensure your travel experience is an incredible journey whilst also benefiting the local communities visited. We closely monitor last-minute insights on shifting safety protocols and government restrictions to make the necessary arrangements for you too. Your safety and that of our leaders, crew and communities we visit are at the centre of our operations, always.

Travel with like-minded small groups
Not only do we focus on small group travel in order to minimise our impact on the environment and communities we visit, but to also provide you with a more personalised, immersive and enjoyable experience. You're not a number on a booking system, you're not counted on and off buses, you're not playing 'follow the leader' on a trail. You have a name and we'll know it, you'll be treated with respect and your leader will be amidst your group in support, in listening, in teaching, in guiding, in motivating, in fun and all whilst keeping you safe. Together, we're a team and a fun one at that.
These adventures are often the base for forming great friendships, ones that will last for many years with sharing all sorts of experiences, no matter your background, age, profession or level of experience. From overcoming fears, stepping out of your everyday comfort zone, to building resilience. Who else can you share a story with about extremely long days wearing boots, cycling up steep mountain passes, crossing high wire bridges and even wild-weeing! Not forgetting by our very nature as humans that we are social creatures, so it makes sense that we gravitate toward shared experiences such as reaching the summit of Mt Kilimanjaro, enjoying an ancient bottle of wine in the Old Town of Tbilisi Georgia, or white water rafting the rapids of Pacuare River as you cross the breadth of Costa Rica. Our trips are filled with so many "whoa-I-can't-believe-we-just-did-that" moments that you're going to want someone to see your beaming face and relive that moment with for many years to come!

What about cost?
We're here to help more people experience the delights the world has to offer and believe travelling by yourself shouldn't be more expensive. Our trips are based on a 'share and save' basis where we'll partner you with a same-sex travel buddy for the accommodation to ensure you pay the same as everyone else.
Your own room or tent
Or at the end of a big day, sometimes you may wish to have your own room or tent. We get it. We offer single rooms or tents wherever possible. Just let us know if you would prefer this option and leave it to us. It does depend on availability and it is an extra cost, but it comes to you at cost price to offer you a fare alternative.

Don't just take our word for it, Maxine has travelled with us many times and we hope her comments give you some peace of mind too……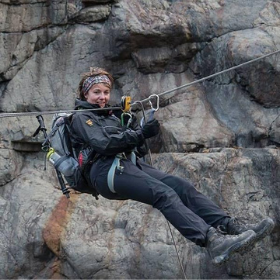 "I have trekked with the 'ewes to Toubkal, Triglav, Patagonia and the Kings Trail in Sweden. I have also managed to squeeze in a few trips to Wales. Each trip was planned meticulously with the odd day factored in for local touring. Jim and Sue have managed to achieve the enviable task of running a tight ship, whilst still be being approachable, flexible and most of all patient with those of us worrying that we may have got ambition mixed up with ability!
The the sustainable and ethical approach box is definitely ticked, and local guides and guesthouses are always employed to support the local economy. Whatever the challenge we always have fun, whilst being safe and well looked after. I am very pleased now to call them both friends and look forward to our next and future adventures."
Maxine, 2021
For see more reviews through The Specialist Travel Association feel free to click here.
Join the flock
Our mission is to connect you with people and places around the globe in a meaningful and enjoyable manner. Giving you the opportunity to see the world in a different light and experience grassroot adventures which may even change your perception of the world as you know it.
Our greatest lessons, our most valuable experiences, come from taking a step out of our comfort zone. Adventure travel will give you a sense of freedom and opens up unlimited possibilities. Experiences that are so vivid and remarkable that they may even shape your life. Join us and travel solo yet not alone.
If you have any questions about travelling solo or any of our trips, please feel free to get in touch with Jim or Sue at info@adventurousewe.co.uk or call us on 01492 588 069.