COLOMBIA AND THE LOST CITY
Having been lucky enough to travel through some of the world's most incredible places and experienced a whole array of amazing adventures, I was completely surprised just how much Colombia and the Lost City warmed my heart and refuelled my adventurous soul. This is definitely the place to create new adventures and experience the friendliness of its people who have endured a turbulent past.
Below is the story of our Colombia and the Lost City discovery trip and how we came about creating our own 'Explore Colombia and the Lost City' itinerary to help showcase awe-inspiring gem……
Time to explore Colombia !
Arriving into Cartagena de Indias was a welcomed sight after spending 5 days sailing the Caribbean from Panama. The rolling seas gifted me with a spell of seasickness so I witnessed the approach into Cartagena harbour flat on my back on the deck seeking comfort of the night sky as a blanket of hope to set foot on land again soon and feel human. The warmth of the morning ensured everyone was up on deck early, full of excitement and ready to start exploring this historic port city strategically nestled on the Caribbean coast.
Our Colombia adventure begins…..
CARTAGENA
Following these 5 days at sea we treated ourselves and stayed in Cartagena's Old Town (A UNESCO World Heritage Site) where we securely wrapped inside the superbly preserved city by an impressive 13km of centuries old colonial stone wall. The Old Town just beckoned to be explored with a maze of cobbled streets and colourful colonial buildings. The sounds of local music and rhythms gracing many plazas and the sight of many bars and restaurants lining the alleys ready for a thirst busting drink. The rooftop bars were ideal, not only for a vast selection of drinks and superb coffee, but also allowing different viewpoints of the city and a glimpse of the coast, perfect for a sunset tipple.
Cartagena History
Having spent days wandering the city, we only scratched the surface as there was a plethora of things to see, do and experience. The history was incredible, from its Spanish Empire in 1533, to numerous pirate attacks, to the well renowned Battle of Cartagena de Indias where the city endured a large-scale attack by British and American colonial troops of 186 ships and 23,600 men, against only 6 Spanish ships and less than 6,000 men (there's a movie plot right there). Victory demonstrated Spain's ability to defend its position and largely ended active operations in this area. It took until 1811, for Cartagena to finally declare its independence.
In addition to the hundreds of years of history behind the area's cobbled streets, we explored the Castillo de San Felipe de Barajas, a magnificent castle dating back to the 17th century. We also wandered past a number of impressive ancient churches and memorials, such as the monument dedicated to India Catalina, los Zapatos Viejos, and los Pegasos.

Moving on, the city's access to the Caribbean Sea and beautiful beaches also provided the perfect place for more exploring in the perpetually pleasant climate. These sandy beaches hosted a lovely afternoon wander, and we were tempted to have a dip in the warm waters. It was fab to see so many local tourists enjoying this part of Cartagena.
Cartagena Nightlife
The nightlife was so vivid and fun. Walking the streets of the Old Town you felt safe and at ease, though our favourite place was Holy Trinity Square (Plaza de la Trinidad). The atmosphere was full of energy with local street performers, a fantastic chance to sample street food and there were always beers on hand too. We had a superb night there with our new sailing pals, an awesome way to celebrate Sue's birthday. And did I mention the food? Cartagena is a fab place to sample new and exotic dishes thanks the city's rich ethnic background. Local Cartagenero dishes reflect the influence of African, indigenous, and European cuisines. Simply delicious.
In a nutshell, this city has it all and is a must do for anyone visiting Colombia. So it was a big tick to feature in our new Explore Colombia itinerary.
SANTA MARTA
It was time to leave the vibrant city of Cartagena and head north along the Caribbean coast to Santa Marta, in preparation for our Lost City Trek. Although Santa Marta is another colonial city on Colombia's Caribbean coast, it has a grungier feel given the urban sprawl, however there are still some hidden pockets of colonial charm.
Meeting our guides
We used our day in Santa Marta to meet a selected number of local operators in order to start pulling together a unique and exciting itinerary for the Lost City Trek with added extras. It's was really heart-warming to see these operators all working together to ensure trekking to this remote region and pristine archaeological site is well managed, together with the local indigenous people, and they all resonated huge amounts of passion and pride. This mixed with spending hours looking at other adventure options in Colombia, safety management and all the in's and outs of robust trip preparations. We decided on our preferred local operator and were buzzing with excitement when the trip planning started to come together.
That evening we left our locally run hotel, full of enthusiasm with the new trip planning coming together. We were pleasantly surprised how Santa Marta came to life at night with street markets, music and plenty of great restaurants to grab a good hearty meal before heading into the jungle.
WHAT IS THE LOST CITY TREK?
What could be more intriguing than trekking through the heart of the Colombian jungle to an ancient city? Ciudad Perdida (the 'Lost City') disappeared into the jungle around the time of the Spanish Conquest and was only 'discovered' again in the 1970s. This journey is one of the most culturally mysterious hikes on the continent. You'll wade through rivers, cool off under waterfalls, learn the traditions of the indigenous communities that still live there before climbing the steep 1200 mossy steps to discover the pre-Hispanic Lost City and the myths and legends behind it.

THE INCA TRAIL OF COLOMBIA
The "Lost City trek" will take you on a journey to an ancient city, abandoned for 400 years and only rediscovered in the 1970s. This is a hike through a biologically unique environment, alongside indigenous peoples still using their historic paths to reach an archaeological marvel over 1200 years old…..that's more than 600 years older than Machu Picchu! Unlike its Peruvian counterpart, there are no trains or buses allowing for easy travels to reach its ruins. The only way to witness its uncovered layers first-hand is on foot. This means there are over a million visitors to Machu Picchu every year compared to only 8000 hikers per year. It's a true adventure of discovery.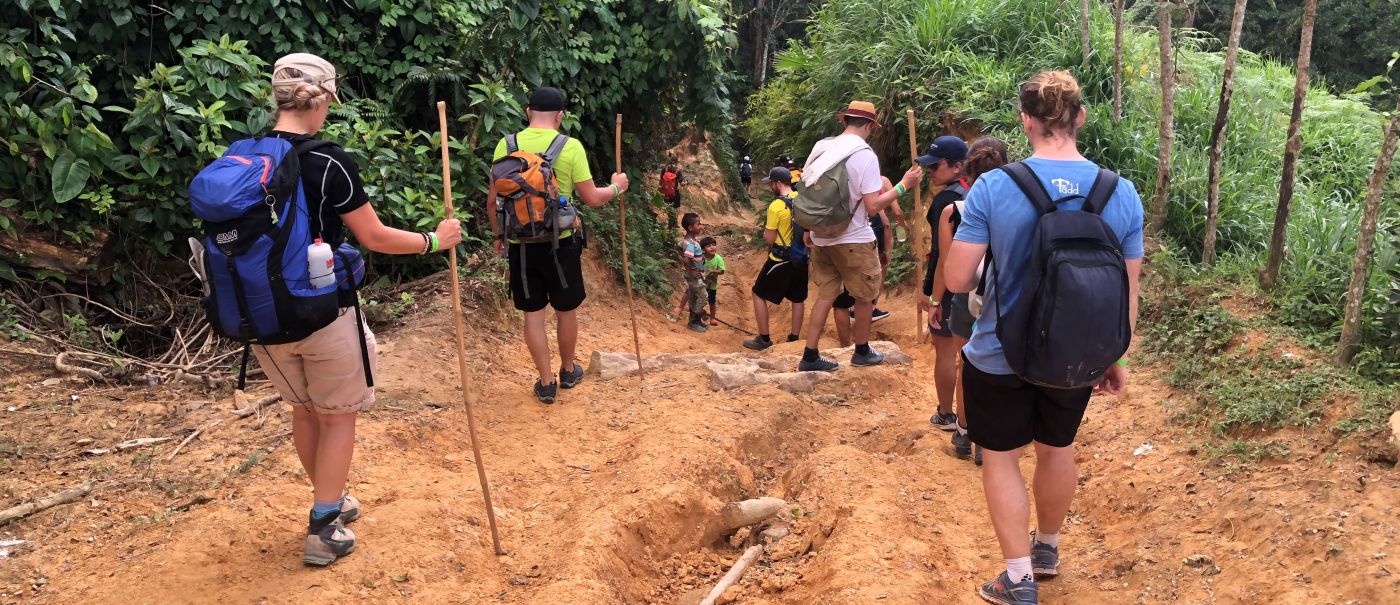 A GLIMPSE INTO THE LOST CITY'S PAST
Most archaeologists agree that the first Colombian villages began appearing in 2,000 BC and by 1,000 BC hundreds of different tribes had acquired expertise in farming and mining. From 200 AD small towns began appearing on the coast and by 800 AD stone cities began to appear in the highland – it is here that Ciudad Perdida gained its prominence. At its peak, around 1200 AD, it is believed that the Lost City could have housed up to 4,000 people. It was a maze of over 200 stone structures; including stone paths and stairways, houses, plazas, canals, bridges and ceremonial buildings. It is also believed that the city was an essential part of the network connecting the people of the area; the Tairona.
Tairona Culture
The Tairona were the dominant group of peoples living along the northern coast of Colombia for well over 2000 years. They built up a complex system of agriculture, irrigation, trade and engineering until the arrival of the Spanish in the late 15th century. The first contact was peaceful but after the Spanish attempted to take the Tairona as slaves plus stole huge amounts of gold in 1578, the Tairona reacted violently resulting in many Spanish deaths. It was only due to the arrival of Western diseases such as small pox which decimated the previously densely populated numbers of the Tairona, that the Spanish were able to take the upper hand.
After a Tairona uprising in 1599 was brutally put down, the majority of the Tairona were forced into the Spanish working programs known as the 'Encomienda System'. Those who remained retreated into the stone cities of the Sierra Nevada to avoid all contact with the Spanish. It is believed the reason that the Lost City is only accessible via a series of very steep stone steps was to deter the Spanish horses who would have been unable to climb them. It is thought that the city was finally abandoned in the 17th century and by the 18th century the last of the Tairona were forced into the Spanish working camps, leaving behind their city and their ancient trails of which the forest soon reclaimed.
The South American indigenous people were famous for their gold work, and left many artefacts in the city, many of which were traditionally buried with their ancestors underneath their houses. Unfortunately, the majority of these items were taken by looters but a good collection was recovered. The Museo del Oro in Bogota has a fantastic collection of these treasures and a visit to this museum is included in our new Colombian explorer trip for this reason.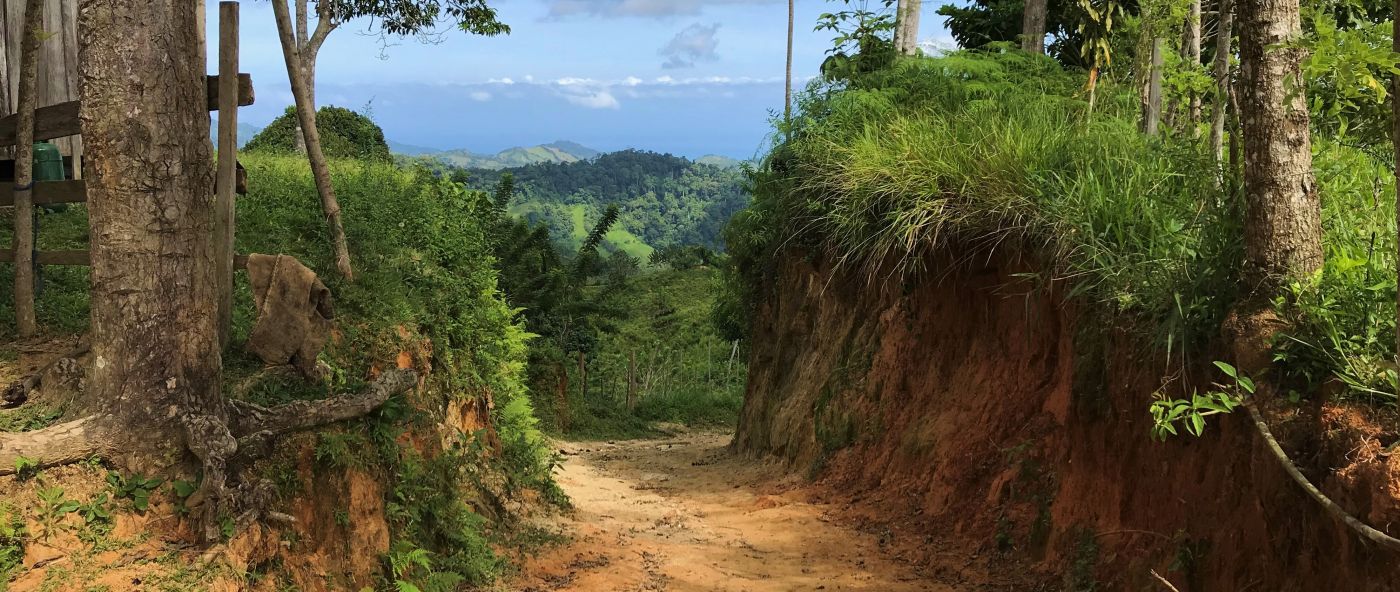 After the city was abandoned it was believed to have been lost. The indigenous people who still live in the area, descended from the Tairona, are called the Kogui, Wiwa, the Arhuaco and the Kankuamo peoples, and claim that the city was never really "lost"; that they always knew of its existence, and that they visited the city for ceremonial occasions. Some of these tribes still live along the Lost City trail and it was incredible and very special to see them still living the way their ancestors did many generations ago.
The Treasure Hunters
Treasure hunters discovered the archaeological site in the early 1970s when they climbed the 1,263 stone steps from the riverbank to find an isolated site consisting of more than 150 terraces, plazas and stone paths that cascade down the mountain. Thought to have once been a commercial centre for trade, only 10% of the Lost City has been excavated by archaeologists, giving it an eerie atmosphere that sets your imagination racing.
Recent History
Until recently, the Lost City was largely protected from outside influence as the area remained rarely visited as it was still a site used for marijuana & cocaine production, and an area involved in the on-going conflict between the Colombian National Army, right-wing paramilitary groups and left-wing guerrilla groups like National Liberation Army (ELN) and Revolutionary Armed Forces of Colombia (FARC). Everyone living the area had only two choices, join the paramilitary group and fight or work in the production of cocaine. They had no choice, and in my view it was basically a form of slavery. At its height this area was the largest producer and exporter of cocaine in the world.
There was so much money in the villages which arrived on the backs of mules, they never bothered to count it. All this money may sound great, but living in such harsh conditions, not allowed to leave & visit family in other regions and being controlled by the Narcos and FARC made life a living hell.
Moving on all this has now ended, all the coca plantations have gone, so have FARC the labs, and the NARCOs. Now the area see's up to 100 people per day doing a 4 day trek to the Lost City. All of which brings on income to the area and everyone lives in peace.
Jorge our guide: "We may have less money now but we are happier living in peace and can see our families when we wish".
With undertaking the Lost City Trek in November 2019, it was truly humbling to witness the military, the five local trekking operators and the indigenous people all working together to ensure sustainable tourism is now the key source of income for this region.
We both adored this trek; discovering an abandoned city that's still revealing its secrets, exploring green copses and stone paths through dense forest, cooling off in waterfalls, sleeping in jungle camps, passing through indigenous villages where life has remained largely unchanged for centuries, watching the clouds lift from the terraces of the Lost City and helping support tourism and the positive impact it has for the people of this area.
COLOMBIA AND THE LOST CITY TREK – DAY TO DAY
DAY 1: The Mamey Region
Duration: approx. 4 hours
From Santa Marta it's roughly a 2 hours journey to El Mamey where the trek starts. The tarmac road transfer soon gives way to a bumpy dirt road that winds it's way through the mountains. The 4WD you're travelling in soon has your fingerprints embedded in the seats as you hold on. This exciting 4×4 transfer soon ends as you reach El Mamey for lunch before embarking on your jungle adventure of a lifetime.
Initially passing through farmland used for growing coffee or raising cattle, you'll get a glimpse into the daily life of the small communities en-route. Then wow, you start heading upwards as the path winds its way into the mountains. The heat is relentless and we now know what 'baking hot' literally means. (This is the reason we opted to build in a half day warm-up trek in the cooler Minca region on our new itinerary to help your body adapt to the change in temperature and Colombian terrain). As we climbed onwards and upwards, we were delighted to be rewarded with not only vast views over the densely jungle covered mountains but also pieces of deliciously fresh watermelon. The perfect treat in the heat.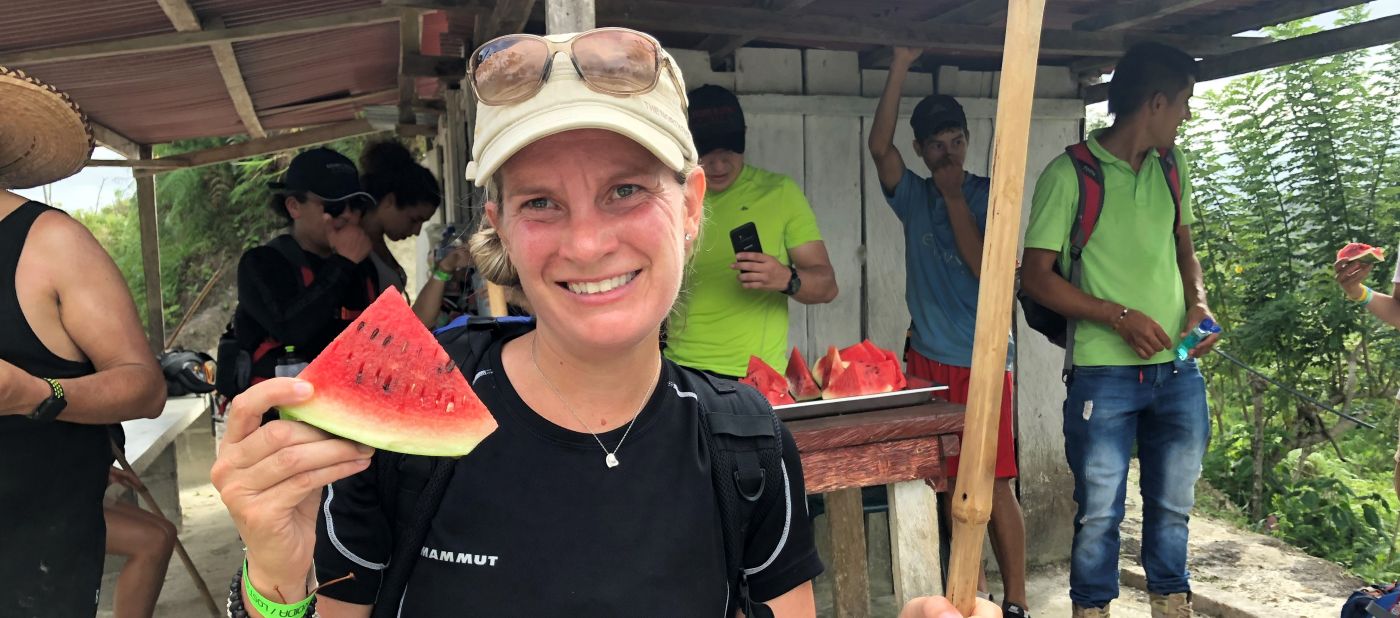 After around 4 hours of trekking, we reached our first camp for the trip. Ideally located next to a natural pool with a stunning waterfall………in no time we were all taking a refreshing and much needed dip before dinner. As with every day, you'll set yourself up in your bunk that's enclosed in a mozzie net, pop on some warm clothes and enjoy dinner prepared by your lovely crew. The jungle takes on a majestic feel at night, though make sure you have some heavy duty insect repellent as you'll get to meet the local mosquitoes whether you want to or not.

DAY 2 – Buritaca River and Kogui Village
Duration: approx 8 hours
An early morning wake up and breakfast, the day starts hiking along the Buritaca River. It's a long and quite a tough day but the views are jaw-dropping and yes your intense love of watermelon continues to be rewarded at just the right times along the route. With a decent stop for lunch there's time to venture off, without the weight of your pack, to enjoy a cooling dip in another stunning waterfall. That afternoon we took delight in walking alongside a traditional Kogui village of circular thatched huts. Women and children dressed in their white cotton smocks were going about their daily lives as piglets snuffled around in the mud. Some of the men passed us along the route and the ease and speed at which they moved over the terrain was super impressive.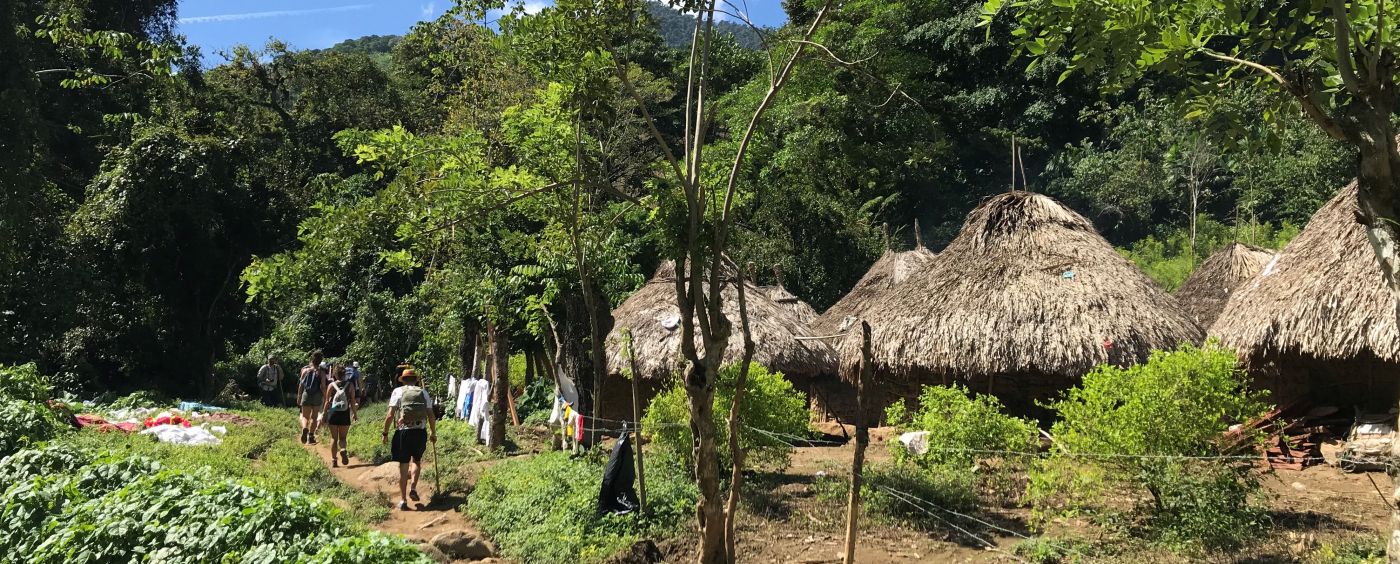 After a full day of mud, river crossing and challenging terrain, we arrived at the second camp. This site was larger than the previous night and was located near the start of the famous steps to the Lost City. Most of the groups visiting the city stay here so it is the busiest of the camps enroute. Thankfully, the camp is right next to a very pleasant spot on the river where you can take a dip or just enjoy some time out following quite an epic day.

DAY 3 – Ciudad Perdida, The Lost City
Duration: approx 8 – 9 hours
Rising in the dark in order to be ready to rock n roll as soon as the sun peaks above the horizon. We set off filled with excitement as this was the day we had been waiting for. Being higher up in the mountain, the morning was quite cool and with only being 15 minutes into the trek, the prospect of river crossing was quite chilling. But on the other side we were greeted with 1200 moss covered steps to warm us up which lead to the majestic stone settlement of Teyuna Ciudad Perdida. Taking our time on the steps given their steep incline, we reached the first of the 170 stone terraces. WOW! This was the start of learning so much more than we could have hoped for from our local guide who was immensely proud and passionate about this place, it's people and incredible history. We wandered around the vast site (mosquitoes in tow) creating visions in our own mind of what life must have been like residing here all those years ago.
Ciudad Perdida
We climbed higher in the city only to come across a Kogui settlement where a family tribe currently reside. This was such a staggering surprise as rightly or wrongly, we had no idea that there were indigenous people living in The Lost City today. To add to the delight, our local guide knew the Kogui Leader and brought with him some smoked fish for the family as a token of thanks. We also met the Leader's grandson, Joselito, and what an amazing impression this young boy made on us. He had learnt some Spanish in order to communicate with the local guides and was all smiles when we quietly passed his village.
Surrounded by a magical forest with its unique flora and fauna, we continued to explore this truly amazing place with the warmth of the sun slowly creeping across each terrace as the morning light made it's way up the city. We really enjoyed our time in Ciudad Perdida and it was well worth the effort of reaching such a remarkable place on the planet. It was then time to descend the steep stairs and return to Camp for an early lunch. With food onboard and trying to beat the incoming wet weather, the group set a fast pace with trekking back to camp 2 for our final night in the jungle. We were glad to climb into our bunks that night.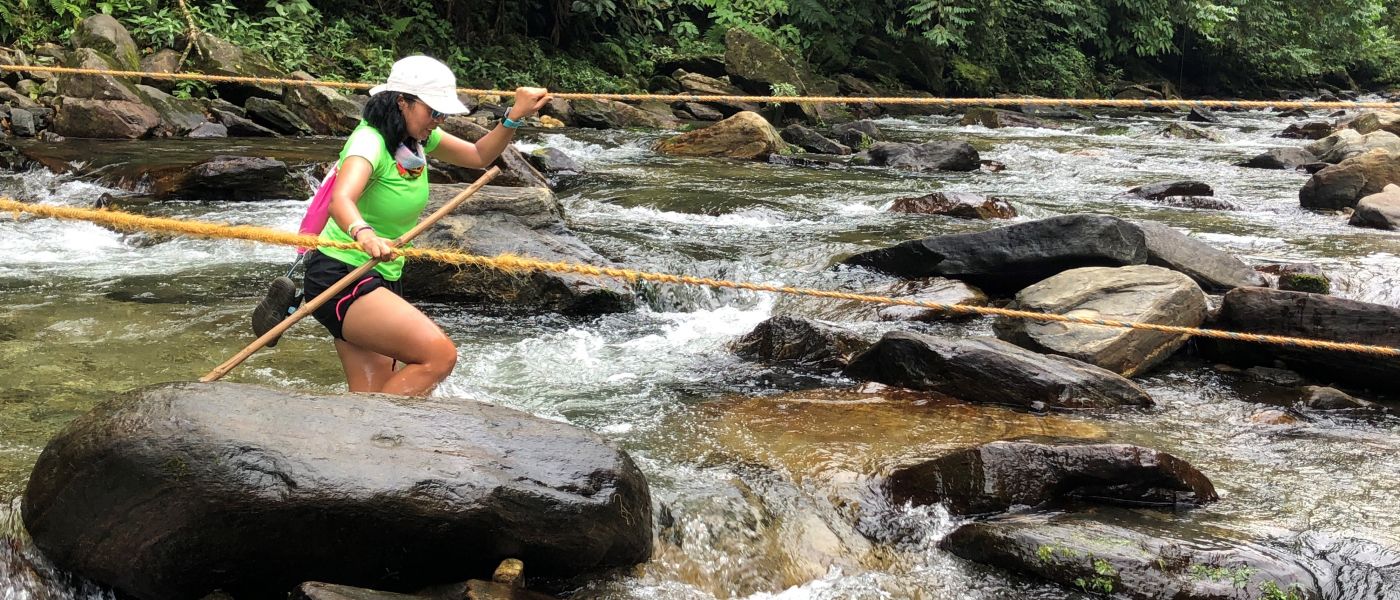 DAY 4 – Return to El Mamey
Duration: approx 6 hours and 4WD transfer to Tayrona National Park
We returned via the same route which was thankfully predominantly downhill. We stopped at Adán Camp for a quick dip in the cool river before winding our way back to El Mamey. It was a welcome sight reaching the place where we had started the trek a few days earlier. There were high fives all round, big smiles and the purchase of a couple of cold beers to enjoy whilst reflecting on all that was the Lost City. We returned our complimentary bamboo walking sticks, of which we had become quite attached too, before enjoying lunch and climbing back into the 4WD.
We had organised to then extend the adventure to Tayrona National Park as we thought it would be the perfect finish for our new Lost City Trip, so we planned to check it out. Whilst on paper this looked ideal and we felt the additional short trek would be achievable, with doing it in reality, we soon learnt differently.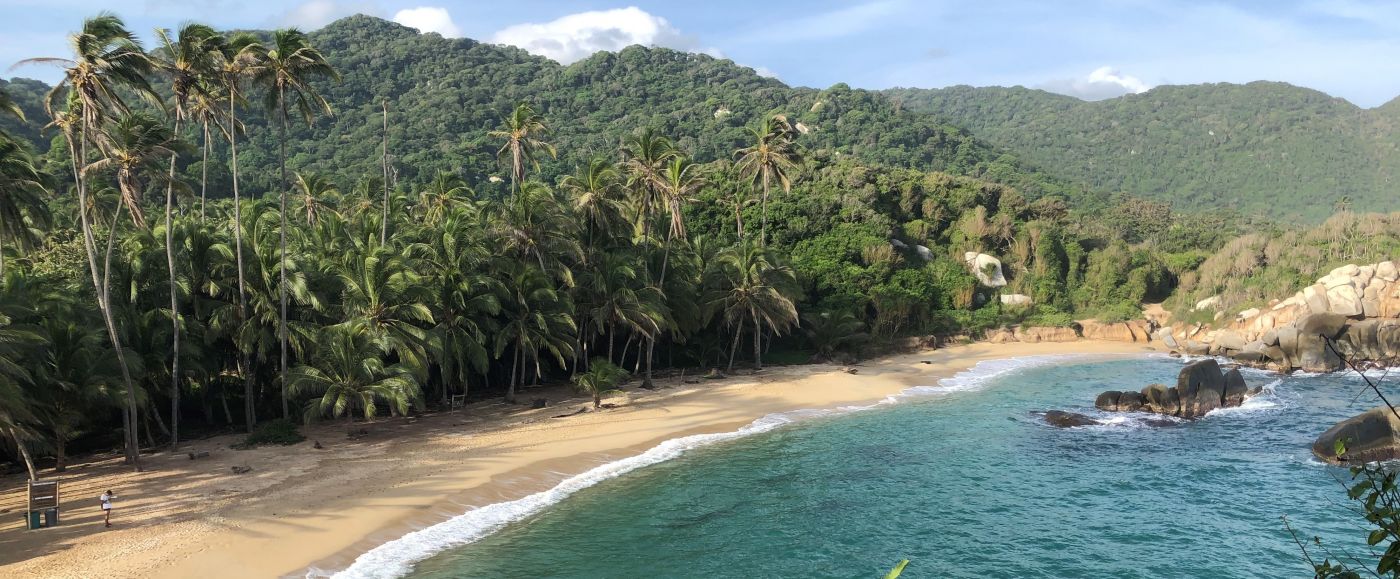 Parque Nacional Natural Tayrona
Is a magical slice of Colombia's Caribbean coast, with stunning stretches of golden sandy beach backed by coconut palms and thick rainforest. What could be better after a jungle trek? Well, embarking on another 2 hour trek after coming out of the jungle; smelly, coated in dirt & sweat, still carrying a rucksack and quite honestly, knackered, this 'bright idea' quickly diminished into 'this is not gonna work'! The last 30 minutes of this trek were not quite how we pictured it to be. Trekking through the forest which was now under a cover of darkness and the with the threat of wildlife coming out to play, our pace quickened and our eyes took longer than hoped to adjust to the terrain at night.
The final 30 minutes weren't enjoyable and it really dawned on us then that this initial dream itinerary wasn't going to work. We finally checked into the campsite and wandered up to our allocated hammocks which were located on a remote point overlooking the Caribbean Sea. Again, we pictured this to be the perfect finish to completing the Lost City Trek with sleeping in hammocks, on the coast and awakening to the sun rising over the sea. Hmmmm…..again we were wrong.
It all sounded amazing in theory, however the wind that night buffeted our hammocks for hours on end which made for a rather uncomfortable and chilly evening. So this just confirmed the decision of the 'ideal finish' to the Lost City trek was not to be in a hammock following a two hour trek along the Caribbean coast. But the sunrise that morning was spectacular so a 'plan b' needed to be hatched.
Plan B
With our local guide, we put our heads together to formulate 'plan b'; our 'ideal finale' for the Colombia and the Lost City Trek itinerary. Now that we had completed the trek, we had first hand knowledge of what you really want with coming out of the jungle………a shower, a loo, a comfy bed, some delicious food and a fresh change of clothes.
So 'plan b' transpired……..a transfer to the Caribbean coastal town of Palomino with an overnight stay in a family run eco-retreat of whom some of the family are descendants from the Kogui tribe. Palomino is one of Colombia's most perfect beaches. With the idyllic framing of palm trees and the dramatic Sierra Nevada mountains, a sunrise over the Caribbean and delicious fresh food served, this is where you want to be after 4 days in the jungle.
SALENTO
We continued our travels with visiting Salento, a small town in north-east of the department of Quindío. It was like stepping onto a set of a Wild west movie and any moment Clint Eastwood was about to ride into town on horseback chewing on a piece of straw. With locals wandering the streets in cowboy hats & boots, wrapped in ponchos and a machete at their side (naturally), Willy jeeps dotted around the central square.
We immediately knew we were going to love this colonial infused town. This laid back colourful hive is in the Coffee Triangle of Colombia and home for some thrilling outdoor adventures. We spent a day mountain biking through the postcard-perfect wax palms of the Cocora Valley, enjoying lunch at a local farmers house where hummingbirds delighted us with their presence.
Playing Tejo
There was more fun to be had and the timing was perfect to randomly bump into our Dutch pals whom we had met on our sailing trip to Colombia. After reading about the game of Tejo, which involved beers, targets and gun powder, the risk assessments were brushed aside as we were all keen to have a go at this national sport. After a quick demo from the locals, we took to hurling our tejos (weighted steel discs) towards a bocin (metal ring) that was rigged with gunpowder-stuffed mechas, (basically gunpowder wrapped in paper triangles) ready to explode upon impact. We spent a good couple of hours trying to master the skill of creating a loud and much anticipated bang with our throws. A few beers in and we were totally hooked; cheering and high-fiving if any of us set off the mechas.
Salento was a fun adventurous place, serving superb coffee and great food. For anyone that has time on their hands when visiting Colombia, we'd be delighted to put together some recommendations of where to go and what to do in one of the oldest towns in Quindío. Or watch this space for another potential Colombian itinerary to be created.
VILLA DE LEYVA
On the recommendation of a relative that lives in Bogotá, we took a local bus to Villa de Leyva and wow, what an incredible place (and an interesting bus journey over a windy mountain pass). This is one of the most beautiful colonial villages in Colombia, and a city frozen in time. Declared a national monument in 1954, the photogenic village has been preserved in its entirety, with cobblestone roads and whitewashed buildings. The town, just a 4 hour bus journey from Bogotá, sits around one of the largest stone paved squares in South America. This is a great place to spend a couple of days chilling out, wandering the streets, exploring the ancient churches and buildings whilst enjoying some delicious local food and drinks, needless to say coffee features high on the list.
Again, for anyone who has the time whilst in Colombia, we highly recommend jumping on a bus and visiting this remarkably well-preserved town. We can give you plenty of advice on travel, accommodation and where to eat & drink.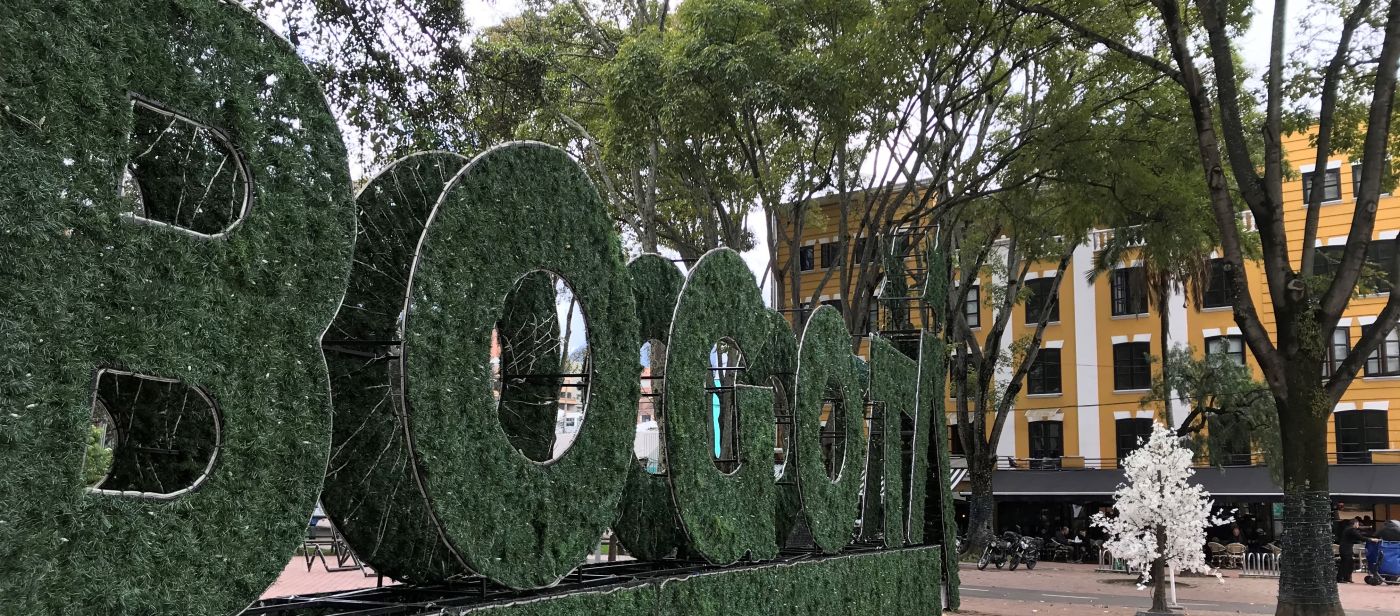 BOGOTA
We then returned to Cartagena for the night before flying to the vibrant capital city of Colombia, Bogotá. The bustling cradle of Colombia and third-highest capital city in the world. Wow, what a place and we really wished we had more time to explore this diverse city. But we met with our local operator once again to make a few final tweaks to our unique itinerary and decided that it must include a city tour of Bogotá. Having now been to the Lost City, it definitely piques your interest in Colombian civilisation and culture so visiting the Gold Museum which houses some items found in the Lost City was a must. The City Tour also includes the Paloquemao Market, La Candelaria Historic District and the Botero Museum. Bogotá, we will be back.
Ewe Can Do It
So after 3 weeks in Colombia, we were beyond excited to not only have enjoyed the trip of a lifetime, but also to have created an adventurous itinerary that we could share this awe-inspiring place with people whilst helping boost tourism to support local Colombian communities. To check it out, simply visit Explore Colombia the Lost City Trek We'd love you to join us.
TOO LONG; DIDN'T READ
Here's a quick summary:
From mountains, to jungles to cryptic archaeological ruins, cobbled colonial communities and indigenous tribes still living how they did centuries ago, Colombia has it all and is one of our favourite places on the planet
Cartagena – enjoy exploring the maze of cobbled streets, colourful colonial buildings and the vibrant atmosphere lined with bars and restaurants serving delicious local Caribbean cuisine
The Lost City Trek – the Inca Trail of Colombia. This once in a lifetime trek will take you on a journey to an ancient city, abandoned for 400 years and only rediscovered in the 1970s. This is a hike through a biologically unique environment, alongside indigenous peoples still using their historic paths to reach an archaeological marvel over 1200 years old…..that's more than 600 years older than Machu Picchu!
Palomino – one of Colombia's most perfect beaches. With its idyllic framing of palm trees and dramatic Sierra Nevada mountains, this is where you want to be after 4 days in the jungle.
Bogota – the bustling cradle of Colombia and third-highest capital city in the world. Must do's – is visit the Gold Museum to discover pieces of gold from the Lost City, explore Paloquemao Market, La Candelaria Historic District and the Botero Museum.
Join Adventurous Ewe on our brand new, hand-picked and exclusive Colombian adventure – 'Explore Colombia and the Lost City' in November 2020 or 2021.

Finally !
Oh and if you got this far and you like dogs, then Colombia is definitely the place to go. There are dogs of all shapes and sizes everywhere…….The Lost City Trek, Cartagena, Bogotá, even the Kogui children had pet puppies in tow with them in the jungle. They were all so well cared for and we didn't meet one that caused us any alarm. It was time to go home as we were missing our own dog, Moshi. Moshi-the-mountain-dog.