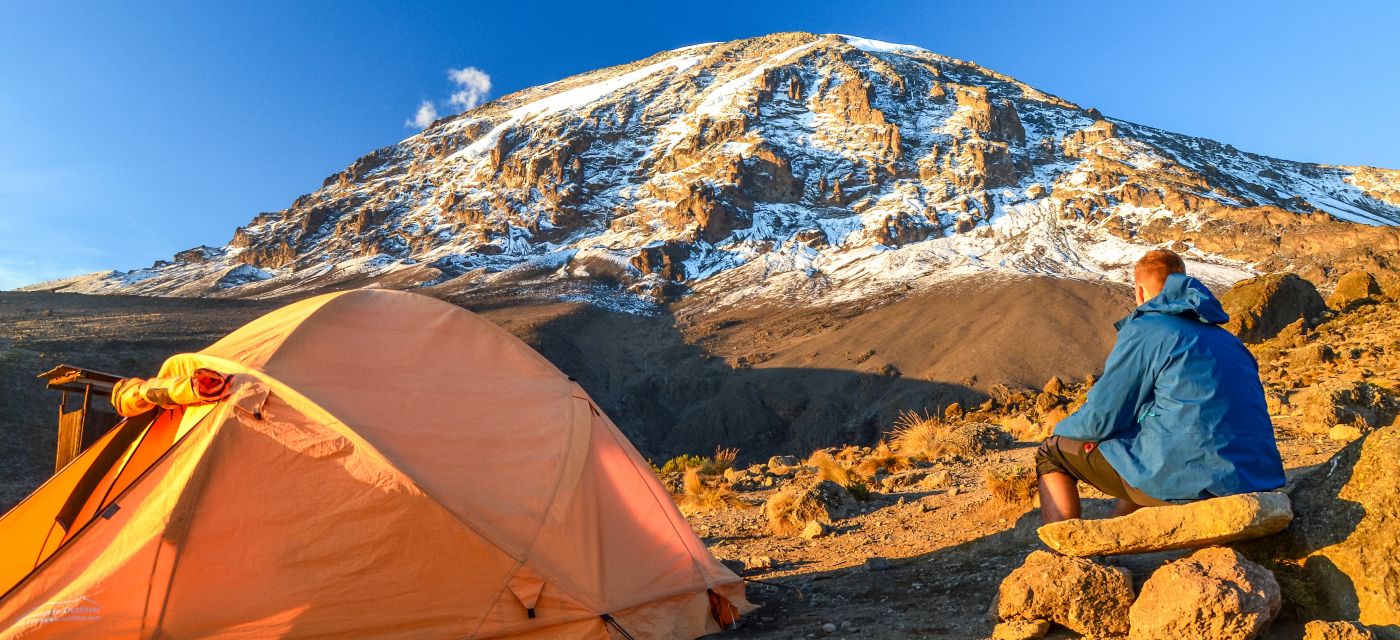 Thinking of climbing Kilimanjaro? Is it something that's been lingering on your bucket list for years? Well grab a cuppa and hopefully the information below will help you take the first steps towards standing on top of the world's highest freestanding mountain, Mt Kilimanjaro at 5,895 metres.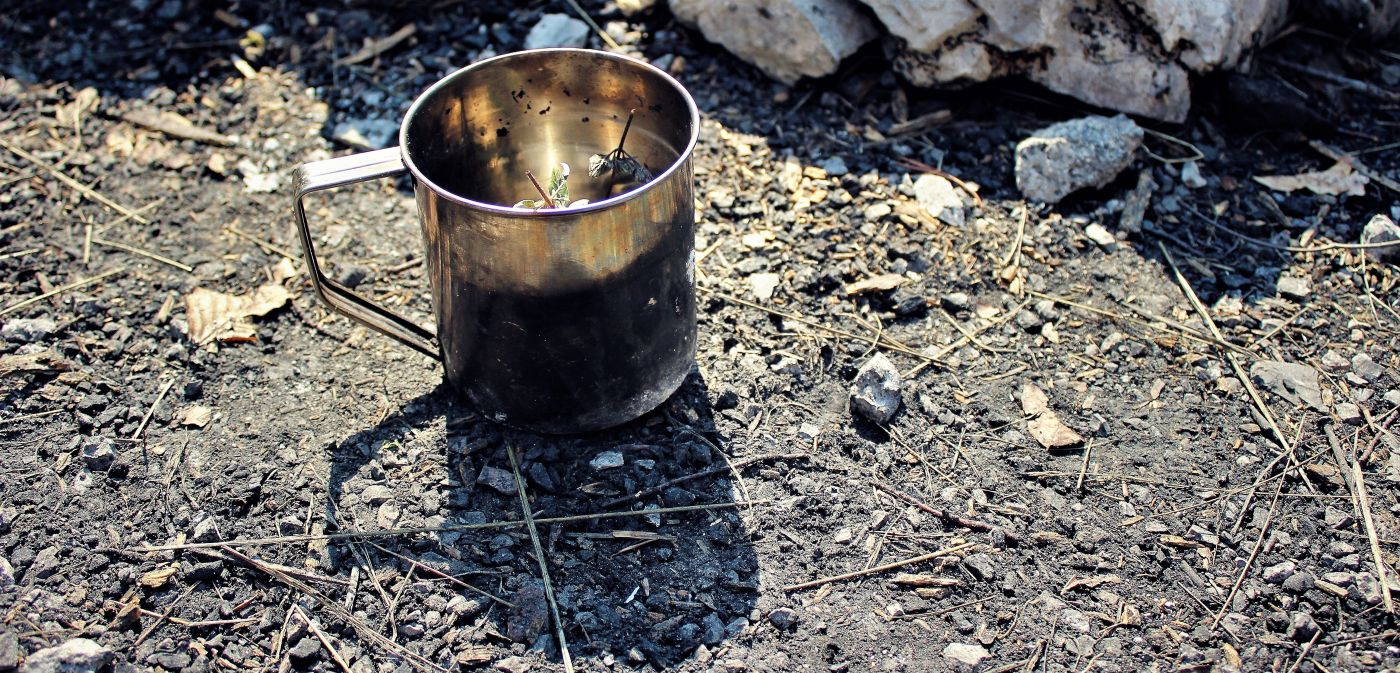 But first of all, let's take it back a step. Why on earth take the plunge in the first place?
Spending 6 – 8 days with people you've never met, trekking for multiple days at altitude, sleeping in tents and inevitably climbing to the 'Roof of Africa' is no mean feat, and to most of us, that prospect can be more than daunting to say the least! But isn't that part of the excitement as well? Jumping into the unknown, stepping outside your comfort zone, attempting a world-famous mountain peak and creating your very own adventure tales? You can make it happen and all with the support of specialists that will guide you every step of the way. So, don't let your nerves or excuses get the better of you because the rewards and experience far exceed not taking your first steps on Mt Kilimanjaro.

So let's begin……can I actually do it?
The million-dollar question for all who consider climbing Kilimanjaro. If you're in good shape, have some previous trekking experience, have a can-do attitude and love a challenge, then you're halfway there to achieving your goal. Climbing Kilimanjaro is by no means a walk in the park, with long days of trekking and altitude to tackle, it's hard work. And there's more than just physical strength that you'll need, there's the need to believe in yourself and have a strong determination to help you reach the summit. You'd be surprised how much your mentality can affect your physical performance. Climbing Kilimanjaro requires perseverance and willpower and that's what makes it worth doing. The sense of achievement is unbeatable! Summit night is where you really need to dig deep, however when the sun finally graces the horizon and creates a warm glow over the neighbouring Mawenzi Peak and the African plains, it gives you a real boost to keep going and it's a sunrise that you'll remember forever! Once you reach the crater rim and catch your first glimpse of the famous Kilimanjaro summit sign, it's like a magnet that will draw you to the peak of the Roof of Africa. So, remain positive and believe that #ewecandoit!

What is the difference in routes and length of itineraries?
There are many different routes to choose from for your ascent of Mt Kilimanjaro. The map below displays the routes available. Adventurous Ewe offer four of these trails so there's bound to be a route that will best suit your ideal ascent. Currently we run open trips using the 7-day Machame Route, whereby anyone can sign up as an individual or small group. We can also organise private groups for over 10 people for charity, corporates or groups of friends using either the Machame, Lemosho, Marangu or Rongai routes or itineraries below.
Kilimanjaro routes offered by Adventurous Ewe including our recommendations of the optimal number of days you should select which will help with your acclimatisation:


What is the difference between each route?
Here's a brief overview of each route….
Lemosho: On this route you approach the mountain from the west through the Londorossi Gate. This low-traffic trail spends the first two days trekking through the beautiful rainforest to Shira Plateau, crossing the caldera of Shira volcano and joining the Machame Route at Shira 2 Camp. You will explore the rock formations of the plateau, before traversing beneath the southern icefields of Kibo. You will then make your final ascent to the summit by the Barafu route. Your descent is via Mweka route with the chance of seeing Colobus monkeys and plenty of bird wildlife.
Machame: Also referred to as the Whiskey route, it is one of the most popular routes on Kilimanjaro and a favourite for Adventurous Ewe given that it has one of the highest summit success rates. This is due to the topography of the route which allows climbers to "trek high & sleep low". This route approaches Kilimanjaro through forest and moorland from the south-west and joins the Shira & Lemosho routes before traversing beneath the southern icefields of Kibo. The rainforest is extremely beautiful and there is a tangible sense of 'wilderness' once the higher elevations are reached. The views of Mt. Meru floating on the clouds are simply unforgettable. You will make your final ascent to the summit by the Barafu route. Your descent is via Mweka route with the chance of seeing Colobus monkeys and plenty of bird wildlife.
Marangu: This route, often referred to as the 'Coca-Cola route', is used by almost 50% of all climbers as people perceive that it is an easier route to the summit which can be done in 5 days. This is far from the truth to be honest! People believe that it is easier is because it is the only route up where you sleep in huts as opposed to tents. The route starts from the park headquarters in the village of Marangu and heads straight westwards towards Kibo. The trail goes through beautiful rainforest, heath and moorland to alpine desert and ultimately the arctic zone at the peak. The real highlight is the walk from Gilman's Point along the crater rim to Uhuru Peak, passing close to spectacular glaciers and ice cliffs. This is the only route where you descend via the same way you came up.
Rongai: Starting from the northeastern side of the mountain near the Kenyan border, the Rongai Route rises above the Amboseli plains and approach the summit of Kilimanjaro west of the Mawenzi peak. It is an unfrequented route and is also the easiest camping approach to Uhuru Peak. It begins in farmland and delightful forest, with the possibility of wildlife viewing, and passes through several different climate zones, adding considerably to the interest of the trek. This route retains a sense of unspoilt wilderness and offers a different perspective on Kilimanjaro by approaching it from the north. The descent is normally via the Marangu Route.
Adventurous Ewe offer 6 to 8-day trekking itineraries to help maximise your acclimatisation and summit success. Recent National Park statistics indicate that the chance of reaching the summit increases by at least 30% if an extra day is spent acclimatising.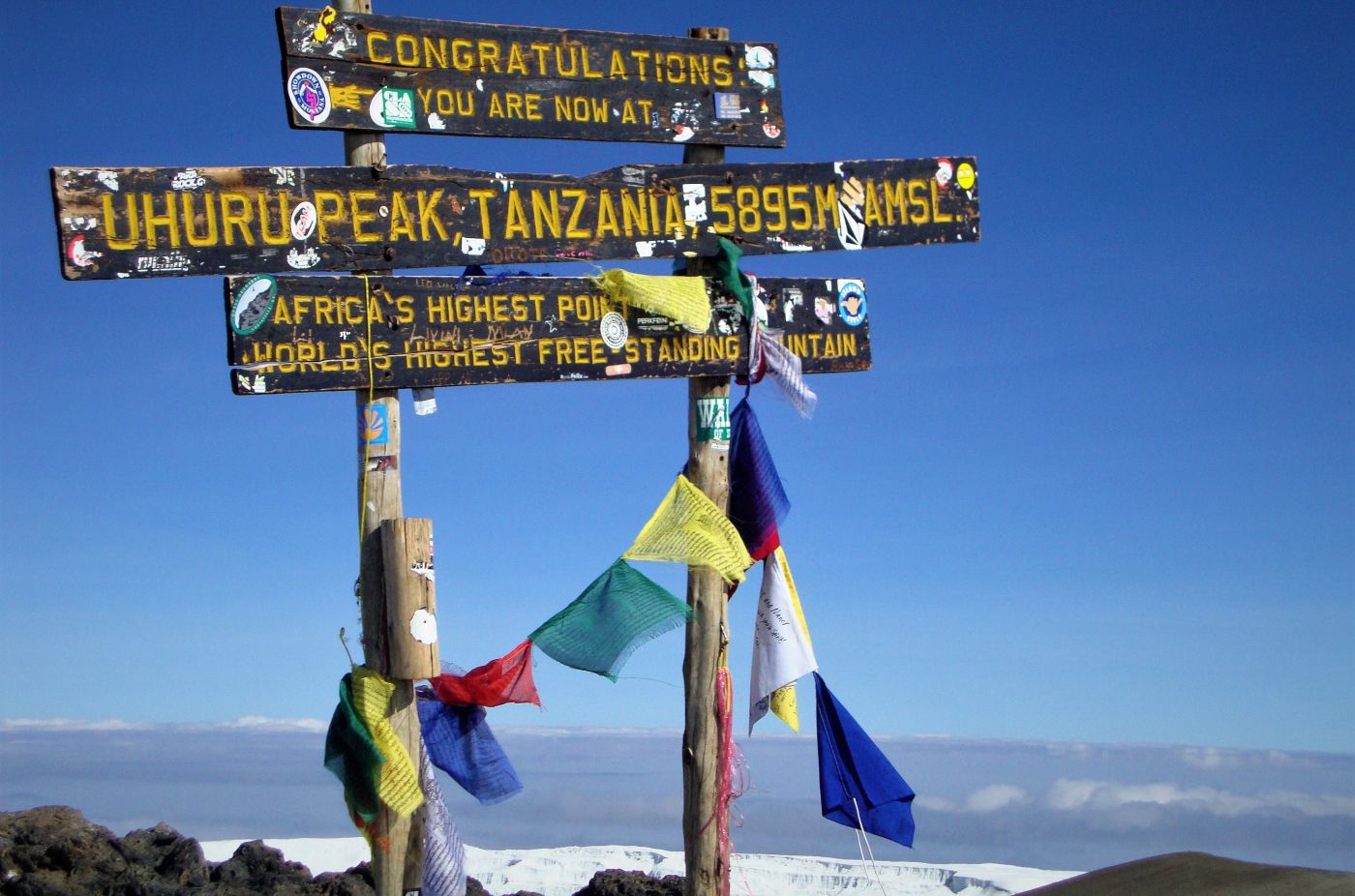 What does it mean to trek at altitude?
Altitude is predominantly the main concern for most people with climbing Mt. Kilimanjaro. Quite often people who take on Kili have never been at altitude before, so it is stepping into the unknown which is quite daunting. Rest assured that Adventurous Ewe's Mountain Leaders and crew are fully experienced and trained in mountain safety and remote first aid. Plus, our itineraries are designed to help with your acclimatisation.
Firstly, what is altitude sickness?
Altitude sickness can occur when you travel to a high altitude too quickly. Breathing becomes difficult because you are not able to take in as much oxygen. Altitude sickness, also called acute mountain sickness (AMS), can become a medical emergency if ignored.
It's important to note that age, sex or physical fitness have no bearing on your likelihood of getting altitude sickness. And just because you haven't had it before doesn't mean you won't develop it on another trip.
Symptoms of altitude sickness?
Symptoms usually develop between 6 and 24 hours after reaching altitudes more than 3,000m (9,842 feet) above sea level.
Symptoms are similar to those of a bad hangover which include:
• headache
• nausea and vomiting
• dizziness
• tiredness
• loss of appetite
• shortness of breath
The symptoms are usually worse at night.
Tips for preventing altitude sickness
The best way to prevent altitude sickness is to travel to altitudes above 3,000m slowly, 'pole pole' as your guides and crew will say which is Swahili for 'slowly'.
It usually takes a few days for the body to get used to a change in altitude.
You should also:
• take 2-3 days to get used to high altitudes before going above 3,000m
• avoid climbing more than 300-500m a day
• make sure you're drinking enough water
• avoid alcohol
• avoid strenuous exercise for the first 24 hours
• eat a light but high calorie diet
• avoid smoking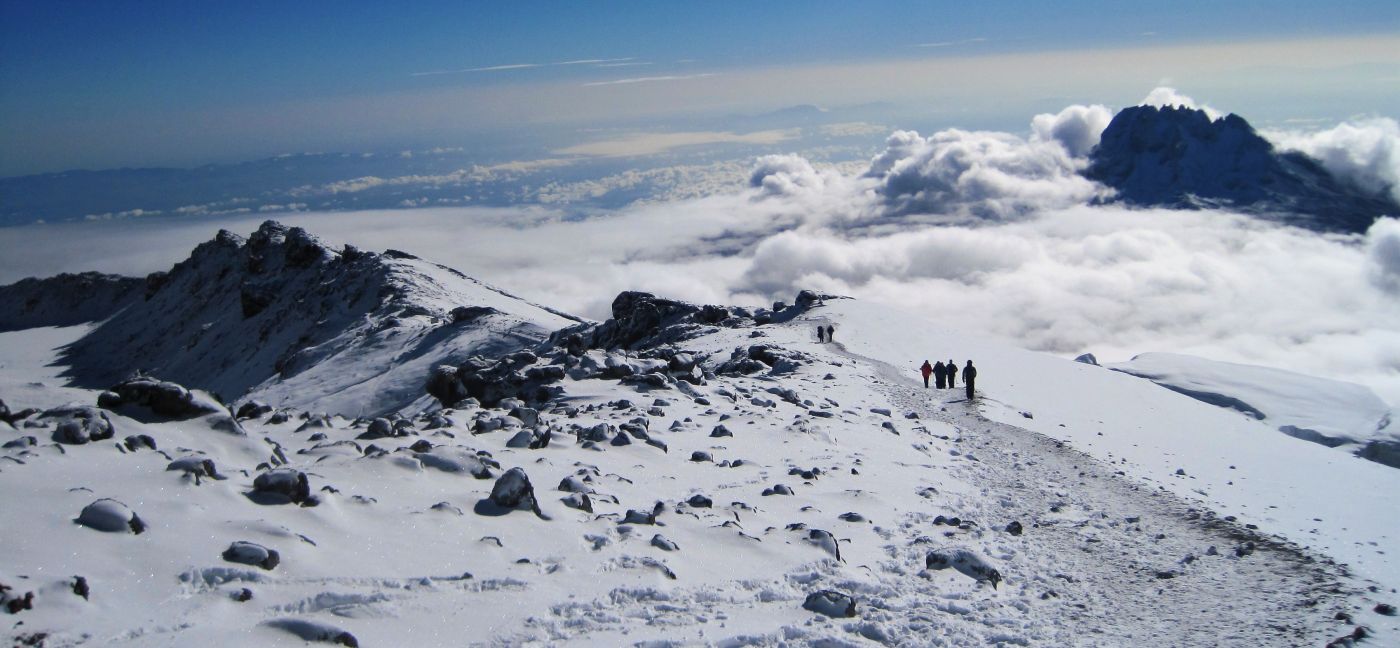 When is the best time to climb?
The time you choose to climb Mt. Kilimanjaro will influence the kind of adventure you have. Kilimanjaro is a rare example of an adventure that you can have all year round as there no intense weather conditions. However, it does have wet and dry seasons and each season has its beauties and challenges.
There are two distinct trekking seasons which constitute the 'best' time to climb Kilimanjaro. They are January-March and June-October.
January to March
If you're relatively new to mountain trekking, then this is a great time to tackle Kilimanjaro. The skies are clearer, the rainfall is minimal, it's a little warmer and there's less probability of snow on the trail. The clear air shows off the stunning landscapes and neighbouring mountains so the views can be spectacular. Plus, it's not too busy as it's out of UK and European school holiday season. The rainy season starts mid til the end of March, however, this can result in less people being on the mountain!
June to October
This is a busier time, though with Kilimanjaro covering such a vast area, it won't feel like rush hour too much on the approach. If you're seeking tranquility, you will still find it: the long trails mean that you're never too crowded, and some routes are quieter than others. Though the summit approach can be quite busy at times, given most of the routes converge on this final approach route.
The long rainy season is over by August but it still has an impact in August and September: the clouds tend to suspend themselves eerily around the tree-line. But once you're above the clouds, the skies are an astonishing cobalt blue, wide and welcoming.
The wet seasons
There are two wet seasons: a long rainy season that starts in mid-March and stops around the beginning of June, and a short sharp season that occurs in November.
Most trekkers tend to avoid climbing during the rainy seasons but the gutsy amongst you may find this time perfectly suits as there are far less people on the mountain. The prospect of an 'Alpinesque' snow-capped summit will attract experienced hikers too.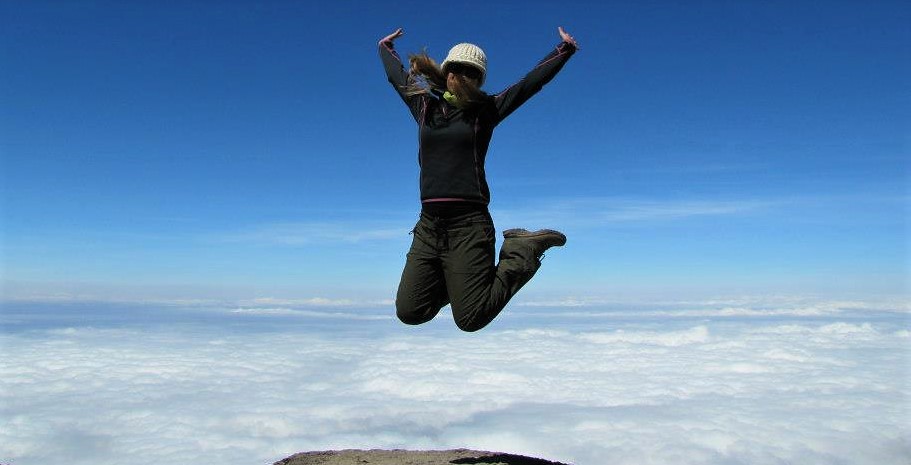 Travelling solo?
Africa is a wonderful place to travel solo. If you're open, you can have wonderfully rich experiences while meeting incredible like-minded people. With using a smaller tour operator such as Adventurous Ewe, we have the flexibility to run trips with much smaller group numbers. This is our preferred way to experience such precious environments and also minimises the impact on the mountain as well. More often than not, Kilimanjaro provides the basis for creating some life-long friendships which adds another whole new dimension to such an iconic trek. So don't let travelling solo hinder your thoughts for not taking your first steps towards Kili. There's plenty of fantastic new folk to meet and share such an incredible adventure with.
Amazing way to mark a special occasion
If you have a special occasion whether it's a milestone birthday, an anniversary of some kind or a particular time of year such as NYE, we can organise a trek for you to summit on that particular date. What better and more memorable way to mark your special occasion or celebration than standing at Uhuru Peak, the summit of Mt Kilimanjaro. For any further information, please feel free to get in touch.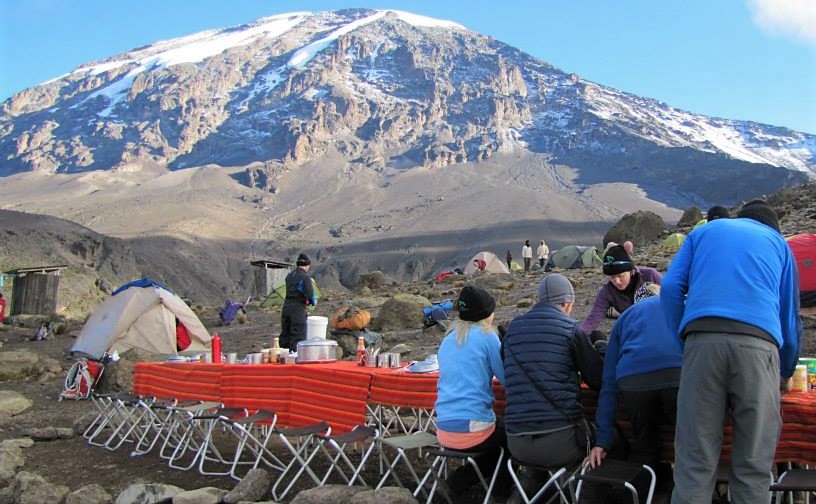 What will I eat and drink?
It's honestly amazing the amount and quality of meals that are prepared on the side of a mountain. Especially considering all the ingredients are carried by porters and your meals are prepared fresh. Whilst trekking on Kilimanjaro the emphasis is on a varied and well-balanced diet with a greater amount of fresh fruit and soup served to maximise your daily intake of fluids and helping with acclimatisation. Fully purified and treated water is also provided whilst trekking.
Vegetarians are well catered for but please inform us before departure of any special dietary requests as Adventurous Ewe will do their very best to accommodate what they can. Your meals are served in a dedicated mess tent and if the weather permits, you can often enjoy breakfast alfresco style.
Here's a sample of your daily menu on Kili
Bed Tea – tea or coffee served to your tent door in the morning (a real treat).
Breakfast – consists of seasonal fresh fruit, porridge, cooked eggs, sausage, bacon and toast.
Energy snacks are provided for the daily walk such as biscuits, bananas, and chocolate bars. Bringing your own snacks can often be a treat especially when trekking at higher altitudes. Be sure to bring some of your favourite treats for summit night as these will be a welcome boost in so many ways.
Lunch – either a packed lunch on longer days or, more usually, a hot lunch served in specifically set up lunch camp. A hot lunch typically consists of soup, bread or pancakes, cheese, tuna, jam, peanut butter, pasta salad and cake.
Afternoon tea – served in late afternoon. It is an opportunity to drink lots of hot drinks and snack on peanuts or popcorn.
Dinner – the main meal of the day usually consists of three courses; starter: soup and bread / main: rice, potatoes or pasta with fish, meat or vegetables / dessert: usually fruit.
You really do eat well on this remote expedition, it's truly amazing!
Toilet talk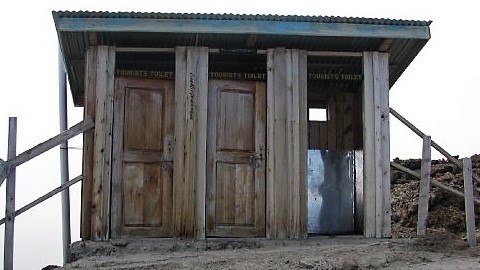 Hmmm…..what happens when nature calls and your halfway up a mountain? Whilst there are 'drop loos' (pictured above) on the mountain and you will have the luxury of portable flush toilets with a toilet tents at your campsites when trekking with Adventurous Ewe, it's time to get accustomed with the 'wild wee'. It's not as bad as you think and quite often it's a nicer experience than popping into the 'drop loos' enroute. But remember, always take your paper rubbish with you, so come prepared with biodegradable waste bags and paper and enjoy getting back to basics.
Can I explore more of Africa whilst I'm there?
If you are wanting to make the most of your time in Africa, then Adventurous Ewe are perfectly placed to help you with your plans. Founder, Jim Young, spent 8 years living and working in Africa whilst he was a Tour Leader for Exodus, so he knows the continent pretty well. Jim is more than happy to provide any ideas or tips for your African adventure.
We do offer two extension trips following your Kilimanjaro trek.

OPTION 1:
SAFARI – Tarangire National Park and Ngorongoro Crater (2 days)
Overview
This 2-day safari option is a great way to experience some of Tanzania's amazing wildlife within a short period of time. A visit to Tarangire National Park and the Ngorongoro Crater offer the best wildlife viewing experience for these two days. The concentration of wildlife in these two parks offers great opportunities to see lots of wildlife within a short period of time.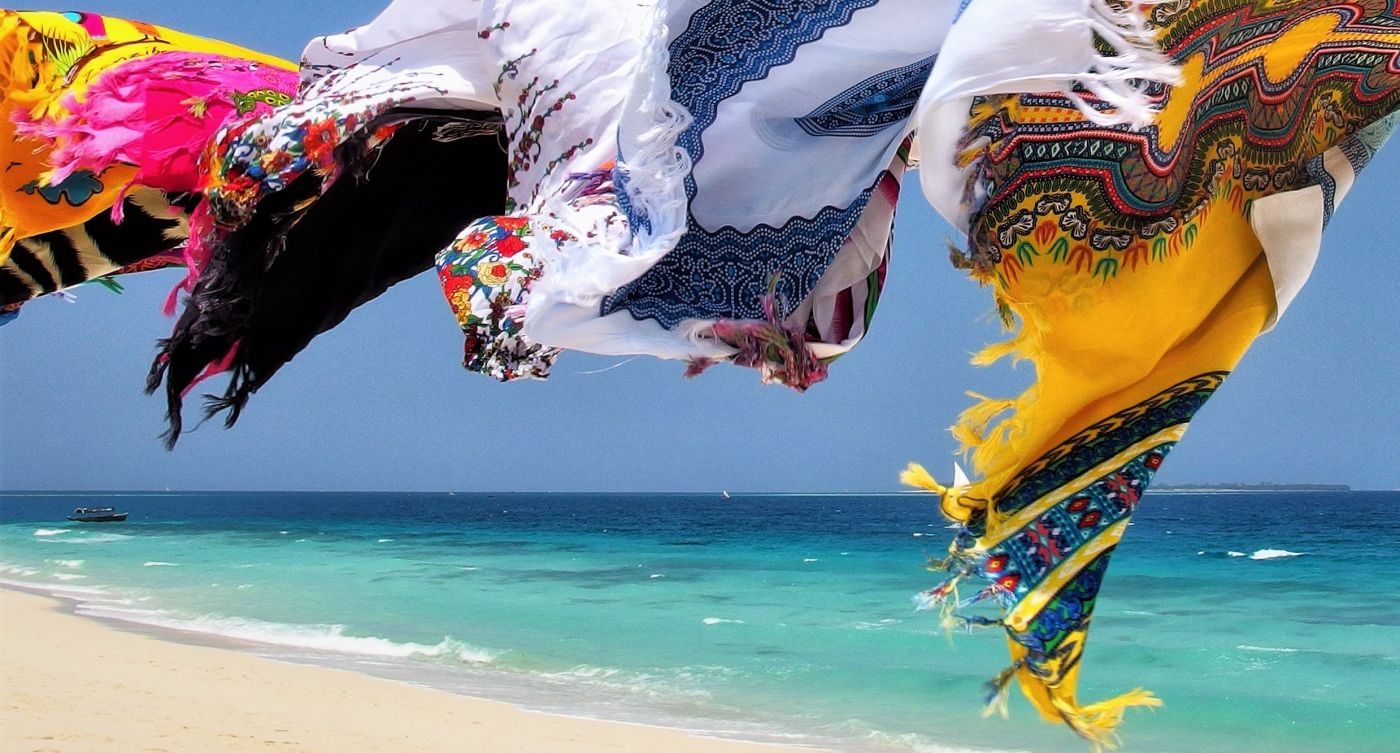 Option 2:
Zanzibar Beach Extension (2 – 3 days)
"White sandy beaches, warm turquoise waters and timeless memories" is the best way to describe a beach break on Zanzibar. After a strenuous climb up Kilimanjaro, there is no better way to kick back, relax and soak up the sun before your trip back home.
Apart from relaxing on the beach and sipping on Pina Coloda's there are various activities to choose from including snorkeling, scuba diving, dhow cruises, water-skiing, parasailing, kayaking, jet skiing, windsurfing and kite boarding.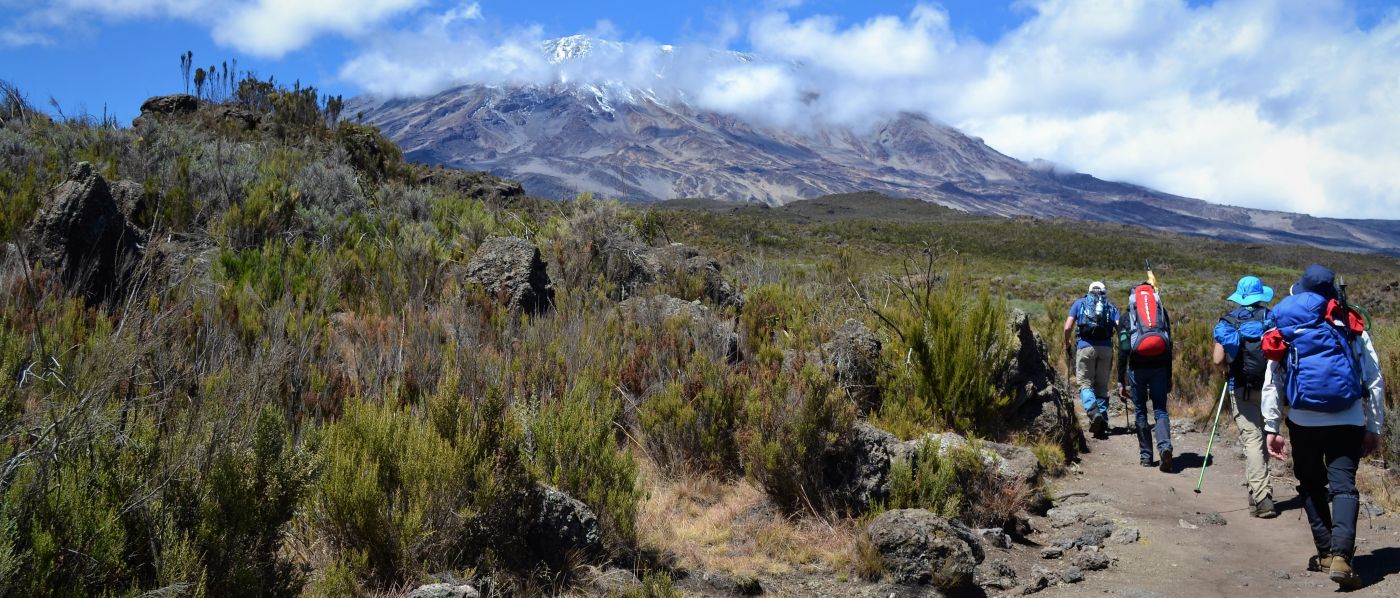 Why climb with Adventurous Ewe?
We are proud to be a small family company who can make a big difference to your once in a lifetime climb of Kilimanjaro.
Experience: Adventurous Ewe was founded by Jim Young in 2007 following having worked for Exodus as a Tour Leader through Africa, Asia and South America since 1998. Jim has lead over 18 ascents of Kilimanjaro and many other high altitude mountains (Stok Kangri at 6153m in Northern India, Cotopaxi at 5897m & Cayambe at 5790m in Ecuador and Mt Elgon in Uganda at 4321m). He's super experienced with plenty of tales to tell from his time living in Africa in the late 1990's and early 2000's. His wife, Sue Blunt, has also accompanied many groups on Kilimanjaro and is more than happy to answer any questions you may have, no matter how big or small, trivial or non trivial. To be honest, she just loves chatting all things Kili.
Responsible and sustainable travel: Tourism is one of the most important and largest industries on the planet. It employs more people worldwide than any other, with millions of families relying on tourism for their daily needs. At Adventurous Ewe we believe that our type of small scale, positive impact tourism can bring benefits too many communities, help preserve the environments we travel to see, and provide real and positive social exchanges.
While it's up to all of us to be conscientious globetrotting individuals, Adventurous Ewe makes it easier by building responsible travel fundamentals into each and every one of our trips. When you hit the road with us, you'll leave lighter footprints, invest your travel dollars in local communities, show respect and curiosity for different cultures and traditions, and experience genuine connections with the people you meet along the way.
For more information please check out Adventurous Ewe's Responsible Travel Policy.
Affiliations: Adventurous Ewe is a member of the Adventure Travel Trade Association (ATTA) and our Ground Operator is a member of the Kilimanjaro Association of Tour Operators (KIATO).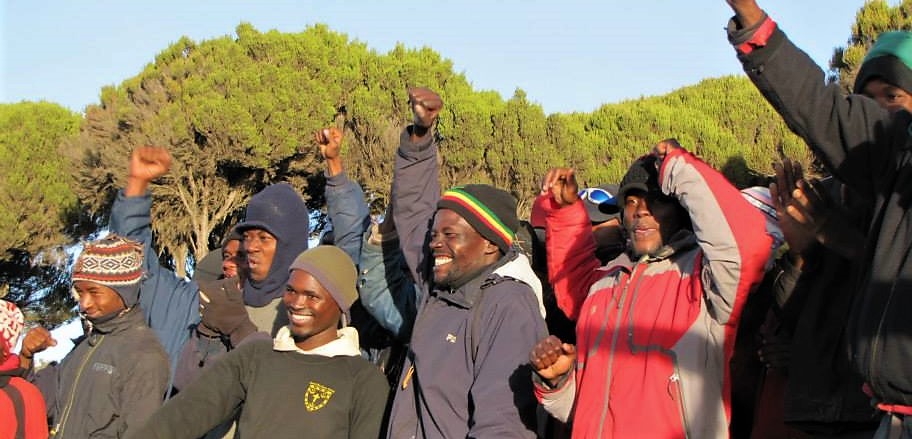 Exceptional Guides: At Adventurous Ewe we pride ourselves in using the cream-of-the-crop when it comes to our Ground Operators in country. We believe we have the finest crew and local guides in Tanzania and together with our qualified and experienced high altitude UK Mountain Leaders, this gives you the ultimate support team for your Kilimanjaro climb. All guides are veterans of the mountain, knowledgeable and charismatic. The team will go above and beyond to ensure you have an amazing, memorable and safe experience on Mt. Kilimanjaro.
Focus on Safety: The safety of our trekkers and staff on Kilimanjaro is our top priority. Our local guides have all received extensive training and certifications from local and international organisations including the Kilimanjaro National Park Authority and Training Expertise UK. This has enabled us to maintain our excellent safety record. Constant communication between our operations team on the ground and our teams on the mountain using ICOM radios ensures that timely updates are exchanged between both teams 24 hours a day. Supplemental oxygen is provided on all our climbs and our guides are equipped with pulse oximeters to monitor your oxygen saturation. Your UK Mountain Leader is also remote first aid qualified and very experienced with high altitude trekking.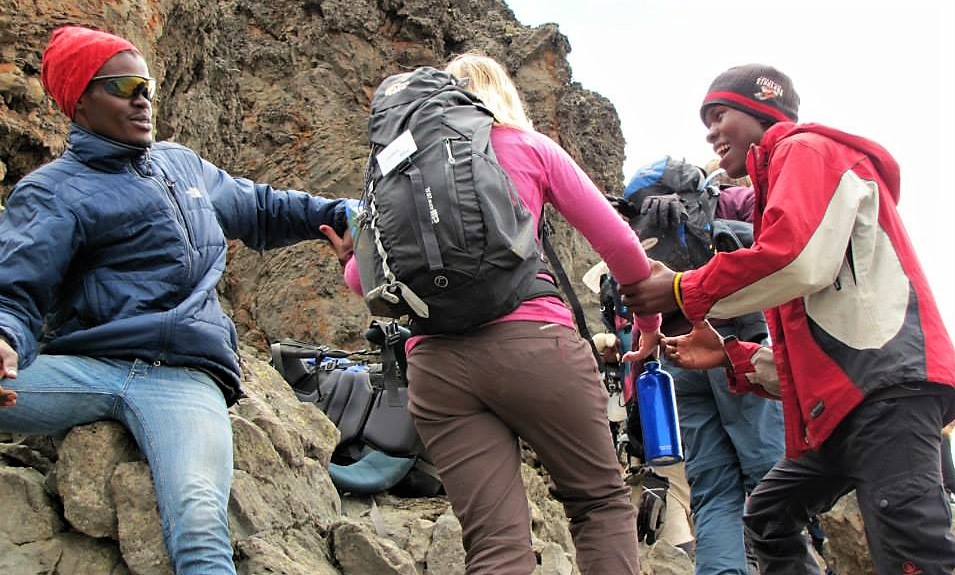 Location: Our local ground operator is located in Moshi town near the base of Mt Kilimanjaro. This is a great advantage as the radio signal for communicating with teams on the mountain is excellent and allows for a quick response to any changes or emergencies on the mountain. Their office is only a short distance away from the referral hospital for Kilimanjaro evacuations and the operations team is on standby around the clock.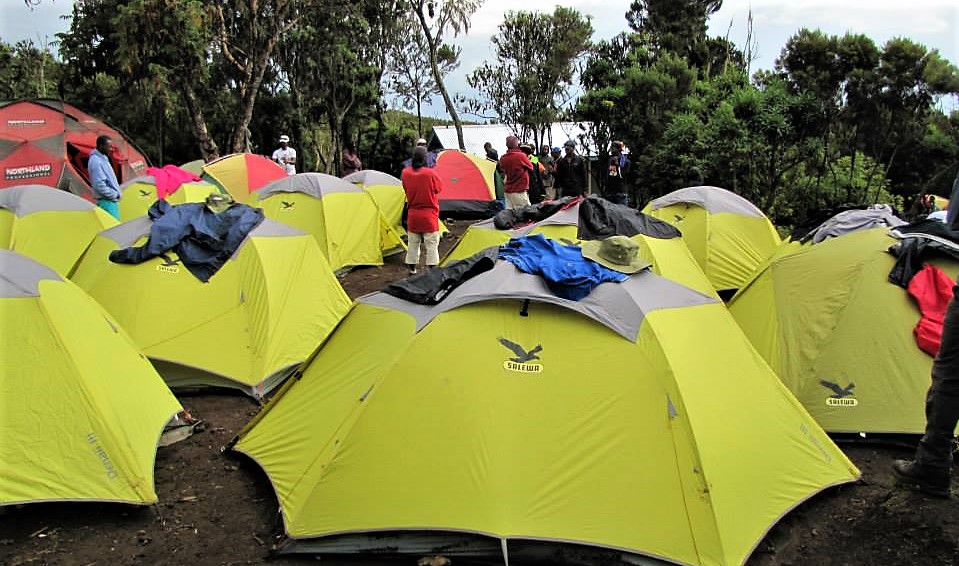 Equipment: The equipment supplied for your trek is of huge importance given the harsh weather conditions that they need to withstand. We use some of the industry's best outdoor brands for your Kilimanjaro climb including Vaude, Salewa, Katadyn, Relags and Northland Professional. Safety and quality are both hugely important to us.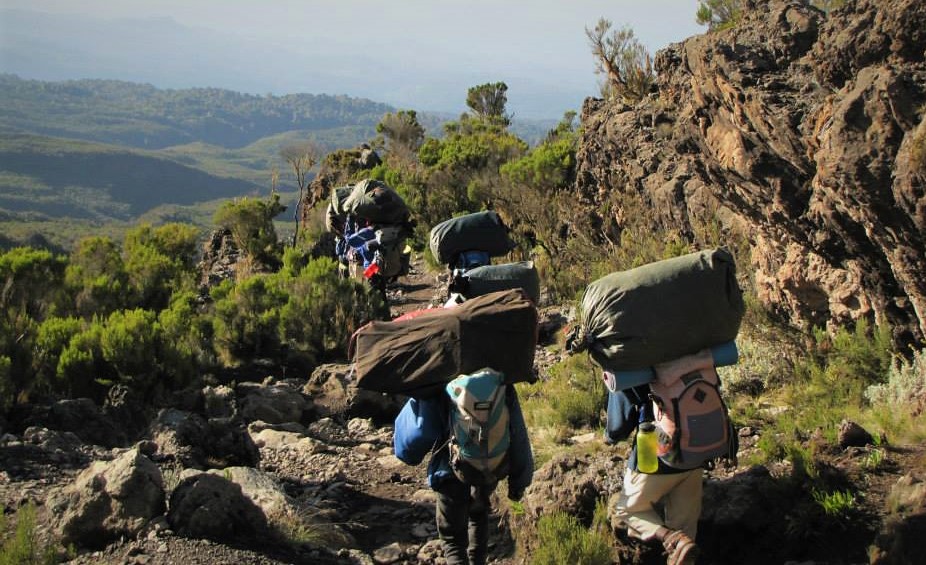 Porters Welfare: Your team of porters and mountain crew are the heart and soul of your Kilimanjaro trek. Therefore, it is important for us to ensure fair treatment of the crew on the mountain is not just an industry requirement, but the principle of every company running Kilimanjaro expeditions. This is at the heart and soul of what we do, ensuring the crew are well fed, equipped, paid and cared for accordingly.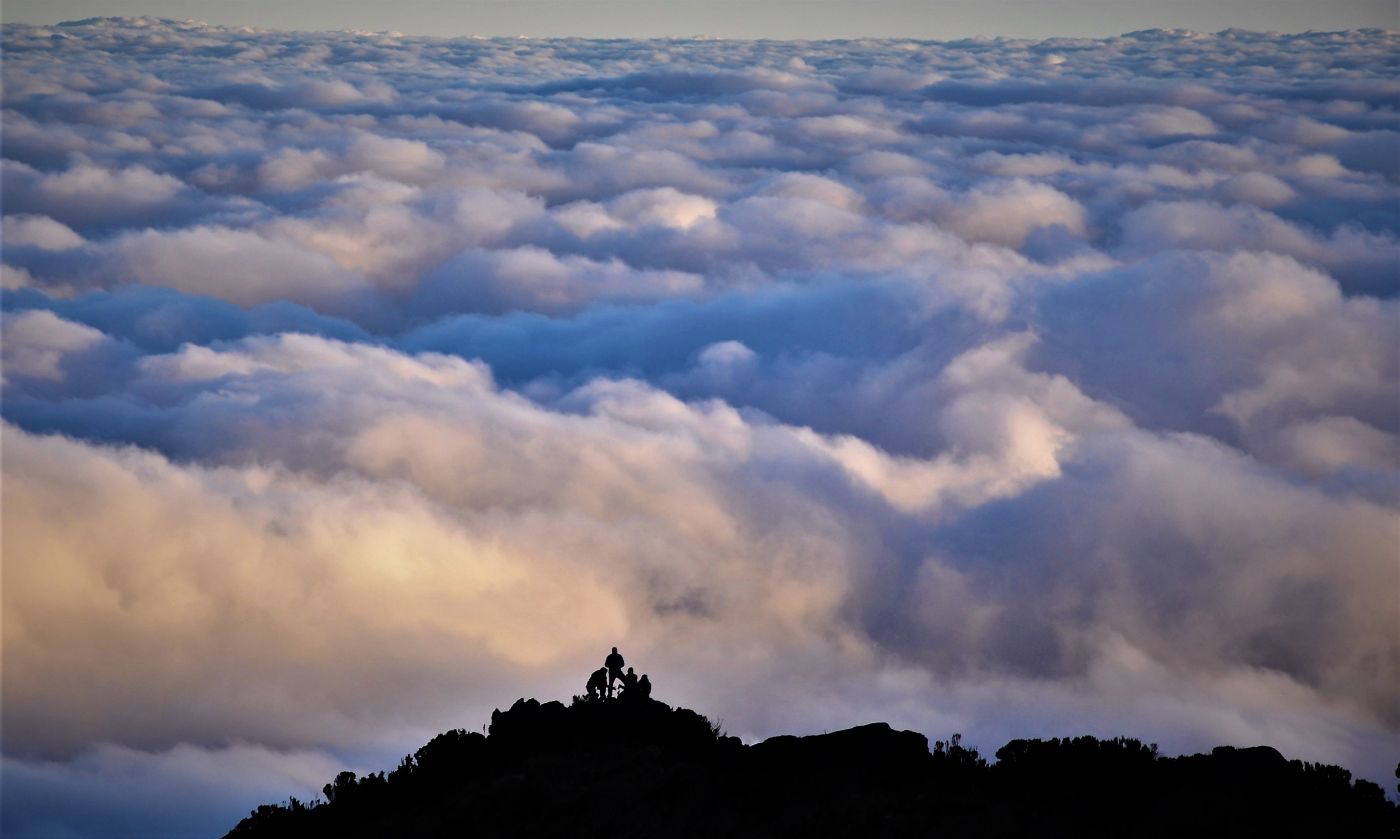 Personalised support: As a family-owned company, your experience with Adventurous Ewe is of enormous importance to us. Jim and Sue are here to assist you every step of the way from the moment you sign up for your Kilimanjaro climb to when you depart Tanzania and beyond. We hope for you to become part of the Adventurous Ewe flock and go on to discover and explore more amazing parts of this phenomenal planet.
Value for Money: We are a small company and aim to have smaller prices in comparison to some of the larger companies. Though Kilimanjaro is an extremely competitive market and we believe we offer the best value for money for the years of experience we have and the support and service we provide. Jim and Sue are often available outside normal business hours to answer those burning questions as they arise. We are also here to make the planning process easier for you, provide guidance, create bespoke itineraries and provide you with all the support you need. Our packages include just about everything from when you sign up, to your time in Tanzania and return to the UK.
For any further info on Adventurous Ewe, check out our story at: https://www.adventurousewe.co.uk/about-us/our-story/
Your team at Adventurous Ewe
If you have any further queries, concerns, questions about your Kilimanjaro journey, feel free to get in touch with Jim or Sue at Adventurous Ewe. Between them, having summited the mighty Kilimanjaro over 22 times, they are only to happy to share their experiences, provide you with top tips and put your mind at ease with answering all your questions. Simply get in touch with either of them at info@adventurousewe.co.uk,
call UK +44(0) 1492 588 069 or check out the website for more info at https://www.adventurousewe.co.uk/kilimanjaro/.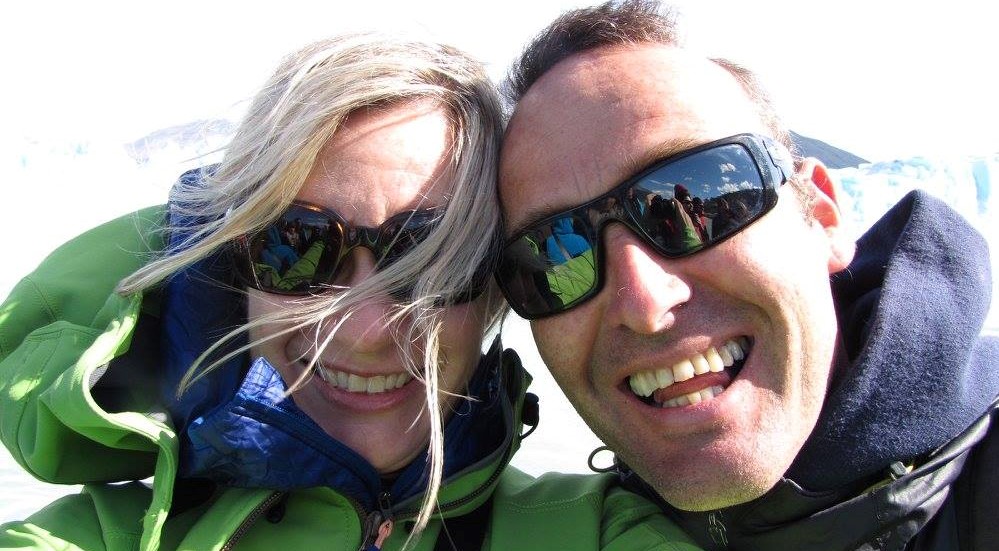 Mount Kilimanjaro is rugged and wild and the people overwhelmingly friendly. The energy of the people and the landscape is infectious, it will allow you to immerse yourself into the culture as you collectively strive for the same goal, to summit the world's highest free-standing mountain.