Tantalising Toubkal
With only a short direct flight from the UK, let yourself be transported into a world that feels a million miles away. Having personally lived in Morocco for many years over the winter months, this is one of my all time favourite destinations, not only because of the incredible scenery but the people are so friendly, welcoming and hospitable. It's my second home and I love going back time and time again to see friends and see their families grow. It's a very special place.
Both our Summer and Winter Toubkal Treks start from bustling labyrinth of Marrakech. You're most welcome to spend a couple of days in this incredible ancient city before or after your trek and I've got plenty of recommendations of places to stay, restaurants to dine at and places to explore. You'll then venture into the heart of the High Atlas Mountains to climb North Africa's highest peak, Mount Toubkal at 4167m, the 'Roof of North Africa'. This incredible mountain range provides some of the most spectacular summer and winter trekking in the world! Even the drive in to the mountain village of Imlil, perched amidst this impressive mountain range, is spectacular as the road winds its way beside a stunning river system.
There's a warm greeting waiting for you from the friendly local Berbers and fellow mountaineering enthusiasts with time to purchase snacks and trinkets from the local stalls ensuring money is injected into this amazing mountain community. You'll have plenty of time to learn their customs and enjoy hearty home-cooked meals during this epic mountain adventure. The views on the way up are spectacular, but nothing compares to what you'll see (and feel) at the top. From the summit of Toubkal you will experience stunning 360-degree panoramic views which extend across the rocky Atlas ranges and southwards to Jebel Sahro and the Sahara Desert.
Winter is a great time to trek in the Toubkal National Park as it offers a true winter mountaineering experience without the need of previous winter trekking experience as training is provided. During the summer months, you'll experience the colours of the mountains and the many orchids in full bloom at the foot of the High Atlas Mountains.
Winter Toubkal Top Tips
Dress the part and layer up – base layer, insulating layer and shell. Base layer that wicks perspiration away from your skin (merino wool base layers are ideal), a mid layer that insulates you from the cold and a shell layer that keeps wind and moisture out
Ensure you have water-proof B1 or stiff soled hiking boots that are well worn in and suitable for crampon use
Wear synthetic or merino wool socks that fit well. Thicker socks provide more insulation, but make sure they don't cause your boots to fit too tight. It's also important to keep your feet dry, so have an extra pair of socks to change into.
Train in your trekking kit. Including your hiking boots & socks and wearing of your daypack with weight inside, in varying weather conditions so you know your kit is both suitable and comfortable for your big challenge
Have two bags – a daypack for the trek with your trekking kit (waterproofs, warm layers, snacks, water, first aid, factor 50 sunscreen & any medication). And your main luggage/duffle style bag with a name tag which weighs less than 12kgs for transfer via mules. Ensure this bag has straps that make it easy to carry as you will be required to transfer this bag at your lodgings
Pack your kit inside a dry bag just in case
Wear lightweight or midweight fleece gloves under waterproof shell mittens or shell gloves
Look after your feet – blister prevention
Ice axe and crampon training and practice session is built into this itinerary.
When it's cold, you might be less inclined to stop for food and water. Make it simple by keeping snacks and water within reach so you can eat and sip regularly throughout the trek
Bring your favourite high calorie snacks. Remove as much packaging as possible before taking it on the trek (less litter to carry)
Bring your own water bottle, your Water-to-Go bottle is ideal, plus a camelbak./platypus that you can refill and avoid plastic bottles
Be respectful of the rural Berber communities, the people, their land and their homes
Most importantly……SMILE & ENJOY THE ENTIRE EXPERIENCE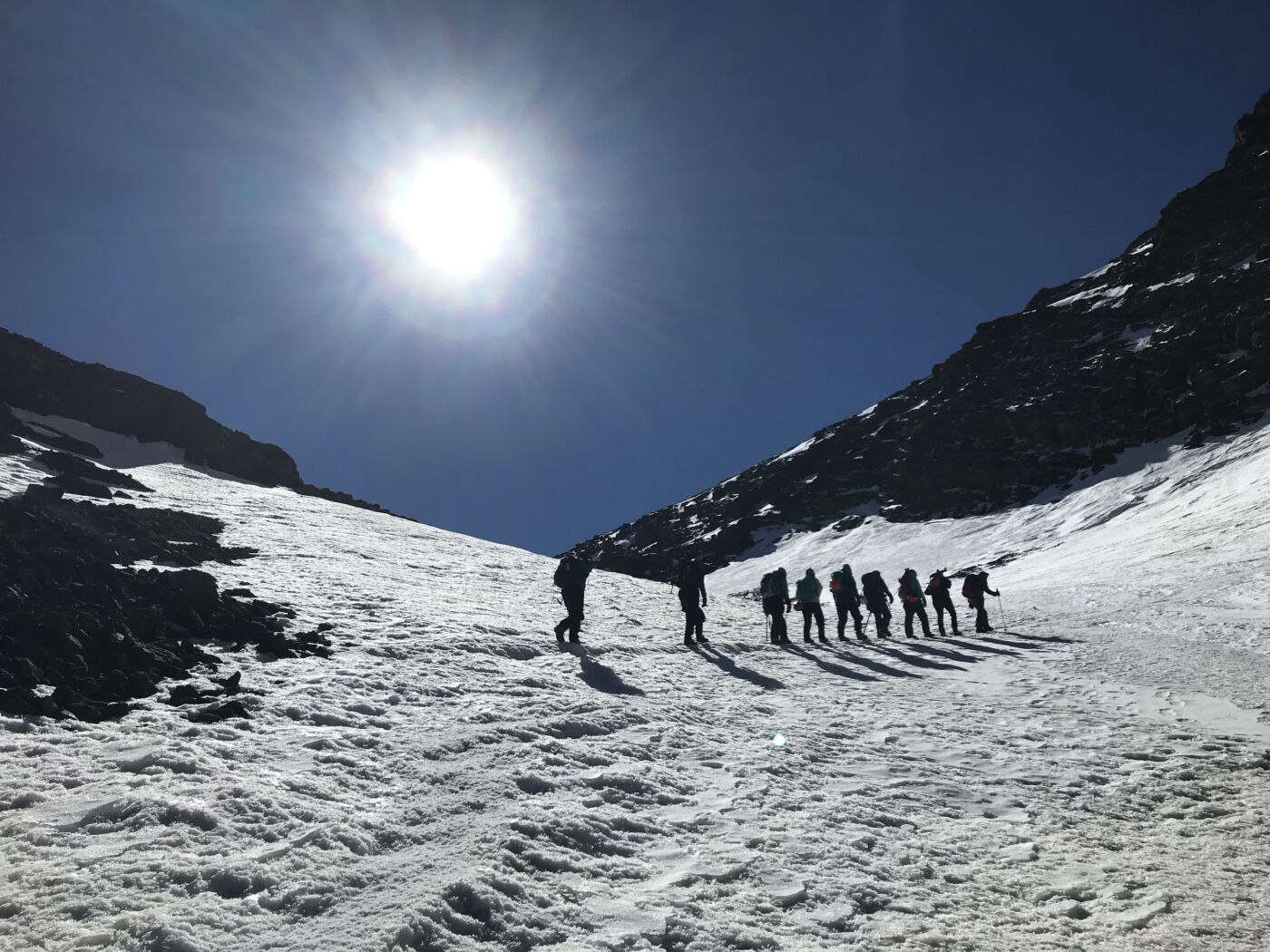 Testimonials
Don't just take it from us as to how much we love this place, here's some feedback from some of our beloved flock who have ventured to this mountain paradise…
"This is the kind of service which makes a business shine. Jim was kind friendly and helpful whilst planning my trip. The guide and driver provided for our adventure in Morocco were fantastic. The trek itself was enjoyable and we were well taken care of. Our cool was brilliant and when we arrived at the mountain refuge our tent was already put up for us.
First class service throughout. Can't recommend Adventurous Ewe highly enough. I will be booking my next trip with them very soon.
Thank you."
Vicky
"Just returned home from the Winter Toubkal Trek and my second trek with Adventurous Ewe. It was an amazing experience surrounded by breathtaking scenery and would recommend to anyone wanting a challenge at altitude. Jim and Sue were a great team with a wealth of knowledge about the local area and guides. 10/10!"
Lyndsey
"I have just returned from our teams winter climb of Toubkal we experienced very difficult weather conditions but still we were very lucky to summit. The trip from booking to getting us back to the airport was laid on with no stress to the team at all, there was nothing wanting at all. The team was led by our UK guide Dan Roberts who was a massive safe pair of hands a true professional.
Adventurous Ewe also used the best most senior local guide which through his knowledge allowed us to have our window of opportunity in Heavy snow to summit where other teams didn't. We also needed that experience to get through a difficult decent of the mountain. The accommodation, meals and all other arrangements were without fault. The Atlas Mountains is a beautiful and testing place to be in winter Adventurous Ewe will give you the best ever trip at a brilliant price. Don't think just do it!!!"
Jason"
I hope this helps with tantalising your adventurous spirit to further explore the High Atlas Mountains. If you have any questions at all or if you need any further info about this trek, please just let me know as I'm only to happy to share my knowledge and genuine love of this awesome part of our planet. Or feel free to visit our trip pages at:
Thank ewe as ever.
Jim