Overview
Map & Itinerary
Essential Info
Pics & Vids
Dates & Prices
Highlights
Ascend the mighty Snowdon (Yr Wyddfa) in the late afternoon when the summit is less crowded
Experience dusk descend across the vast Snowdonian landscape
Stand at the highest peak in Wales and England, the mighty Snowdon (Yr Wyddfa) at 1085m at sunset
Descend under a blanket of stars, experience the wonder and serenity of night trekking
Accompanied by friendly local Mountain Leaders
Trek with pride knowing that you are helping us continue our support of the Snowdonia Society and Cool Earth
Option to still have a full nights sleep post-trek
Private trips available for groups over 8 people
We look forward to welcoming you to our beautiful homeland of Wales.
Overview
Tackle the highest mountain in England and Wales and experience the colour changes as dusk descends across the impressive Snowdonia (Eryri) National Park. Trekking Snowdon (Yr Wyddfa) at 1,085 metres during the late afternoon will reward you with a memorable summit experience at sunset amid less crowds for this iconic British mountain feat. Seeing the sun dip behind the vast panoramic mountainous landscape will be a memory to cherish for a lifetime! Upon your descent you can marvel at the star filled sky as Snowdonia is marked as a Dark Sky Reserve, a prestigious award given by the International Dark Sky Association to places with outstanding night air quality. This trek gives you the opportunity to experience the mighty Snowdon (Yr Wyddfa) in both day and night conditions along the most gradual route of the Llanberis Path.
Trekking with Adventurous Ewe means you not only experience this iconic mountain with locally based, friendly Mountain Leaders, your summit will be in support of the Snowdonia Society and Cool Earth. So your climb will benefit nature both near and far.
Late afternoon
Snowdon sunset adventure
Meet your local Mountain Leader in the late afternoon at the Snowdon Railway Station (Llanberis, LL55 4TY). The exact time will be based on when sunset will be to coincide with your summit bid.
In the late afternoon you'll ascend via the most gradual route of Snowdon, the Llanberis Path, allowing you the opportunity to admire the views and changing colours across the vast mountainous landscapes. On reaching the summit there's plenty of time to witness the colour changes as dusk desecnds across Snowdonia National Park whilst also celebrate your summit success.
Then when the night sky starts to dominate the skyline, you'll start your descent via the same path to experience a new realm of trekking. Snowdonia National Park has been awarded an International Dark Sky Reserve status of which there are just ten of these magical reserves in the world. Meaning that on a clear night you can see the Milky Way, all the major constellations, nebulas (bright clouds of gas and dust) and shooting stars.
On completing this trek you then have the option of a full night's sleep to further explore the area the following day or you can return home if you live nearby.
This trek is ideal for people who are new to night trekking, mountain trekking or whom want to experience Yr Wyddfa (Snowdon) at different times of the day & night.
Please note, Adventurous Ewe reserves the right to change the route or itinerary for safety reasons should local conditions dictate.
Pre-trip Info
On booking your Snowdon Sunset Trek, you will receive all the exciting event information via our mobile travel app. You'll have access to all your trek info, training guide, countdowns, live updates, contact info, weather forecasts, kit lists and much more at the touch of a button 24/7 via your mobile phone. No more unnecessary use of reams of paper and the need of carrying around documents with you. The app is free to download and all info is customary to your adventure ahead.
Pre-Trip Support
With being a small family business we pride ourselves with providing personal, professional and friendly service when you book onto the Snowdon Sunset Trek. We appreciate that everyone has different levels of experience and reasons for wishing to embark on this night trek and therefore require varying levels of support and guidance. We're here to help you every step of the way from the moment you join the flock all the way through to completing the trekking challenge and beyond. Jim and Sue's knowledge and expertise stems from dozens of years of exploring the UK whilst Jim having grown up in Snowdonia best places them both to fully support you in the lead up to your adventure.
Safety and Well-being
Adventurous Ewe puts the safety and well-being of you, our leaders & crew and the communities we visit at the centre of all our operations, always. Your safety and well-being is our top priority. The Snowdon Sunset Trek is challenging and requires preparation as it is designed to take you out of their every-day comfort zones and achieve something great. Rest assured we have a thorough Safety Management System, indepth risk assessments and risk management systems in place. Your safety and well-being is our top priority at all times.
Adventurous Ewe Leaders
You will be accompanied by certified and local Adventurous Ewe Mountain Leader/s on this trek so you can concentrate on absorbing the incredible views plus learn more about the area enroute. Our Leader/s are a friendly bunch, first aid qualified and have extensive experience in leading treks throughout the UK. They will be ultimately responsible for the running of the itinerary and the safety of your group. Leaders will carrying full safety equipment and mountain first aid kits with them at all times. Please note, these kits are for emergencies only so please come prepared with your own personal first aid items.
Group Size
We pride ourselves in small group travel to minimise the impact on the environment, to maximise your safety and wellbeing and to make your experience more authentic.
The minimum group size for this trek to run is 8 people and the maximum group size is 40 people.
You are most welcome to join the Snowdon Sunset Trek as a group of family, friends, colleagues, or as a solo trekker. If you have a group of over 8 people, we would be more than happy to run a private trek for you. You are also welcome to use this trek as a fundraiser for the charity of your choice.
For any further info or to chat about running a bespoke trek, we'd love to hear from you at info@adventurousewe.co.uk or call 01492 588 069.
Group Management
The Snowdon Sunset Trek is a team challenge and not designed to be individual competitive race. You will be taking part in teams of up to 10 people with a dedicated Leader. We encourage team spirit and support of each other to ensure everyone has the best opportunity to complete the challenge and enjoy the journey along the way too. This night trek is a fantastic way to meet like-minded people and share an incredible adventure whilst being accompanied and supported by friendly and experienced Adventurous Ewe Leaders.
Trip grading
The Snowdon Sunset Trek is graded as 'Medium to Challenging' and preparation is key to help you get the most enjoyment and reward from this challenge. It's a great intro to mountain trekking, night hiking and experiencing the great outdoors in varying conditions. A good level of fitness is required and will help you enjoy the experience more. A training programme will be provided and it is strongly recommended that you have a good quality head torch for your descent.
Training
A training programme will be provided when you sign up for this trek to help you with your preparations. The more you are prepared, the more you will enjoy the challenge.
Our motto is: Train hard, smile harder and enjoy the journey!
Kit
A full kit list will be provided when you register for the Snowdon Sunset Trek. Good kit can make the difference between a fantastic adventure and an uncomfortable one. Well worn in waterproof hiking boots are essential together with a good quality waterproof jacket AND trousers. An exclusive Adventurous Ewe discount code will be provided for the independent outdoor retailers Joe Brown, The Climbers Shop and ashmei athletic apparel on registering for this challenge.
Exclusive Kit Offers
To help you get the very best from your night trek we will provide you with an exclusive Adventurous Ewe discount code to use in independent UK outdoor retailers Joe Brown / The Climbers Shop and ashmei athletic apparel, both online and in store. They offer a large choice of kit that the staff themselves use while climbing, hiking, mountaineering, running, travelling or enjoying expeditions across the globe and they pride themselves on sharing their experience and knowledge of equipment so you can choose the right gear to suit you and the event you are taking part in.
Weather
The weather in the Welsh mountains can change rapidly so it is essential that you are prepared for all conditions including rain, wind and heat. In the week leading up to your trip we recommend checking the Mountain Weather Information Service. You will also receive weather updates via our mobile travel app.

Please note, the Leader/s reserve the right to change the itinerary at any time should the conditions require it as your safety and wellbeing is our top priority at all times. In these circumstances we will make the best alternative arrangements possible that maintain the integrity of the original itinerary.
Accommodation
There is no accommodation included with your Snowdon Sunset Trek given you the flexibility to make your own arrangements. Whether you wish to stay overnight following the completion of your trek or make your way home if you live nearby. A list of recommended accommodation places will be provided when you register for this challenge.
Getting there
You will need to make your own way to the Snowdon Mountain Railway in Llanberis for the start of this night trek. The closest train station is Bangor and it's an approximate 20 minute journey from there to Llanberis. Direct trains from London to Bangor are available. Further information will be provided when you register for this challenge.
Food & drinks
There is no food or drink included in this package. Please bring your own snacks for the trek and pre-filled water bottles or camelbaks/platypus (or similar) and a flask (if you wish to take a hot drink during your challenge) to avoid the need of using plastic water bottles.
Water-To-Go bottles
The impact of single use plastic is having on our landscape, wildlife and oceans, it is now more important than ever that we all make changes in order to help our planet. We may not be a huge global company but we're passionate about playing our part and trying to make a huge difference collectively. Together we can dramatically reduce our consumption of single use plastics and support our responsible travel ethos of 'Take nothing but photos, leave nothing but boot-prints, keep nothing but memories.'
You can make a difference too with taking part in the Snowdon by Night Trek and purchasing one of these environmentally friendly reusable alternative bottles compared to single-use plastic water bottles. Grab a Water-to-Go bottle through Adventurous Ewe and receive a 15% discount. Even better, Water-to-Go will donate a further 15% to our charity partner, Cool Earth. For more info please visit https://www.adventurousewe.co.uk/water-to-go-bottle-partner-sheep/ or email us at susan@adventurousewe.co.uk to buy your Water-To-Go bottle.
Payment info
Deposit: £25 per person is required on booking
Remaining balance: £50 per person is due for payment no later than 6 weeks prior to the trek start date.
Book & Travel with Confidence
As well as carefully crafting amazing and meaningful adventures across the planet, we've made booking them as flexible, safe and as simple as possible.
For the latest info regarding booking and travelling with Adventurous Ewe, please visit our website.
Fundraising
You're welcome to fundraise for a charity of your choice if you wish to do so. All sponsorship monies are to be sent directly to your chosen charity.
Stay connected
All your Snowdon Sunset Trek info will be sent to you through a travel mobile app which is free to download. You will receive an email from Adventurous Ewe with your personalised log in code for this app. For the latest and greatest from the land of adventures, simply follow us on
Facebook: @adventurousewe
Instagram: @adventurousewe
Twitter: @adventurousewe
LinkedIn: company/adventurous-ewe-ltd
Our environment charity partners
Snowdonia Society
Locally, we help support the vital work of the Snowdonia Society who since 1967 continues to work tirelessly to ensure that Snowdonia is well-protected, well-managed and enjoyed by all.
Cool Earth
We are very excited to have teamed up with leading climate change charity Cool Earth, who share our mission to protect the planet's precious environment in a sustainable manner. The future of rainforest protection is where everyone makes a difference to climate change! We invest a % of our revenue into supporting critical conservation projects around the world through Cool Earth. You are most welcome to help make a difference too by sparing a few pennies. Please give what you can and help save the world's rainforests today by visiting https://www.coolearth.org/campaigns/28292/adventurous-ewe/. Just £2.50 will save 10 trees and lock up 10 tonnes of CO2. Together, we can all make a difference in helping preserve this precious and wonderful planet. Thank-ewe
Departure & Return
Duration
Availability
Deposit
Total Cost*

(*Total cost includes the deposit)

Apr 27, 2024
Apr 27, 2024
1 Days
Available
£25.00
£85.00
Book Now
May 25, 2024
May 25, 2024
1 Days
Available
£25.00
£85.00
Book Now
Jun 01, 2024
Jun 01, 2024
1 Days
Available
£25.00
£85.00
Book Now
Jun 08, 2024
Jun 08, 2024
1 Days
Available
£25.00
£85.00
Book Now
Jun 15, 2024
Jun 15, 2024
1 Days
Available
£25.00
£85.00
Book Now
Jun 22, 2024
Jun 22, 2024
1 Days
Available
£25.00
£85.00
Book Now
Jun 29, 2024
Jun 29, 2024
1 Days
Available
£25.00
£85.00
Book Now
Jul 13, 2024
Jul 13, 2024
1 Days
Available
£25.00
£85.00
Book Now
Jul 27, 2024
Jul 27, 2024
1 Days
Available
£25.00
£85.00
Book Now
Aug 17, 2024
Aug 17, 2024
1 Days
Available
£25.00
£85.00
Book Now
Aug 24, 2024
Aug 24, 2024
1 Days
Available
£25.00
£85.00
Book Now
Aug 31, 2024
Aug 31, 2024
1 Days
Available
£25.00
£85.00
Book Now
What's Included?
Before your trek:
Personalised event support from the Adventurous Ewe team
All trek info supplied via our free mobile travel app so you have access to the details 24/7
Training guide
Exclusive outdoor kit discounts from independent UK retailers Joe Brown / The Climbers Shop and ashmei athletic apparel
Public liability insurance
Risk assessments, safety and emergency management planning.
During your trek:
Trek briefing prior to your challenge
Certified Local Mountain Leader/s
Full back-up support including first-aid qualified staff and first-aid supplies
Safety and risk management
What's Not Included?
Clothing and equipment listed on your Kit List
Transfers to and from the event start/finish
Dinner the night prior to your trek
Accommodation (if driving to Llanberis, we highly recommend they organise some accommodation in order to get some rest before driving home. We will provide you with accommodation recommendations or we can organise this for you at an additional cost).
Breakfast on completion of your trek. This can also be organised at an additional cost.
Personal spending money.
Thoughtful and Responsible Travel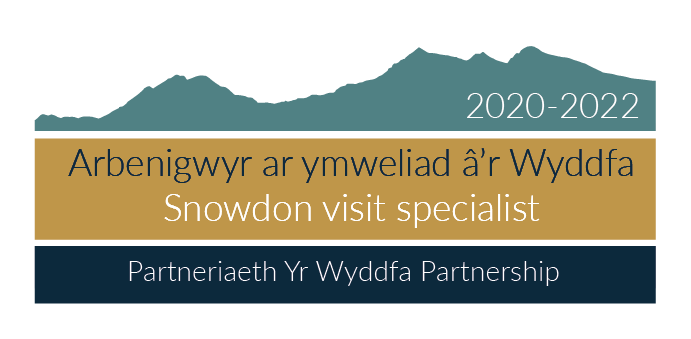 As part of the Snowdonia National Park Authority Partneriaeth Yr Wyddfa Partnership, we are an accredited Snowdon Visit Specialist. We are also a corporate partner of the Snowdonia Society and help support their vital work who since 1967 continue to work tirelessly to ensure that Snowdonia is well-protected, well-managed and enjoyed by all.
Ethical Trek Management
Adventurous Ewe is committed to delivering events in a responsible and ethical manner with sustainability at its core. We respect and aim to operate our adventures and events to benefit local people, their economy and the environment!
Some of the ethical event management features embedded in our Snowdon Sunset Trek are:
Using local crew who are qualified Leaders and who are all extremely knowledgeable and experienced
Minimising plastic waste wherever possible
Not using glow sticks or route markers on the mountain which often get left behind or dropped on the route
Ensuring we are quiet and have torches turned off whilst walking through Llanberis village at night
Operating with a 'leave no trace' ethos.

Difficulty
Thank you so much for an amazing trek. Really appreciate you sorting the weather out for us too as that was the icing on the cake for us! I highly recommend Adventurous Ewe. You have a great team there, including Moshi dog!! Neil, 2019