Overview
Map & Itinerary
Essential Info
Pics & Vids
Dates & Prices
Highlights
Conquer the five highest mountains in the UK & Ireland in this iconic mountain challenge

Tackle Snowdon, Scafell Pike, Ben Nevis, Slieve Donard and finish on the summit of Carrauntoohil
Experience Scafell Pike, England, in the colours of a late afternoon sun

Witness the sunrise on Ben Nevis amongst the spectacular backdrop of Scottish Highlands

Summit Slieve Donard, Northern Ireland, under a star filled sky and the glow of your head torch

Private bubble trips available for groups over 9 people
Epic finish with standing on the summit of the highest mountain in Ireland!
Overview
One of the most iconic mountain events in the UK, The National 5 Peaks Challenge involves climbing the five highest mountains in Wales, England, Scotland and Ireland. The challenge covers 64kms and involves 5,300 metres of ascent. Teams will be accompanied by a fully experienced and qualified Adventurous Ewe Mountain Leader throughout the challenge and transferred via private mini-bus with your own designated and experienced driver/s. This is the ultimate UK & Ireland mountain challenge.
Day 1
Arrival, trek preparation and accommodation
Arrive in Snowdonia the evening prior to the start of your trekking adventure
Trek briefing
Overnight accommodation in a locally own lodge in a mixed private dorm room
Day 2
Wales – Snowdon (1,085m) – 14kms
After a hearty home cooked breakfast you will tackle the first peak of your 5 peaks challenge, Snowdon Yr Wyddfa in Welsh – the highest mountain in Wales standing at 1,085m.
Your ascent will be via the Pyg track which rewards you with those classic Snowdon views. The ascent should take approximately 2.5 – 3 hours. Once on the summit you will have time for a photo and enjoy the views before starting your decent down the Llanberis Path arriving in Llanberis. On descending Snowdon, you will join up with your awaiting minibus where you will be driven to the Lake District for your next mountain.
England – Scafell Pike (978m) – 11kms
The second summit of your 5 Peaks challenge, Scafell Pike, is the highest mountain in England standing at 978m. Following a hot meal, the ascent begins from Wasdale Head, a tranquil part of the Lake District, also known as the birthplace of British climbing. The trek starts with the afternoon glow highlighting the variety of rock formations before trekking by the glow of your head torch. The ascent and descent of Scafell Pike should take approximately 4.5 hours. Once back at your minibus it is time to relax as your driver transfers you to Fort William passing through some of the most stunning scenery in the UK. You will make short stop on route to use the services and you can pick up some additional food & drinks.
Day 3
Scotland – Ben Nevis (1,344m) – 15kms
The third and highest mountain on your 5 Peaks Challenge, Ben Nevis at 1,344m, marks the midway point of your challenge. The trek begins on the main path from Glen Nevis. The path was originally built to service a meteorological observatory of which the remains still stand at the summit. The walk to the summit takes approximately 3 hours and involves 1,370m of ascent. On summiting you will have the chance to enjoy the breath-taking views of the Scottish Highlands.
The trek back down should take approximately 2 – 2.5 hours. On descending Ben Nevis, you will join up with your awaiting minibus where you will be transferred to your hostel accommodation where you can relax and recover and grab some well-earned overnight rest before continuing the following day.
Day 4 & 5
Northern Ireland – Slieve Donard (850m) – 9kms
It's an early morning departure from Fort William to Cairn Ryan on the west coast for your ferry crossing to Ireland and on to Slieve Donard. Starting your ascent of Slieve Donard in the late afternoon as the sun sets behind you is a spectacular way to tackle the fourth mountain of your epic challenge. Your route takes you along a well defined path to the summit which makes for a straightforward climb with the Mourne Wall acting as a guide. If the weather is on your side, the views from the summit are far reaching and even extend to the Isle of Man, the Wicklow Mountains, Wales and Scotland.
Republic of Ireland – Carrauntoohil (1039m) – 12kms
Then it's a 5-hour night drive to arrive on the remote west coast of Ireland for your final summit, Carrauntoohil at 1,039m and the highest mountain in Ireland. The landscape is stunning set among the beautiful MacGillycuddy Reeks in Co Kerry. Given Carrauntoohil's closeness to the Atlantic Ocean, the weather can be very changeable very fast, so you should be prepared for wet, wind, cold and more.
The trek takes you along the more popular route, via Devil's Ladder. Once on the summit you will have time for a celebratory photo and enjoy the views before starting your decent, taking approximately 3 hours. Arriving at the finish feeling exhausted but elated with finally the chance to rest weary your legs and enjoy a celebratory Guinness or bubbles! Well done on completing one of the toughest mountain challenges in the UK.
Overnight accommodation can be arranged in Dublin if you wish and this will be at an additional cost. Alternately you are most welcome to make your own arrangements. Adventurous Ewe can also organise a return journey on the minibus to North Wales at an additional cost which will depart around 8pm that evening. Please feel free to speak to us for further information or to make bespoke arrangements for you or your group.
Why go
Local adventures and tourism
Since the COVID-19 pandemic has had a huge impact on overseas travel, we're keen to promote adventures on home ground to give you the chance to still experience a great adventure. Plus giving you the chance to explore the incredible landscapes across the UK and Ireland. We're particularly keen to help support our local tourism industry and get more people enjoying the outdoors.
Taking part in this mountain challenge will give you a better understanding of the differing mountain environments and terrain plus help support a variety of communities.
We're also a Gold Level Snowdonia National Park Ambassador, and delighted to do our part to improve your experience of Snowdonia in an educational, sustainable & fun manner too.
Pre-trip info
On booking on the UK & Ireland 5 Peaks Challenge, you will receive all the exciting trip info via our free mobile travel app. You'll have access to your itinerary, training guide, countdowns, live updates, contact info, weather forecasts, kit lists and much more at the touch of a button 24/7 via your mobile phone. No more unnecessary use of reams of paper and the need of carrying around documents with you. The app is free to download and all info is customary to your adventure ahead. A'ppy days.
Pre-trip support
With being a small family business we pride ourselves with providing personal, professional and friendly service throughout your UK & Ireland 5 Peaks Challenge. We appreciate that everyone has different levels of experience and reasons for wishing to embark on this trek and therefore require varying levels of support and guidance. We're here to help you every step of the way from the moment you join the flock all the way through to completing the challenge and beyond. Jim and Sue's knowledge and expertise stems from dozens of years of travelling and exploring the UK in order to fully support you in the lead up to your adventure.
Travel Insurance
Travel Insurance is an important part of any booking. It is compulsory that everyone who travels with us has taken out adequate travel insurance which includes, among other things, cover for the full value of your trip, medical (emergency, evacuation and repatriation) arrangements, activities undertaken, personal liability, cancellation, curtailment and loss of luggage and personal effects and COVID-19 travel cover.
For UK residents we have partnered with Campbell & Irvine Direct to provide you with a travel insurance. If you would like to obtain cover for your trip please feel free to contact specialist Insurance Brokers, Campbell Irvine Direct for a quote.
Safety and well-being
Adventurous Ewe puts the safety and well-being of you, our leaders & crew and the communities we visit at the centre of all our operations, always. Your safety and well-being is our top priority. Our UK & Ireland 5 Peaks Challenge requires individual preparation as this trekking adventure is designed to take you out of your every-day comfort zone and achieve something great. Rest assured we have a thorough Safety Management System, indepth risk assessments and risk management systems in place. Your safety and well-being is our top priority at all times.
Adventurous Ewe Leaders & Crew
You will be accompanied by certified Adventurous Ewe Leaders and Crew during your 5 Peaks Challenge. Our Leaders are first aid qualified and have extensive experience in leading expeditions throughout the UK. They will be ultimately responsible for the running of the itinerary and the safety of your group. Leaders and Crew will carrying full safety equipment and mountain first aid kits with them at all times. Please note, these kits are for emergencies only so please come prepared with your own personal first aid items. The Leaders and Crew will also be in constant radio communication with the vehicle drivers and base throughout your event.
Group size
We pride ourselves in small group travel to minimise the impact on the environment, to maximise your safety and wellbeing and to make your experience more authentic.
The minimum group size for the UK & Ireland 5 Peaks Challenge to run is 9 people and the maximum group size is 30 people, dependent on accommodation availability.
You are most welcome to join the UK & Ireland 5 Peaks Challenge as a group of family, friends, colleagues, a private bubble or as a solo trekker. If you have a group of over 9 people, we would be more than happy to run a private trek for your team, your charity or your company. You are also welcome to use this trek as a fundraiser for the charity of your choice.
For any further info or to chat about running a bespoke trek, we'd love to hear from you at info@adventurousewe.co.uk or call 01492 588 069.
Group management
Adventurous Ewe mountain treks are team challenges and are not designed to be individual competitive races. You will be taking part in teams of up to 10 people with a dedicated Leader. We encourage team spirit and support of each other to ensure everyone has the best opportunity to complete the challenge and enjoy the journey along the way too. These events are a fantastic way to meet like-minded people and share an incredible adventure whilst being accompanied and supported by friendly and experienced Adventurous Ewe Leaders and Crew.
Level of difficulty
TOUGH
The UK & Ireland 5 Peaks Challenge is graded as tough given that you are summiting the UK's five highest peaks within 72+ hours. This is the ideal event if you have an adventurous spirit and an open mind. Training and a good level of mountain walking fitness is definitely required. This is a challenging event both physically and mentally as sleep deprivation plays a part here, affecting some people more than others. As such the preparation and training you put in beforehand the better chance of success you have and the more you will enjoy this epic challenge.
Terrain
The terrain on this challenge varies throughout and can be rough at times, so preparation is ideal!
Snowdon: Taking the classic Pyg Track for your ascent of Snowdon, this is the shortest route up the mountain with the least amount of vertical ascent. The route follows a well maintained path with a few rocky sections. Continuing along the trail it soon becomes more rugged and steep! The final sections follows a zigzag route steeply up the mountain. The track will emerge at the top and join the main Llanberis Path running alongside the Snowdon Mountain Railway. Follow the path heading south alongside the railway for the last gradual ascent to the summit. The route will meet a set of steps which will take you to the Snowdon summit marker. On a clear day the peak offers views of Snowdonia, Anglesey, Pembrokeshire and Ireland. Your descent will be via the Llanberis Path, which offers the most gradual descent, and finishes in Llanberis.
Scafell Pike: You will take the shortest and most direct route up the highest mountain in England. This is a steep hike which involves scrambling over some terrain. The summit is rocky and has a large circular stone cairn with steps to its flat top and nearby a stone Ordnance Survey trig point pillar. The views from Scafell Pike summit are incredible with almost every major Lakeland Fells within view. On a clear day the Isle of Man will be visible, lying in the Irish Sea to the west. You will descent via the same path.
Ben Nevis: After the initial steepness, the path does even out to a more moderate rocky ascent. You will reach a stunning loch and then it is on to a series of zig-zags. The upper section is rough and very stony; it is often snow covered and losing the line of the path easily leads onto dangerous terrain – hence the importance of your Mountain Leaders. On reaching the top of the Ben you will notice it is very flat, not the traditional mountain peak, and the actual highest point is the cairn. The view is extensive and covers much of the Highlands, but there is nothing more dramatic than peering down the north side, across or down the massive cliffs. You will descend via the same path.
Slieve Donard: A well-defined trail takes you up the hill along the Glen River through a rich forest of pine, birch and oak. Crossing the river via bridges a few times, but thankfully you don't need to get your feet wet! As you climb higher, the river bank gets steeper. Reaching a stile as you pass thick forest, then carry on up the track above the river towards the saddle between Slieve Commedagh and Slieve Donard. You'll cross the river again and continue towards the iconic Mourne Wall as you reach the saddle. Following the wall as it guides you up a steep hill to the summit. There are a few false peaks along the way, so be patient and wait until you see the look-out point/cairn at the summit before celebrating. As seems to be a tradition in many parts of Ireland, the mountain is named after a saint. Saint Donard was known as a disciple of Saint Patrick, and he built a small prayer cell at the summit of Slieve Donard during the fifth century.
Carrauntoohil: Starting in Hag's Glen a wide-open valley with a lake on either side of the trail, Lough Gouragh and Callee. You'll hike through a fairly boggy/marshy section before reaching the base of the Devil's Ladder. The Devil's Ladder is quite a tough part of the climb due to its steepness and the loose rocks/pebbles/erosion. It's a steep gully with loose scree. Due to erosion, it can be a bit unstable in places so extra caution is advised. A walking stick or two can be really helpful.
Once you've scaled the ladder, the trail veers right to take you up the long climb to the summit. The final stretch to the summit has hazards on either side, so be really careful in poor visibility or bad weather. After all your hard work, the summit is breath-taking. You'll be surrounded by a rich panorama of mountain peaks and dramatic ridges in nearly every direction. There are also numerous lakes to be spotted, the Wild Atlantic Way in the distance, and to the north east, you should see the rich farmland of Co Kerry.
Training
A bespoke trek training programme will be provided when join the team for this adventure to help you with your preparations.
We also have exclusive offers with our Training Partners and Communities – Her Spirit and the Bath Kettlebell Society. For more info, please visit our Training and Preparation page.
The more you are prepared, the more you will enjoy the challenge.
Our motto is: Train hard, smile harder and enjoy the journey!
Kit
A full kit list will be provided when you book on this mountain trekking adventure.
Good kit can make the difference between a fantastic experience and an uncomfortable one. Well worn in waterproof hiking boots are essential together with a good quality waterproof jacket AND trousers.
An exclusive Adventurous Ewe discount code will be provided for the independent outdoor retailers Joe Brown, The Climbers Shop and ashmei athletic apparel on registering for this challenge.
Rest assured all the equipment that we supply will be hygienically cleaned and sanitised and was not used 72 hours before you use it and will not be used for the next 72 hours. You will be allocated specific seats in the private minibus for transfers as well.
Exclusive Kit Discount Offers
To help you get the very best from your event we will provide you with an exclusive Adventurous Ewe discount code to use in independent UK outdoor retailers Joe Brown / The Climbers Shop and ashmei athletic apparel, both online and in store. They offer a large choice of kit that the staff themselves use while climbing, hiking, mountaineering, running, travelling or enjoying expeditions across the globe and they pride themselves on sharing their experience and knowledge of equipment so you can choose the right gear to suit you and your epic mountain adventure.
Weather
Please be prepared for all kinds of weather conditions from warm sunshine to very cold wet weather. Despite your UK & Ireland 5 Peaks Challenge being in Summer, the weather is unpredictable in the mountains. Please refer to your kit list and ensure you have the right kit to protect you from sun, heat, wind, cold, rain and even snow (Ben Nevis is notorious for snow coverage even in the warmer months). Your kit will make your 5 Peaks Challenge either a great one or a rather miserable one.
During the week leading up to your challenge, please check the Mountain Weather Information Service.
Accommodation
Two night's hostel accommodation are included in your 5 Peaks Challenge. One night in a locally owned lodge in Snowdonia in a private mixed dorm room. Each bed has it's own curtains for your privacy. A home cooked breakfast is provided. The other night is in a hostel in Fort William Scotland in private dorm rooms. Again, breakfast is provided the following morning. If you wish to stay in Dublin the night you complete the challenge, we can arrange this for you at an additional cost.
More info will be sent to you when you book onto this mountain adventure however if you have any questions, please get in touch with us at info@adventurousewe.co.uk or call 01492 588 069.
Getting there
You will need to make your own way to the lodge in Snowdonia either by car or train. The closest train station is Bangor and it is a 20 minute taxi journey to the lodge. A transfer can be provided from the train station to your accommodation if prebooked with us one month in advance of the event. Further info will be provided when you register for this mountain adventure.
Food & drink
Three meals, snacks and water refills are included in your UK & Ireland 5 Peaks Challenge. If you have any dietary requirements, please let us know one month prior to your event start date. Please note, dinner is not provided on the night of your arrival and the evening you finish the challenge. Please bring your own water bottles or camelbaks/platypus (or similar) and flasks (if you wish to take a hot drink during your challenge) and refill in the hostel to avoid the need of purchasing plastic water bottles.
Adventurous Ewe Water-To-Go Bottles
The impact of single use plastic is having on our landscape, wildlife and oceans, it is now more important than ever that we all make changes in order to help our planet. We may not be a huge global company but we're passionate about playing our part and trying to make a huge difference collectively. Together we can dramatically reduce our consumption of single use plastics and support our responsible travel ethos of 'Take nothing but photos, leave nothing but boot-prints, keep nothing but memories.'
You can make a difference too with taking part in the UK & Ireland 5 Peaks Challenge and purchasing one of these environmentally friendly reusable alternative bottles compared to single-use plastic water bottles. Grab a Water-to-Go bottle through Adventurous Ewe and receive a 15% discount. Even better, Water-to-Go will donate a further 15% to our charity partner, Cool Earth. For more info please click here or email us at info@adventurousewe.co.uk to buy your Water-To-Go bottle.
Loos
Naturally there are bathroom facilities at the hotel and we will make scheduled stops at Services enroute. However, during your trek the facilities will be limited to the great outdoors. If nature calls during this time, please be prepared with biodegradable waste bags (dog poop bags are ideal) and biodegradable loo paper and leave no trace of your paper items.
Payment Info
Package 1 @ £800 per person
Including accommodation in Snowdon (3* hotel twin share including breakfast)
Package 2 @ £915 per person
Including accommodation in Dublin and Snowdon (3* hotel twin share including celebratory meal and breakfast)
Registration Fee @ £95.00 per person
This is included in the above package costs and is payable when you register for this event. The remaining balance must be paid 5 weeks prior to your trek start date.
Monthly payment plan
A monthly payment plan can be arranged for this trip. Please contact us for more information or to set up your plan. Simply email info@adventurousewe.co.uk or call 01492 588 069.
Free date changes
You can change your departure to a later date. We've added extra 2021 and 2022 dates to choose from, or you can request a new date that works for you or organise your own private bubble trip.
Flexible deposit
You can transfer your deposit to another available trip or hold your deposit on file indefinitely.
Convert it to credit
Save it for later. This, along with all payments, is 100% financially protected.
Get a refund
Being a small family business, we pride ourselves on personalised customer service and offer full
Cancelled trips
If you book on a trip that we are forced to cancel due to the pandemic, you will have the option to join another trip at a later departure with no admin costs or receive a full refund or credit note (excluding flights or insurance payments as these have their own booking conditions directly with the supplier).and prompt refunds.
If you choose to cancel your trip within 30 days of departure despite no official advice against travel
We respect your decision if you no longer wish to travel regardless of the destination or official advice. If you choose to cancel your trip, we will happily make those arrangements for you though please note, if there is no F&CO advice against travel, our standard cancellation terms will apply.
Fundraising
You are welcome to fundraise for a charity of your choice if you wish to do so. All sponsorship monies are to be sent directly to your chosen charity.
Book with confidence
As well as carefully crafting amazing and meaningful adventures across the planet, we've made booking them as flexible, safe and as simple as possible. With the ongoing impact of COVID-19, we've made a number of updates to our safety guidelines, flexible booking conditions and trip departures. For more info, please our Book and Travel with Confidence page.
Stay connected
All your UK & Ireland 5 Peaks Challenge info will be sent to you through our free mobile travel app. You will receive an email from Adventurous Ewe with your personalised log in code for this app.
For the latest and greatest from the land of adventures, simply follow us at:
Youtube: Adventurous Ewe Facebook: @adventurousewe
Instagram: adventurousewe
Twitter: @adventurousewe
LinkedIn: adventurous-ewe-ltd
You're most welcome to use the hashtags
#ewecandoit #thisflockrock #adventurousewe
Emergencies
Your Adventurous Ewe Leader/s and Crew will have a mobile phones and radios communications in case of emergencies. The team are trained to deal with these situations. Please ensure you listen to your Leader during these times and refrain from putting any posts on social media during this time. Should you find yourself unable to continue with the trek, your Leader and crew will make the necessary arrangements. Depending on the situation, you will be met by the support vehicle (depending on access) and you will be transferred back to your accommodation or nearby medical facility as required. Your Emergency Contact at Adventurous Ewe HQ is Jim Young on +(0)7747 346 588.
Conservation partner-sheeps
Snowdonia Society
Locally, we help support the vital work of the Snowdonia Society who since 1967 continues to work tirelessly to ensure that Snowdonia is well-protected, well-managed and enjoyed by all.
Cool Earth
We are very excited to have teamed up with leading climate change charity Cool Earth, who share our mission to protect the planet's precious environment in a sustainable manner. The future of rainforest protection is where everyone makes a difference to climate change! We invest a % of our revenue into supporting critical conservation projects around the world through Cool Earth. You are most welcome to help make a difference too by sparing a few pennies. Please give what you can and help save the world's rainforests today by clicking here. Just £2.50 will save 10 trees and lock up 10 tonnes of CO2. Together, we can all make a difference in helping preserve this precious and wonderful planet.
Thank-ewe (diolch).
What's Included?
Before your trip:
All trip info supplied through our free mobile travel app
Personalised trip support from your Adventurous Ewe team
Exclusive discount code for kit from Joe Brown and The Climber's Shop both in store and online and ashmei athletic apparel. Online code provided on booking
5 Peaks Training Programme
Public liability insurance
Risk assessment and emergency management planning.
During your trip:
Trek briefing prior to the start of your challenge
Qualified Mountain Leaders
Professional group management
Experienced drivers
Minibus and fuel
Packed lunch after completing Snowdon
Snacks, water and hot drinks during your challenge
Full back-up support including first-aid qualified Leaders and first-aid supplies
Luggage transfer
Radio communications for all crew
Two night's accommodation Llanberis, Snowdonia and Fort William Scotland (private dorm basis)
All trip management and hygienic cleaning procedures of equipment before, during and post trek.
What's Not Included?
Clothing and equipment detailed on your Kit List
Travel to Snowdon for the start of the challenge
Travel from Dublin following the completion of the challenge. This can be organised at an additional cost.
Overnight accommodation in Dublin. This can be organised at an additional cost
Single room supplement
Personal spending money.
Optional
We can organise overnight accommodation in Dublin for you at an additional cost or you are most welcome to organise this yourself. The crew will be travelling back to North Wales around 8pm on the day of completing the challenge. You are welcome to travel back in the minibus at an additional cost if you wish to join the crew transfer. Please note, this will mean you will be arriving back in Llanberis post midnight therefore we strongly recommend that you organise accommodation in Llanberis for that evening. More info will be sent to you when you join the team for this awesome adventure.
Thoughtful and Responsible Travel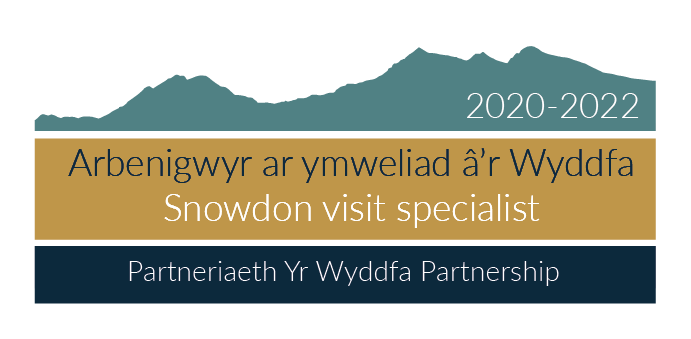 As part of the Snowdonia National Park Authority Partneriaeth Yr Wyddfa Partnership, we are an accredited Snowdon Visit Specialist. We are also a corporate partner of the Snowdonia Society and help support their vital work who since 1967 continue to work tirelessly to ensure that Snowdonia is well-protected, well-managed and enjoyed by all.
Ethical Trip Management
Adventurous Ewe is committed to delivering adventures in a responsible and ethical manner with sustainability at its core. We respect and aim to operate our trips to benefit local people, their economy and the environment!
Some of the ethical event management features embedded in our UK & Ireland 5 Peaks Challenge are:
Using local crew who are qualified Leaders and who are all extremely knowledgeable and experienced
Staying in locally owned and operated accommodation places
Minimising plastic waste wherever possible as we refill water bottles and flasks
We do not use route markers on the mountain
Where possible, our Leaders collect any rubbish scene on the mountain
We operate a 'leave no trace' ethos.
Duration
4 days & 3 nights
Difficulty
"THANK YOU so much for all you help with your organization especially with the last minute change to the schedule – I am glad that we got there in the end! Everyone I spoken to so far has had nothing but praise for you and your team so thank you so much for making their experience so enjoyable.
You have been so patience and very helpful and its been a pleasure working with you over the last few months."
Temi, MTV Staying Alive Foundation