WHERE'S BEST TO TRAVEL IN 2022 FOR SOLO ADVENTURERS?
Life tends to move at a different pace for different people. And situations can change at the blink of an eye as we've all experienced. So when an opportunity presents itself, grab it by the horns and take the plunge, especially when it comes to travel.
Solo travelling doesn't have to mean travelling alone. We specialise in small group travel and all our trips are solo traveller-friendly. You'll meet a bunch of like-minded people and experience the personalised, professional and down to earth service of Adventurous Ewe. To get you started, below are some trips running this year and next which already have some other solo travellers booked on which you're most welcome to join….
PATAGONIA GLACIER & ICE CAP TREK
Patagonia, the ultimate destination in the pursuit of pure wilderness and awe-inspiring landscapes! On South America's southern frontier, nature grows wild and the scenes are raw and dramatic. Spaces are vast, as are the silences that fill them. This backdrop sets the greatest stage for one heck of an adventure. Following years of guiding in South America, our carefully crafted itinerary ensures you will experience the pure ruggedness of Patagonia and more.
Departure: 12 – 22 November 2022
Length of trip: 11 days
Cost: £2450 per person
For more info: visit Patagonia Glacier & Ice Cap Trek

SRI LANKA TOP TO TAIL CYCLING CHALLENGE
For a compact island, Sri Lanka is spectacular, incredibly diverse and now is the best time to discover all it has to offer. Few places have as many Unesco World Heritage Sites (eight) packed into such a small area. Cycling Top to Tail is the best way to see, hear, smell and feel everything about this rural country. Experience the way of life of its friendly people. This trip covers a substantial part of Sri Lanka with cycling north to south, taking in as much as possible of the scenic and cultural variety that it has to offer.
Departure: 12 – 22 November 2022
Length of trip: 11 days
Cost: £1895 per person
For more info: visit Sri Lanka Top to Tail Cycling Challenge

COSTA RICA COAST TO COAST ADVENTURE
Sandwiched between the Pacific Ocean on one side and the Caribbean on the other, Costa Rica is a small country that packs a lot in. A diverse and awe-inspiring fusion of high mountains & volcanoes, vast virgin rainforests, stunning coastlines, roaring rivers and home to half a million animal species. Costa Rica certainly positions itself for the ultimate epic adventure in the heart of Central America. Now's your chance to embark on this exciting self-powered adventure as you bike, hike and paddle 250km across this diverse country from the Pacific to the Caribbean.
Departure: 12 – 23 November 2022
Length of trip: 12 days
Cost: £1895 per person
For more info: visit Costa Rica Coast to Coast Adventure

EVEREST BASE CAMP TREK
Experiencing the Nepalese Himalayas and its local people is a mountain adventure with treasured encounters and experiences that you will value for many years to come! Eight of the world's fourteen highest peaks are found in the Everest region, setting the stage for a journey of a lifetime. Trekking to the most iconic base camp at the foot of the greatest mountain in the world, Mount Everest (8848m), this is one of the world's most classic treks. If you're tight on time, there's always the option to take a scenic helicopter trip back from Base Camp to Lukla or Kathmandu.
Departure: 12 – 29 November 2022
Length of trip: 18 days
Cost: £1960 per person
For more info: visit Everest Base Camp Trek

EXPLORE COLOMBIA & THE LOST CITY TREK
Explore Colombia's towering Andean mountains, unspoiled Caribbean coast, vast jungle landscapes and communities, hidden archaeological ruins and cobbled colonial cities on this carefully crafted itinerary. Following an in-depth research trip to Colombia (click here for more info), we've pulled together this unique and exclusive itinerary to showcase the very best of this incredible country and it's people.
Departure: 26 November – 6 December 2022
Length of trip: 11 days
Cost: £1955 per person
For more info: visit Explore Colombia & The Lost City Trek

MT TOUBKAL – SUMMER TREK
From the bustling Marrakech, venture into the heart of the High Atlas via traditional Berber communities which line the route to the 'Roof of North Africa'. You'll learn their customs and enjoy hearty home-cooked meals. The views enroute are spectacular, but nothing compares to what you'll see (and feel) at the summit of Toubkal (4167m) with 360-degree views across the Atlas ranges to the Sahara Desert. We have numerous trips running throughout the Summer and Winter month, however we do have some individual bookings on the dates below.
Departure: 27 April – 1 May 2023
Length of trip: 5 days
Cost: £4955 per person
For more info: visit Mt Toubkal – Summer Trek

Don't just take our word for it, Maxine has travelled with us many times and we hope her comments give you some peace of mind and inspiration too……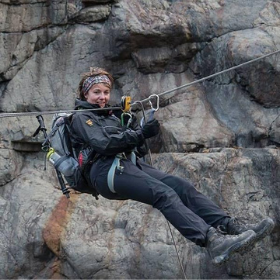 "I have trekked with the 'ewes' to Toubkal, Triglav, Patagonia and the Kings Trail in Sweden. I have also managed to squeeze in a few trips to Wales. Each trip was planned meticulously with the odd day factored in for local touring. Jim and Sue have managed to achieve the enviable task of running a tight ship, whilst still be being approachable, flexible and most of all patient with those of us worrying that we may have got ambition mixed up with ability!
The the sustainable and ethical approach box is definitely ticked, and local guides and guesthouses are always employed to support the local economy. Whatever the challenge we always have fun, whilst being safe and well looked after. I am very pleased now to call them both friends and look forward to our next and future adventures."
Maxine, 2021
For see more reviews through The Specialist Travel Association feel free to click here.
JOIN THE FLOCK
Our mission is to connect you with people and places around the globe in a meaningful and enjoyable manner. Giving you the opportunity to see the world in a different light and experience grassroot adventures which may even change your perception of the world as you know it.
Our greatest lessons, our most valuable experiences, come from taking a step out of our comfort zone. Adventure travel will give you a sense of freedom and opens up unlimited possibilities. Experiences that are so vivid and remarkable that they may even shape your life. Join us and travel solo yet not alone.
If you have any questions about travelling solo or any of our trips, please feel free to get in touch with Jim or Sue at info@adventurousewe.co.uk or call us on 01492 588 069. We'd love to welcome you to the team.