Top 10 reasons to trek the Sahara Desert

The unique magic of an adventure in the desert is made even more memorable by the treasures to be found within them. Delve into these out-of-this-world landscapes to discover ancient cultures, explore dramatic desert environments, and get lost in some of the starriest skies you'll ever see. Only a short flight from the UK, let yourself be transported into a world that feels a million miles away.
There are very few places on Earth that compare to the incredible landscapes you'll see visiting the Sahara Desert. Running roughly north-south along Morocco's eastern border with neighbouring Algeria, the Sahara Desert is the world's largest hot desert.
Having personally lived in Morocco for many years over the winter months, this is one of my all time favourite destinations, not only because of the incredible scenery but the people are so friendly, welcoming and hospitable. It's my second home and I love going back time and time again to see friends and see their families grow. It's a very special place.
Below are our top 10 reasons for visiting this incredible and ancient wilderness.

1. The vast space
Values and times have changed since the arrival of COVID-19 where now social distancing, safety and well-being is at the forefront of everyone's mind, and rightly so. Well there's no better place to host a social distancing trek than a journey through the Saharan Desert. With no trails restricting your hiking route or ability to chat to your fellow trekking-mates, the desert setting is a great way to experience a fantastic adventure whilst still being able to be social.
2. Safety and well-being
Adventurous Ewe puts the safety and well-being of you, our leaders & crew and the communities we visit is at the centre of all our operations, always. Your safety and well-being is our top priority. Rest assured we have our new health and well-being procedures in place for this adventure.
3. Ever-changing and diverse landscapes
Immerse yourself in the amazing desert scenery as you journey through wide-open plains, snaking wadis, dramatic plateaus, tamarisk bushes, acacia trees, hidden villages, palm gorges, dry river-beds and moon-like sceneries. With the heat and the winds shaping the desert, the landscape is constantly on the move and evidence is easy to see with the patterns and formations woven across the lands.
4. Sunset and sunrise
As the hot desert air starts to cool with the last of the sun's rays, it's time to immerse yourself in the dramatic colours changes of the desert during sunset.  Pinks. Reds. Yellows. Orange. An absolutely breath-taking experience.
It's also worth climbing out of your sleeping bag early and scampering up the peak of the nearest sand dune to witness the gorgeous colours of a graceful sunrise as the suns slowly emerges above the untouched landscape.
5. Night skies
Marvel at the abundance of twinkling stars in the dark night skies, devoid of any light pollution. Wrapped in a blanket, looking up at the millions of stars and listening to the peaceful sounds of nothingness is an unforgettable experience. A perfect digital detox.

6. Local food
Wow, the local food is a delicious highlight awaiting your taste buds. Enjoy the immense flavours of homecooked cooked tagines and the warmth of freshly baked bread as it's uncovered from desert ovens. Dining under the canvas of a traditional Bedouin tent is an appetising experience. Plus there's plenty of evenings to sip your mint tea beneath a blanket of stars.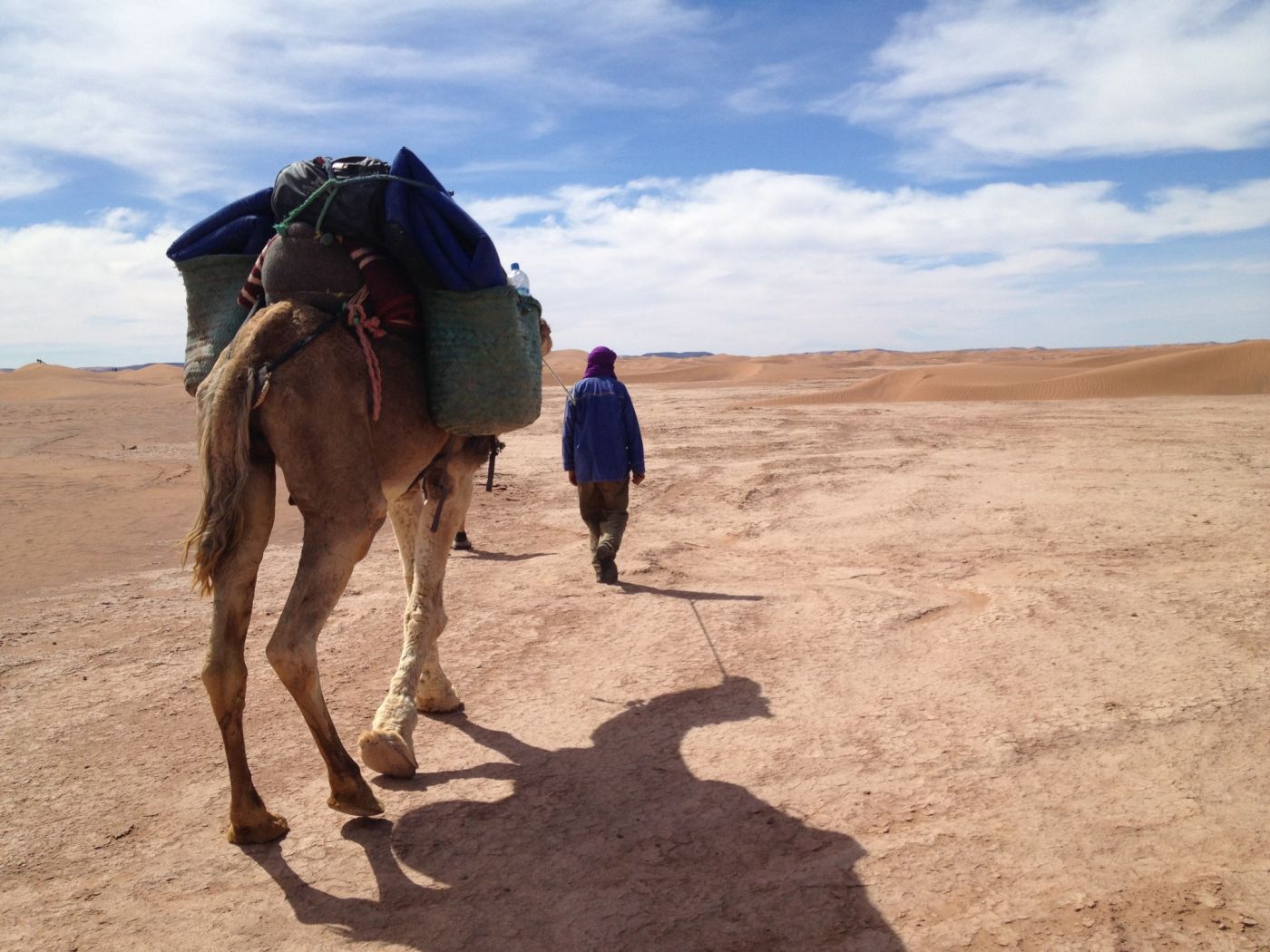 7. The Berber people
Every step of the way, your Berber crew will look after you; preparing your meals, guiding your way, sharing their local knowledge and culture with pride. Honestly, they are truly incredible people, and you'll learn so much trekking with them.
8. Say hi to your support crew, the faithful camel
What's not to love about a camel? They've got adorable faces, a calm nature but they all have their own personalities (and snorts). Their antics can have you in stitches as you journey across the arid landscapes of their homeland.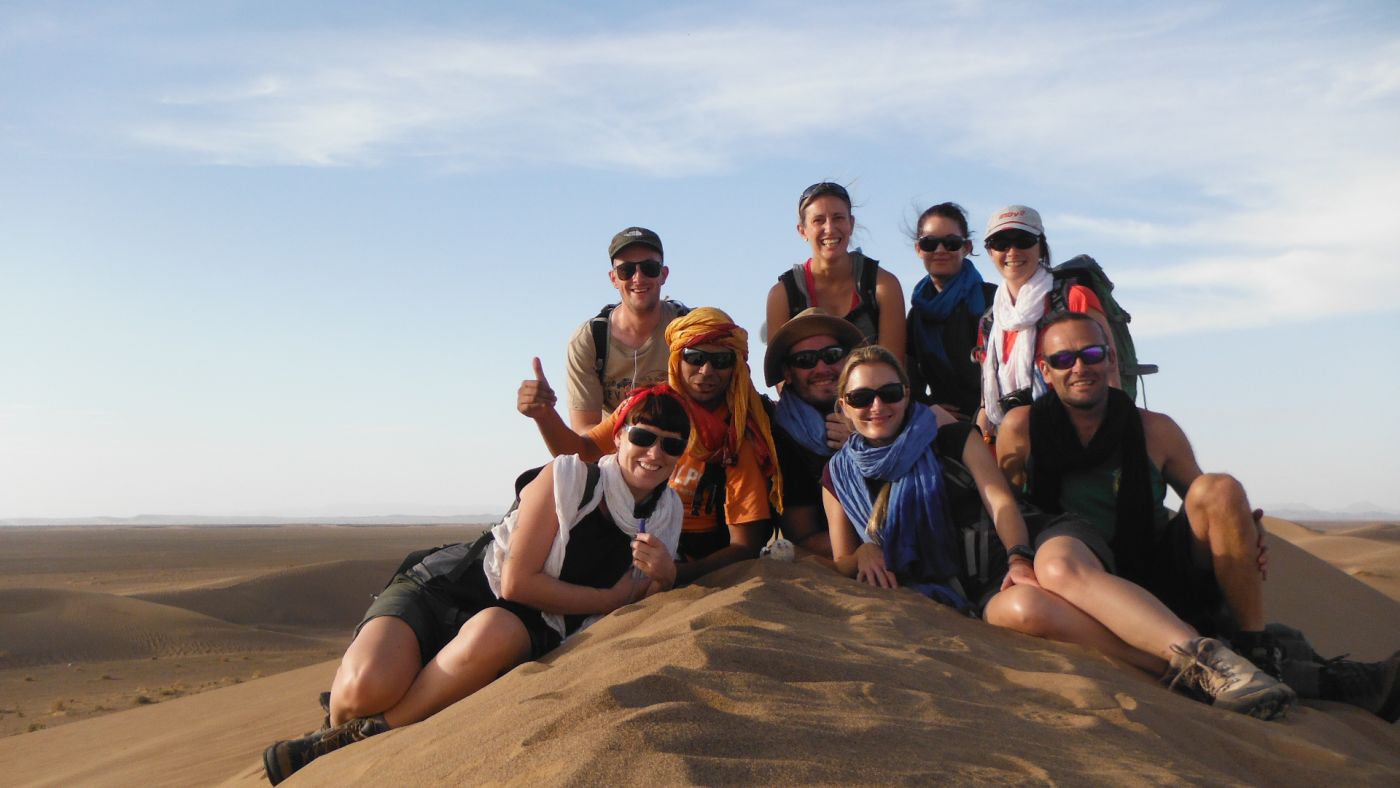 9. Adventure with purpose
We pride ourselves in small group travel to minimise the impact on the environment, to maximise your safety and wellbeing and to make your experience more authentic. We only leave our footprints behind whilst enjoying a genuine small group adventure. Plus you can enjoy the experience with pride knowing that your Sahara Desert Trek will also help us continue our support of the leading climate care charity, Cool Earth. It's a big win win!
10. You
What's an adventure with you? We'd love to share this desert journey with you. You don't need to be the world's most experienced hiker to trek the Sahara. The only thing you need is a huge sense of adventure, some gritty determination and a pair of boots that are up for the challenge. You'll be fully supported every step of the way from the moment you get in touch to crossing the desert finish line in Morocco!
The Sahara Desert offers a rare off the beaten track journey which immerses you in an ancient land, culture and way of life. You're in for a truly unforgettable journey that you won't want to leave the magic behind. For more info, please get in touch as we really love chatting all things about the Saharan Desert or visit our trip page.