Overview
Map & Itinerary
Essential Info
Pics & Vids
Dates & Prices
Highlights
Tackle 4-epic days of snowshoeing across the frozen cinematic Icelandic Highlands
Journey along mighty crater rims framing frozen lakes and marvel at vast views across snow-covered plains
Trek past steaming vents and naturally formed artistic snow structures
Climb towards the impressive Hrafntinnusker mountain
Experience the camaraderie as you take on remote trails and live self-sufficiently
Soak in geo-thermal hot springs which flow right next to your mountain hut
Be mesmerized by the boundless star filled skies
Give yourself the best chance of witnessing the Northern Lights
Visit Iceland in the quieter winter months, you may even have the area to yourself
Enjoy your final night in comfort Iceland's capital city of Reykjavik
Receive a free Water-To-Go bottle on departure to help eliminate our plastic footprint in Iceland
Adventurous Ewe is a 'Certified Inspired by Iceland Specialist'.
Overview
As expeditions in remote wild places go, this is definitely up there! The nature of this trip is to live self-sufficiently whilst making your way from hut to hut across the remote Icelandic Highlands. You will encounter challenges, but that's part of the experience and excitement. Tackling hurdles, learning new skills and finding that extra bit of endurance are all part and parcel of this arduous expedition. This journey has it all but the rewards are memorable and the stories created will be shared for many years to come.
This is your chance to explore the dramatic landscapes of Iceland on snowshoes during its most vivid season. In the winter months, this small island nation is transformed into a majestic world of lava fields & volcanoes blanketed in snow, waterfalls flowing amid shimmering ice, and night skies painted with the immense colours of the northern lights.
On this unique winter journey, experience the extreme contrasts of Iceland's fire and ice. Snowshoe across snow-covered fields shrouded in geothermal steam, weather sub-zero temperatures from the warmth of outdoor thermal baths, and take in views of a glacier-capped volcanos.
This wintery exploration amidst some of the world's most spectacular landscapes is a must do for anyone with a great sense of adventure. No previous snowshoeing or pulk pulling experience is necessary. Training will be provided.
Join us for this unique Iceland expedition. Designed together by Chief Ewe Jim and our local crew and is exclusive to Adventurous Ewe.
On departure of this expedition you'll receive a free Water-To-Go Bottle to help eliminate our plastic footprint in Iceland. By joining Adventurous Ewe not only will you have an incredible and insightful expedition, you can take pride in knowing your journey will help continue our support of the leading climate change charity, Cool Earth.
Private groups
If you have a group of over 7 people, please get in touch as we'd be happy to plan and host our Icelandic Winter Trek for you between February – March (dependent on accommodation availability). Simply email: info@adventurousewe.co.uk or call 01492 588 069.
Day 1
Flight from UK to Keflavík, Reykjavik Iceland
Flight direct from UK to Reykjavik for the start of your epic adventure. Flights are not included in your winter expedition giving you the flexibility to travel from your nearest airport or extend your stay in Iceland if you wish. We will provide you with the recommended flights for this trip in order for you to take up the airport transfers included in Iceland. You're welcome to book your flights through our flight agent if you wish (ATOL protected). You will then be transferred to your hotel in Reykjavik with dinner followed by briefing.
Included:
Transfer from Keflavík, Reykjavik (KEF) airport to your hotel for nominated flight
Dinner
Briefing, equipment checks and expedition preparations
Day 2
4×4 transfer and snowshoe from Hekla volcano to Landmannahellir (13kms)
In true expedition style, you have an early start this morning. Departing the civilisation of your hotel in Reykjavik, it's time for a spectacular 4×4 journey deep into Iceland's highlands. After 3 hours of winding roads through remote lava fields and snowcapped hills via Sellfoss and Hella you'll arrive just north of Helka volcano for the start of your snowshoeing hike. Crossing vast lava plains of undulating terrain your 13km wintery trail is the perfect day of introduction to snowshoeing with finishing at Landmannahellir mountain hut where you'll have dinner and enjoy a well earned rest.
Included:
Local guides and support crew
Snowshoe and hiking poles hire
Overnight in a self catering mountain hut
Breakfast, lunch and dinner
Day 3
Snowshoe from Landmannahellir around Landmannalaugar (approx. 15 km)
Wake up in the picturesque, snow-covered volcanic landscape and enjoy a big healthy mountain hut breakfast. It's then time to pack your kit in your pulka in readiness for the next leg of your journey. Your route today covers 15kms with a wide variety of winter landscapes of rolling hills, vast plains, amazing lakes and lava fields. Arriving back at the very comfortable mountain cabin of Landmannalaugar where you have the chance to take a dip in the thermal running river and spend the evening looking out for the northern lights.
Included:
Local guides and support crew
Snowshoe, hiking poles and pulka hire
Overnight in a self catering mountain hut
Breakfast, lunch and dinner
Day 4
The jewel in the crown – Snowshoe from Landmannalaugar to Hrafntinnusker (approx. 20 km & 500m ascent)
Today sees your longest and toughest day. From Landmannalaugar (575m) your trail traverses the ancient lava field of Laugahraun, formed in 1477. It's an area of much geothermal activity with steaming vents and bubbling hot springs. The route then climbs towards the Hrafntinnusker mountain. From this vantage point the views are spectacular with rugged snow covered mountains dominating the skyline. The surrounding area is patterned with ravines formed from rivers easily cut through the soft rock, some of which may be frozen adding to the incredible atmosphere. There's a good amount of climbing today with a height gain of 500m however it's a day you'll remember with the impressive landscapes to witness and thermal pools to soak those weary limbs in.
Included:
Local guides and support crew
Snowshoe, hiking poles and pulka hire
Overnight in a self catering mountain hut
Breakfast, lunch and dinner
Day 5
Snowshoe from Hrafntinnusker to Sigalda (approx. 10 km)
Say goodbye to your mountain hut as you strap on your snowshoes for the final time, heading north through the lava fields of Dómadalur towards lake Eskihlíðarvatn. Hiking along crater ridges framing frozen lakes and across vast lava plains. The horizon is extensive as the impressive Icelandic frozen landscape stretches for miles all around you. Arriving back at the road at Sigalda, you'll climb back onboard your 4×4 for your return transfer to Reykjavík. You'll arrive back at the capital in the late afternoon, ready for a celebratory Icelandic beer or two and enjoy a delicious celebratory meal down town.
Included:
Local guides and support crew
Snowshoe and hiking poles hire
4×4 super jeep transfer
Overnight in a hotel (twin share basis)
Breakfast, lunch and dinner
Day 6
Reykjavik to UK
Depending on your flight time we can arrange an optional excursion to the Blue Lagoon.
There will be one transfer operating from the hotel to Keflavik Airport for your return flight back to the UK. You'll return home with a huge sense of achievement having just completed an incredible winter expedition.
Included:
Breakfast
Return airport transfer
Why go
Supporting local tourism, communities and understanding of Iceland's diverse environment
We're keen to promote adventures in countries that are actively working towards sustainable tourism and conservation projects. Given the numerous environmental, cultural and conservation projects in place in Iceland, we're particularly keen and passionate to help support the local tourism industry here whilst also giving you the chance to get out and explore the pristine landscapes of this incredible country in a safe and fun manner.
This expedition has been designed to deliver an amazing experience out of peak season and showcase the some of the most stunning landscapes across Iceland in winter. It trip also gives you the chance to step out of your comfort zone, learn new skills and gain a greater understanding of the mountains, local environments and communities during the low season of winter.
Carbon footprint
We've crunched the numbers to work out the total carbon footprint of the Iceland Winter Hiking Expedition.
What's the number?
It works out on average at 94kg of CO2 emissions per person, including all local transport, accommodation, food, activities, leaders, crew and office operations.
The only thing not included is travel to Iceland. Given that our beloved guests travel from all parts of the UK for this adventure we have no way of reliably knowing their travel plans therefore we're unable to include an individual number in the figure on display here.
What does the number mean?
To give you a snapshot of the numbers:
Driving 1000miles/1609km would be approx. 281kg of CO2 in an average car (or 140.5kg per person if there was 2 of you).
A return economy class flight London – New York would be approx. 1,619kg (1.66 tonnes) per person.
10 trees in a temperate forest are estimated to remove approx. 250kg of CO2 from the air over a period of 5 – 10 years.
What are we doing about it?
Our adventures are relatively low-carbon by design, and we're working to develop long term carbon reduction plan. Following much research into climate change organisations, we carefully selected to support the environmental charity, Cool Earth. They're a sustainable operation and work with rainforest communities across the globe to halt deforestation and it's impact on climate change. We invest 1% of our revenue into supporting critical conservation projects world-wild with Cool Earth.
On a local level here in the UK, we're an ongoing business member of the Snowdonia Society, plus Jim and Sue, together with some of our local leaders, also help the Society with their local projects such as planting native trees in Snowdonia. This is to help preserve the landscape and enhance wildlife habitat here in Snowdonia.
Want to know more?
We believe that with great travel, comes even greater responsibility. Tourism is one of the most important and largest industries on the planet. It employs more people worldwide than any other, with millions of families relying on tourism for their daily needs. At Adventurous Ewe we believe that our type of small scale, positive impact tourism can bring benefits to many communities, help preserve the environments we travel to see, and provide real and positive social exchanges. Here is our plan to do our part towards helping reduce factors that we can contributing to climate change as part of Tourism Declares a Climate Emergency.
Pre-trip info
On joining us for the Iceland Winter Hike, you will receive all the exciting trip info via our free mobile travel app.
You'll have access to your itinerary, trip countdown, live updates, contact info, weather forecasts, know before you go trip info, kit lists and much more at the touch of a button 24 hours a day via your mobile phone. No more unnecessary use of reams of paper to benefit the environment and the need of carrying around documents with you. A'ppy days.
Flights
Flights are not included in your Icelandic Adventure giving you the flexibility to travel from your nearest airport, use any frequent flyer points or extend your stay in Iceland if you wish. We will provide you with the recommended flights for this trip in order for you to take up the airport transfers included in Iceland. Alternately, you can book your flights through our flight agent who is ATOL & ABTA protected.
There are direct return flights from the UK (LHR, STN or LTN) to Keflavík, Reykjavik (KEF). Flights operated by British Airways, Easy Jet, SAS or IcelandAir.
Passport
All nationalities require a full passport for this trek which must be valid for 6 months beyond the intended length of stay.
Visa
Currently there is no visa requirements for British passport holders travelling to Iceland.
For the most up to date info relating to entry requirements for Iceland, please visit the Foreign & Commonwealth Office website.
Travel insurance
Travel Insurance is an important part of any booking. It is compulsory that everyone who travels with us has taken out adequate travel insurance which includes, among other things, cover for the full value of your trip, medical (emergency, evacuation and repatriation) arrangements, activities undertaken, personal liability, cancellation, curtailment and loss of luggage and personal effects and COVID-19 travel cover.
For UK residents we have partnered with Campbell & Irvine Direct to provide you with a travel insurance. If you would like to obtain cover for your trip please feel free to contact specialist Insurance Brokers, Campbell Irvine Direct for a quote.
Vaccinations & allergies
Vaccinations
Currently there are no vaccinations required for Iceland however we recommend that your tetanus jabs are up to date.
Please consult with your GP or travel healthcare practitioner 6 – 8 weeks in advance of travel for the most up to date info and check the NHS government website 'Fit for Travel'.
Severe allergies
If you have a severe allergy please inform us at the time of booking. We will do all we can to help, but unfortunately we are unable to guarantee an allergy free environment on this trip. You will need to carry your own treatment for the allergy with you, as 'adrenaline auto-injectors' are not carried as standard by leaders and crew. Whilst your leader is aware of our trekkers medical history, please also inform your leader on arrival of your allergy, and let them know where you keep your adrenaline pen.
Safety and well-being
Adventurous Ewe puts the safety and well-being of you, our leaders & crew and the communities we visit at the centre of all our operations, always. Your safety and well-being is our top priority.
The Iceland Winter Hike is intentionally challenging and requires individual preparation as the trip is designed to take you out of your every-day comfort zone and achieve something incredible. Rest assured we have a thorough Safety Management System, indepth risk assessments and risk management systems in place.
For more info, please visit our Safety and Well-being page.
Leaders & crew
You'll be accompanied by experienced Winter Leader/s for the expedition together with a support crew. Your Local Leader is a key part to this trip. They are expertly trained and experienced in every field of this winter expedition, bilingual (English and Icelandic) and qualified in first aid and/or Wilderness First responder. They also have a huge passion for what they do and have plenty of knowledge ready to share with you. They are responsible for ensuring the complete safety, well-being and enjoyment of the team whilst also retaining a flexible and fun attitude. The Leaders have radio and phone contact with base, the local office and Adventurous Ewe's HQ
Group size
We pride ourselves in small group travel to minimise the impact on the environment, to maximise your safety and well-being and to make your experience more authentic.
The minimum group size for the Icelandic expedition is 7 people and the maximum group size is 13 people.
You are most welcome to join this trip as a group of friends, family or colleagues or as a solo traveller. You are also welcome to use this trip as a fundraiser for the charity of your choice.
If you have a group of over 7 people, we would be more than happy to run a private trip for your group, your charity or your company.
For any further info or to chat about running a bespoke expedition, we'd love to hear from you at info@adventurousewe.co.uk or call 01492 588 069.
Trip grading
The Iceland Winter Hike is graded as 'Extreme'. This is due to there being 4 consecutive long days of hiking in snowshoes along undulating frozen and uneven terrain. There is no support available for this trek given the remoteness of the route. Please be warned, if the weather closes in, we will need to make alternative arrangements which may involve remaining in a remote mountain hut. This is a proper adventure.
To complete the Iceland Winter Expedition comfortably, it is preferable that you have previous experience of long treks in varied and irregular terrain carrying a 45 litre day-pack. You do not need previous snowshoeing or pulka pulling experience as training will be provided, however it is beneficial that you are a confident walker with a good level of fitness and strength to manage the sections of ascent and long duration of the trek, combined with pulling your ladened pulka.
Training
A bespoke trek training programme will be provided when join the team for this expedition to help you with your preparations.
We also have exclusive offers with our Training Partners and Communities – Her Spirit and Strength & Movement Coach, Peter Lant. For more info, please visit our Training & Preparation page.
The more you are prepared, the more you will enjoy the challenge.
Our motto is: Train hard, smile harder and enjoy the journey!
Training weekends
We have a variety of tailored training weekends available to ensure you're fully prepared for your winter hiking expedition. These training weekends are the perfect way to help you gauge your fitness and training progress under the careful guidance of our experienced leaders. Plus the leaders will chat through your specific trip and also provide guidance and tips relating to clothing and equipment, health and well-being, packing, snowshoeing skills (on different terrain/at altitude/using trekking poles), teamwork and much more to ensure you are fully prepared and ready for your adventure ahead.
We predominantly host our training weekends in Snowdonia given the wide variety of terrain available to practice and where Chief Ewe's, Jim or Sue, can meet you too. It's a great way for you to meet fellow members of the flock and ask any questions, no matter how big or small. We're here to make sure you're ready.
For further info, please email info@adventurousewe.co.uk or call 01492 588 069.
Kit
A full kit list will be provided when you register for this Winter Expedition. Good kit can make the difference between a fantastic experience and an uncomfortable one. Well worn in insulated, waterproof winter boots with higher ankle support, thick soles and rubber or leather uppers are ideal. Examples are Salomon Toundra Pro boots or The North Face Chillkat snow boots.
An exclusive Adventurous Ewe discount code will be provided for the independent outdoor retailers on registering for this expedition.
As part of your expedition, you will be supplied with snowshoes and trekking poles based on your size and a pulka (sleigh). You will have the opportunity to learn and practice using these items. No previous snowshoeing experience is required. You will also be provided with a group shelter and snow shovel which will be carried between two people.
Exclusive kit discount codes
To help you get the very best from your Icelandic Winter Expedition we will provide you with exclusive Adventurous Ewe discount codes to use in local independent specialist outdoor retailers both online and in store. They offer a large choice of kit that the staff themselves use while climbing, hiking, mountaineering, running, travelling or enjoying expeditions across the globe and they pride themselves on sharing their experience and knowledge of equipment so you can choose the right gear to suit you and your winter adventure.
Weather
The Icelandic Highlands are a remote inland area at an average of 600 metres above sea level, so it is colder here than in other parts of Iceland during winter. Average temperatures in this region between February and April are lows of -10°C / 14°F and highs of -3°C / 27°F. You'll need to prepare for a cold expedition, however the mountain hut and adjacent thermal pools will give you plenty of warm and comfortable moments of relaxation before and after each time you venture out to explore the region.
Accommodation
Reykjavik Hotel
On the first and final night of your expedition, you'll be staying in a centrally located hotel in Iceland's capital city, Reykjavik. All rooms have ensuites and are on a twin share basis.
Mountain huts
During the hiking days you'll stay in classic Icelandic mountain huts in mixed, dormitory-style accommodation. The huts are comfortable and have basic amenities, such as furnaces for heating and gas stoves for cooking, and the surrounding scenery is nothing short of jaw-dropping. There is a thermal pool a few moment's walk from the Landmanallaugur hut and you'll often be able to view the northern lights from the hut at this time of year.
Upgrades
For solo travellers an optional single room can be arranged for an additional charge in Reykjavik subject to availability. Please note, private rooms are not available in the mountain huts. To book a private room, please mark this on your booking or contact us at info@adventurousewe.co.uk.
Food & drinks
All meals are provided as outlined in your itinerary:
Breakfast x 5
Lunch x 4
Dinner x 5
During the trek, meals will prepared by the local crew following strict health and hygiene guidelines.
Breakfast: fruit, yoghurt, porridge, muesli, bread, crispbread, jam, swiss miss & tea/coffee.
Packed lunch: you'll make your own packed lunch of sandwiches from various ingredients, including Icelandic flatbread, pâté, salami, cheese, peanut butter, smoked salmon, etc.
Dinner: soups, pasta, couscous, stews, sausages and freeze-dried meals
Dietary requirements and food allergies – if you have any specific requirements, please let us know prior to departure so we can make the necessary arrangements for you.
Snacks – we recommend you bring your own high calorie snacks, both sweet and savoury.
Drinking water – is provided. Please bring your own water bottles / camelbaks to refill. Your Adventurous Ewe Water-to-Go bottle is ideal for this expedition.
Water-to-Go bottle
The impact of single use plastic is having on our landscape, wildlife and oceans, it is now more important than ever that we all make changes in order to help our planet. We may not be a huge global company but we're passionate about playing our part and trying to make a huge difference collectively. Together we can dramatically reduce our consumption of single use plastics and support our responsible travel ethos of 'Take nothing but photos, leave nothing but boot-prints, keep nothing but memories.'
You can make a difference too with taking part in this Icelandic Winter Expedition. As part of our commitment to helping the planet, members of the flock who join us for this trek will receive a free Adventurous Ewe Water-to-Go bottle. This is our way of saying thank-ewe and also making a difference to the consumption of single use plastics in the countries we visit.
For more info please click here or email us at info@adventurousewe.co.uk to find out more.
Payment info
Deposit: £245 per person is required on booking.
Remaining balance: £1750 per person is due for payment no later than 5 weeks prior to the trip start date.
Total cost: £1995 per person
Monthly payment plan
A monthly payment plan can be arranged for this trip. Please contact us for more information or to set up your plan. Simply email info@adventurousewe.co.uk or call 01492 588 069.
Fundraising
You are welcome to fundraise for a charity of your choice if you wish to do so. All sponsorship monies are to be sent directly to your chosen charity.
Book with confidence
As well as carefully crafting amazing and meaningful adventures across the planet, we've made booking them as flexible, safe and as simple as possible. With the ongoing impact of COVID-19, we've made a number of updates to our safety guidelines, flexible booking conditions and trip departures. For more info, please our Book and Travel with Confidence page.
Stay connected
All your expedition info will be sent to you through our free mobile travel app or web-page. You will receive an email from Adventurous Ewe with your personalised log in code for this .
For the latest and greatest from the land of adventures, simply follow us at:
Facebook: @adventurousewe
Youtube: Adventurous Ewe
Instagram: @adventurousewe
Twitter: @adventurousewe
LinkedIn: Adventurous-Ewe-Ltd
You're most welcome to use the hashtags
#ewecandoit #thisflockrock #adventurousewe
Emergencies
Your Adventurous Ewe Leader/s and Crew will have a mobile phones and radios communications in case of emergencies. The team are trained to deal with these situations. Please ensure you listen to your Leader during these times and refrain from putting any posts on social media. Should you find yourself unable to continue with the trek, your Leader and crew will make the necessary arrangements. Depending on the situation, you will be met by the support vehicle (depending on access) and you will be transferred back to your accommodation or nearby medical facility as required. Your Emergency Contact at Adventurous Ewe HQ is Jim Young on +44(0)7747 346 588.
Conservation partner-sheep
Cool Earth
We are very excited to have teamed up with leading climate change charity Cool Earth, who share our mission to protect the planet's precious environment in a sustainable manner. The future of rainforest protection is where everyone makes a difference to climate change!
We invest a % of our revenue into supporting critical conservation projects around the world through Cool Earth. You are most welcome to help make a difference too by sparing a few pennies. Please give what you can and help save the world's rainforests today by clicking here. Just £2.50 will save 10 trees and lock up 10 tonnes of CO2. Together, we can all make a difference in helping preserve this precious and wonderful planet. Thank-ewe
What's Included?
Pre-expedition:
Personalised trip support in the lead up to your trek from Adventurous Ewe
Training guide
Kit discount code for independent specialist outdoor retailers
Expedition info supplied via our free mobile travel app
Financial protection of your booking
Public liability insurance
Risk assessment and emergency management planning
Monthly payment plan available
Free Water-To-Go Bottle to help reduce our plastic footprint in Iceland
During your expedition:
Experienced Icelandic Winter Mountain Leader for 4 days
UK Mountain Leader for groups over 7 people
Local ground crew
Airport transfer day 1
Transfers on day 2 and day 5 by private super jeep
2 nights hotel accommodation in Reykjavik (twin room basis)
3 nights accommodation in mountain huts (dormitory rooms)
Sleeping bag
All meals from dinner on day 1 until breakfast on day 6
Hire of snowshoes, walking/ski poles, pulka, sleeping bag for duration of the expedition
Filling of water bottle/s and thermos (please provide your own water bottles and thermos for refilling)
All trip management and hygienic cleaning procedures of equipment before, during and post expedition.
What's Not Included?
Return flights from UK to Reykjavik Iceland. These can be booked via our flight operator (ATOL protected)
Travel insurance (mandatory)
Any pandemic entry/exit requirements per UK and Iceland Governments
Clothing and equipment listed on your Kit List
Water bottle/s and/or camelbaks/platypus and thermos for filling and refilling. Please provide your own bottles as this is to minimise the use of plastic bottles
Personal snacks and electrolytes
Personal spending money
Any costs incurred with retiring from the expedition early ie. hotel accommodation, change of travel tickets, any medical costs, etc
Tips for local crew.
Sustainable and Responsible Travel
Impressively, Iceland has been described as a world leader in addressing pollution control and natural resource management challenges. Almost one hundred sites, with a total area of 2,000,000 ha (including glaciers and marine areas) are protected in Iceland under the Nature Conservation Act. In addition, 85% of Iceland's primary energy needs are met with indigenous renewable resources, meaning Iceland is at the forefront of sustainable energy production.
Almost all electricity in Iceland is produced using renewable energy sources, with 73% of electricity provided by hydropower plants and 26.8% from geothermal energy, accounting for over 99% of total electricity consumption in Iceland.
This is just one of the many reasons we are so passionate with encouraging adventure tourism to Iceland given their level of care and diligence in helping the planet with such impressive renewable energy usage.
Some of the responsible travel features embedded in our Iceland Winter Hike are:
Using local crew who are qualified Guides, support crew and drivers who are all extremely knowledgeable and experienced
Staying in locally owned accommodation wherever possible
Minimising plastic waste wherever possible with providing a complimentary Water-To-Go bottle on departure
Careful management of energy and water resources on the trip
Offering real life experiences which promote cross-cultural understanding
Operating with a 'leave no trace' ethos – take only memories, leave only footprints
Adventurous Ewe will make a financial contribution to the environmental charity, Cool Earth, as part of our business partnership
This expedition has a carbon footprint of 94kg of CO2 emissions per person.
Together, we can all make a difference in helping preserve this precious and wonderful planet.
We are also proud to be a 'Certified Inspired by Iceland Specialist' in order to create and provide ethical itineraries and a far more indepth and meaningful service to you.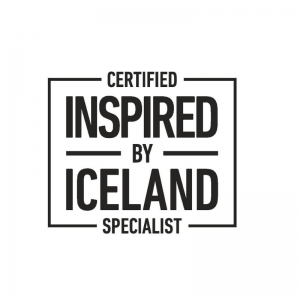 Duration
6 days & 5 nights

Difficulty
Another fantastic trip from Jim and Sue at Adventurous Ewe. Iceland is an amazing place and the trip really showcased the beauty and the challenges of snow trekking in the wild. Many laughs, digging deep climbing volcano slopes and the fun of sliding down the other side. A great team to go with and we are already booked with Adventurous Ewe to experience Colombia in November. 🙂 Great trip and great company to travel with!
John, 2022