Overview
Map & Itinerary
Essential Info
Pics & Vids
Dates & Prices
Highlights
7 peaks! 3 mountain ranges! 3000 metres of ascent! 3 winter mountain days! Tick!
Experience the peacefulness and beauty of winter trekking
Conquer some of the most famous peaks in Snowdonia (Eryri)
Admire the view from some of Snowdonia (Eryri) National Park's finest mountains, including Snowdon, the Glyders, Y Garn and the Carneddau peaks
Trek with pride knowing you are helping support the work of the Snowdonia Society and Cool Earth
Accompanied by local Adventurous Ewe Mountain Leaders
We look forward to welcoming you to the stunning Welsh Winter Wonderland.
Overview
Are you ready for an epic mountain adventure embracing rugged mountains of Snowdonia in winter? Covering 7 of Snowdonia's (Eryri) renowned mountains, this journey will take you through spectacular landscapes and test your mettle on a tough 3-day adventure.
While the winter conditions can add extra challenges in the mountains, it also offers a great opportunity to develop your knowledge of the environment and experience the raw beauty of the Welsh peaks amidst a serene and stunning setting.
Previous winter walking experience is not essential, however a good level of fitness and mountain trekking experience is recommended. The weather can be extreme, so you'll need to be prepared for all conditions. Please note, some routes and mountains may become impassable and unsafe. On these occasions an alternative route will be taken.
The aim of this trek is to experience Snowdonia in winter in a safe and enjoyable manner plus get an understanding of the environment, the local people and way of life and learn some winter trekking skills. It's not a winter mountaineering or skills weekend per se. Due to the shorter daylight hours, we aim to finish around 3.30pm and enjoy a hot tea & cake in a local cafe.
So whether you're a solo trekker or part of a small group, we're really excited to welcome you to Snowdonia (Eryri) and showcase the very best of this amazing environment in winter time.
Evening prior
Arrive in historic coastal town of Caernarfon in North Wales where you'll meet your fellow team-mates and your local mountain leader to receive a trek briefing ready for your winter adventure ahead. You're then free to have dinner at the hotel or choose from a great selection of nearby local restaurants. Please note, dinner is at your own expense.
Included:
Overnight accommodation at a local hotel
Day 1
Traverse the Carneddau Range (3 peaks)
Starting from Ogwen Valley, the real jewel in the crown of Snowdonia National Park as a huge glacial valley bowl surrounded by spectacular mountain ranges. Leaving the picturesque Llyn Ogwen, a shallow ribbon lake, your circular route travels over rocky terrain with a short scramble towards your first peak of Pen Ole Wen standing at 978m Pen Yr Ole Wen. This is the seventh highest Welsh peak, the same height as England's Scafell Pike. On reaching the summit you'll be rewarded with breath-taking views of the entire Ogwen Valley to the Glyders and beyond.
It's then time to tackle one of the finest ridge walks in Snowdonia as your route continues northwards towards Carnedd Dafydd, the third highest peak in Wales at 1044 metres and then onto the dome-shaped plateau to summit Carnedd Llewelyn, the highest point of the Carneddau and the second highest peak by relative height in Wales at 1064 metres. This area is the largest expanse of uninhabited highland in England and Wales and the view of all the peaks of the Carneddau is spectacular, especially if covered in snow. Your descent returns you to the Ogwen Valley filled with a great sense of achievement.
Trekking time: approx. 6 – 7 hours
Trekking distance: approx. 15km
Trekking ascent: 980m
Included:
Welsh breakfast
Vehicle transfer to and from the start and finish points of your trek
Local mountain leader/s
Home-made packed lunch
Overnight accommodation at a local hotel
Day 2
Traverse Y Glyderau Range (3 Peaks)
With 3 peaks already in the bag, today sees you cross Y Glyderau, one of the most impressive mountain ranges in Britain. Returning to the beautiful Ogwen Valley your route climbs steeply from the valley floor into the Glyderau range. Following a dramatic ridgeline you'll arrive at the summit of Y Garn at 947m, the tenth highest peak in Wales. This is a rewarding experience offering superb views across the summits around Ogwen – from the previous days peaks of Pen Yr Ole Wen, Carnedd Dafydd, Carnedd Llewelyn and across to Tryfan and Snowdon in the distance.
Continuing your trek there is a short decent before beginning another climb to the summit of Glydyr Fawr 1001m, the highest peak in the Glyderau range. Staying on the summit plateau the route traverses the Glyderau with some of the most iconic features in Snowdonia including Castell Y Gwynt and the Cantilever Stone. This gives you the chance to take one of the most iconic images in the Snowdonia range with the precariously positioned rock on Glyder Fach. Crossing a giant boulder field you'll reach your third and final summit for the day, Glyder Fach at 994m, is the second highest of the Glyderau and the sixth highest in Wales before returning to the Ogwen Valley.
Trekking time: approx. 7 – 8 hours
Trekking distance: approx. 12km
Trekking ascent: 1061m
Included:
Welsh breakfast
Vehicle transfer to and from the start and finish points of your trek
Local mountain leader/s
Home-made packed lunch
Overnight accommodation at a local hotel
Day 3
Snowdon range (1 Peak)
With 6 peaks already in the bag, today sees you take on one of the most famous peaks in the UK, Snowdon at 1085 metres, the highest point in Wales and England. Your ascent will be via the Pyg Track depending on the conditions. The route follows a rocky path that contours along the hillside before traversing below the famous ridgeline of Crib Goch and above the picturesque mountain lake of Llyn Llydaw. You'll then make your way up to zig zags to the the crest of the ridge marked by a finger post, Bwlch Glas. If conditions permit, you'll make your way along the ridgeline to the. brass plate on the trig point marking the summit of Snowdon, This plate can be used to identify all the different summits in the area to highlight the incredible 360 degree panoramic mountain views. This marks the completion of your Snowdonia Seven Summits and it's time to return via the Miners Track to your starting point at Pen-y-Pass.
Trekking time: approx. 5 – 7 hours
Trekking distance: approx. 12km
Trekking ascent: 800m
Included:
Welsh breakfast
Vehicle transfer to and from the start and finish points of your trek
Local mountain leader/s
Home-made packed lunch
Please note, this winter adventure take place in the mountains of North Wales. Things change in the mountains, particularly at during the winter months. Your perfectly planned itinerary may change a bit (or a lot) if the weather turns, someone gets hurt, or if there is ice cover. Usually though, changes make it all the better and you'll discover other parts of Snowdonia along much less trodden lowland paths.
Why go
A new trek during off-peak season
Since the COVID-19 pandemic hit our local tourism industry having a huge impact on local communities and livelihoods, we're keen to develop new adventures on home ground particularly during the off-peak season to help support the local tourism industry whilst also giving you the chance to get out and explore our incredible landscapes in a safe manner.
This trek has been designed to deliver an amazing experience and showcase the some of the most epic landscapes in North Wales during winter time whilst also giving you the chance to learn new skills and gain a greater understanding of the mountains, local environment and winter weather.
Carbon Footprint
We've crunched the numbers to work out the total carbon footprint of the Snowdonia 7 Summits, and plant or protect enough trees to suck 2x as much back out the atmosphere.
What's the number?
It works out on average at 115kg of CO2 emissions per person, including all local transport, accommodation, food, activities, leaders, crew and office operations.
The only thing not included is travel to Snowdonia. Given that our beloved guests travel from all parts of the UK for this adventure we have no way of reliably knowing their travel plans therefore we're unable to include an individual number in the figure on display here.
What does the number mean?
To give you a snapshot of the numbers:
Driving 1000miles/1609km would be approx. 281kg of CO2 in an average car (or 140.5kg per person if there was 2 of you).
A return economy class flight London – New York would be approx. 1,619kg (1.66 tonnes) per person.
10 trees in a temperate forest are estimated to remove approx. 250kg of CO2 from the air over a period of 5 – 10 years.
What are we doing about it?
Our adventures are relatively low-carbon by design, and we're working to develop long term carbon reduction plan. Following much research into climate change organisations, we carefully selected to support the environmental charity, Cool Earth. They're a sustainable operation and work with rainforest communities across the globe to halt deforestation and it's impact on climate change. We invest 1% of our revenue into supporting critical conservation projects world-wild with Cool Earth.
On a local level, we're an ongoing business member of the Snowdonia Society, plus Jim and Sue, together with some of our local leaders, also help the Society with their local projects such as planting native trees in Snowdonia. This is to help preserve the landscape and enhance wildlife habitat here in Snowdonia.
Want to know more?
We believe that with great travel, comes even greater responsibility. Tourism is one of the most important and largest industries on the planet. It employs more people worldwide than any other, with millions of families relying on tourism for their daily needs. At Adventurous Ewe we believe that our type of small scale, positive impact tourism can bring benefits to many communities, help preserve the environments we travel to see, and provide real and positive social exchanges. Here is our plan to do our part towards helping reduce factors that we can contributing to climate change as part of Tourism Declares a Climate Emergency.
Pre-trek info
On booking your Snowdonia 7 Summits Winter Trek, you will receive all the exciting trek info via our free mobile travel app.
You'll have access to your itinerary, trip countdown, live updates, contact info, weather forecasts, know before you go trip info, kit lists and much more at the touch of a button 24 hours a day via your mobile phone. No more unnecessary use of reams of paper to benefit the environment and the need of carrying around documents with you. A'ppy days.
Pre-trek support
With being a small family business we pride ourselves with providing personal, professional and friendly service. With being born and bread in Snowdonia, Jim knows these mountain ranges like the back of his hand together with the weather patterns. If the conditions determine that traversing some of these mountain ranges is unsafe, rest assured that Jim will take you on another fascinating winter adventure on paths less trodden.
We appreciate that everyone has different levels of experience and reasons for wishing to embark on winter trek and therefore require varying levels of support and guidance. We're here to help you every step of the way from the moment you join the flock all the way through to completing the trek and beyond.
Safety and Well-being
Adventurous Ewe puts the safety and well-being of you, our leaders & crew and the communities we visit at the centre of all our operations, always. Your safety and well-being is our top priority.
The Snowdonia 7 Summits Winter Trek requires individual preparation as the 3-day trek is designed to take you out of your every-day comfort zones and achieve something hugely commendable. Rest assured we have a thorough Safety Management System, indepth risk assessments and risk management systems in place together with alternate route plans should the weather or conditions determine that high routes are impassable.
For more info, please visit our Safety and Well-being page.
Your Leaders and Crew
You will be accompanied by certified Adventurous Ewe Local Leaders and Crew. Our Leaders are first aid qualified and have extensive experience in leading multi-day treks throughout the UK and during winter conditions. They will be ultimately responsible for the running of the itinerary and the safety of your group. Leaders and Crew will carrying full safety equipment and mountain first aid kits with them at all times. Please note, these kits are for emergencies only so please come prepared with your own personal first aid items. The Leaders and Crew will also be in constant radio communication with the vehicle drivers and base throughout your trek.
Group size
We pride ourselves in small group travel to minimise the impact on the environment, to maximise your safety and well-being and to make your experience more authentic.
The minimum group size to run this trek is 4 people and the maximum group size is 10 people.
You are most welcome to join the Snowdonia 7 Summits Winter Trek as a group of family, friends, colleagues, a private bubble or as a solo trekker. If you have a group of over 6 people, we would be more than happy to run a private trek for your team, your charity or your company. You are also welcome to use this trek as a fundraiser for the charity of your choice.
For any further info or to chat about running a bespoke trek, we'd love to hear from you at info@adventurousewe.co.uk or call 01492 588 069.
Group management
The Snowdonia 7 Summits Winter Trek is a team challenge and not an individual competitive race. You will be taking part in teams of up to 6 people with a dedicated Local Leader. We encourage team spirit and support of each other to ensure everyone has the best opportunity to complete the trek, learn new skills and enjoy the journey along the way too. This epic mountain trek is a fantastic way to meet like-minded people and share an incredible adventure whilst being accompanied and supported by friendly and experienced Adventurous Ewe Local Leaders and Crew.
Level of difficulty
The Snowdonia 7 Summits Winter Trek is graded as 'Tough'. This is due to there
being three consecutive days of trekking along mountain terrain in winter conditions.
The routes taken will depend on the conditions as your safety is paramount. No previous winter trekking experience is required however it is recommended that you do have previous mountain hiking experience.
Preparation is key to help you get the most enjoyment and reward from this adventure. A good level of fitness, endurance and some gritty determination will help you conquer each day. A training programme will be provided to help you reach the start line knowing that you're set to enjoy the journey ahead.
Training
A bespoke trek training programme will be provided when join the team for this adventure to help you with your preparations.
We also have exclusive offers with our Training Partners and Communities – Her Spirit and the Bath Kettlebell Society. For more info, please visit our Training and Preparation page.
The more you are prepared, the more you will enjoy the challenge.
Our motto is: Train hard, smile harder and enjoy the journey!
Kit
A full kit list and tips will be provided when you register for the Snowdonia 7 Summits Winter Trek. Good kit can make the difference between a fantastic adventure and an uncomfortable one. Well worn in waterproof hiking boots with a stiff sole are essential together with a good quality waterproof jacket AND trousers.
An exclusive Adventurous Ewe discount code will be provided for the independent outdoor retailers Joe Brown, The Climbers Shop and ashmei athletic apparel on registering for this trek.
Exclusive Kit Discount Offers
To help you get the very best from your Snowdonia 7 Summits Winter Trek we we will provide you with an exclusive Adventurous Ewe discount code to use in independent UK outdoor retailers Joe Brown / The Climbers Shop and ashmei athletic apparel, both online and in store. They offer a large choice of kit that the staff themselves use while climbing, hiking, mountaineering, running, travelling or enjoying expeditions across the globe and they pride themselves on sharing their experience and knowledge of equipment so you can choose the right gear to suit you and the event you are taking part in.
Winter trekking top tips
Dress the part and layer up – base layer, insulating layer and shell. Base layer that wicks perspiration away from your skin (merino wool base layers are ideal), a mid layer that insulates you from the cold and a shell layer that keeps wind and moisture out
Ensure you have water-proof stiff soled hiking boots that are well worn in
Wear synthetic or merino wool socks that fit well. Thicker socks provide more insulation, but make sure they don't cause your boots to fit too tight. It's also important to keep your feet dry, so have an extra pair of socks to change into.
Train in your trekking kit. Including your hiking boots & socks and wearing of your daypack with weight inside, in varying weather conditions so you know your kit is both suitable and comfortable for your big challenge
Have two bags – a daypack for the trek with your trekking kit (waterproofs, warm layers, packed lunch, snacks, water, first aid, factor 50 sunscreen & any medication). And your main luggage/duffle style bag with all your other items which you can leave at the hotel
Pack your kit inside a dry bag just in case
Wear lightweight or midweight fleece gloves under waterproof shell
When it's cold, you might be less inclined to stop for food and water. Make it simple by keeping snacks and water within reach so you can eat and sip regularly throughout the trek
Bring your favourite high calorie snacks. Remove as much packaging as possible before taking it on the trek (less litter to carry)
Bring your own water bottle, a Water-to-Go bottle is ideal, plus a camelbak./platypus that you can refill and avoid plastic bottles
Be respectful of the local communities, the people, the weather and the environment
Most importantly……SMILE & ENJOY THE ENTIRE EXPERIENCE
Weather
The weather in the Welsh mountains can change rapidly, especially in winter, so it is essential that you are prepared for all conditions including rain, wind and snow. In the week leading up to your trip we recommend checking the Mountain Weather Information Service. You will also receive weather updates via our mobile travel app.
Please note, this winter adventure take place in the mountains of North Wales. Things change in the mountains, particularly at during the winter months. Your perfectly planned itinerary may change a bit (or a lot) if the weather turns, someone gets hurt, or if there is ice cover. Usually though, changes make it all the better and you'll discover other parts of Snowdonia along much less trodden lowland paths.
Accommodation
3 nights accommodation in a historic hotel and spa in the World Heritage town of Caernarfon is included as part of your Snowdonia 7 Summits Winter Trek. Due to the current times, accommodation is based in single rooms with ensuite facilities.
You will be staying within walking distance of Caernarfon's walled town and castle, a UNESCO World Heritage site, between Snowdonia's mountains and the sea.
If you would prefer to make your own accommodation arrangements, you are more than welcome to do so. Please get in touch with us for more info. You will just need to make your own transfer arrangements to and from the lodge each day in order to take the daily trek transfers to and from the start and finish points.
More info will be provided when you book, though if you have any further questions, please get in touch at info@adventurousewe.co.uk or call 01492 588 069.
Getting there
You will need to make your own way to the hotel based in the historic coastal town of Caernarfon either by car or train. The closest train station is Bangor and it's an approximate 20 minute taxi journey from there. Further information will be provided when you have joined the trek.
During the trek you will be transferred by private vehicle in line with our new operating procedures and current government guidelines.
Food & drinks
3 breakfasts and 3 packed lunches are included in your Snowdonia 7 Summits Winter Trek. These are all home-made and using local produce where possible.
If you have any dietary requirements, please let us know one month prior to your trek start date. Please note, dinner is not provided giving you the chance to eat in a local restaurant of your choice and therefore support the local community. Restaurant recommendations will be provided when you join the trek.
Please also bring your own water bottles or camelbaks/platypus (or similar) and flasks (if you wish to take a hot drink during your trek) and refill in the hotel to avoid the need of purchasing plastic water bottles.
Water-to-go bottles
The impact of single use plastic is having on our landscape, wildlife and oceans, it is now more important than ever that we all make changes in order to help our planet. We may not be a huge global company but we're passionate about playing our part and trying to make a huge difference collectively. Together we can dramatically reduce our consumption of single use plastics and support our responsible travel ethos of 'Take nothing but photos, leave nothing but boot-prints, keep nothing but memories.'
You can make a difference too with taking part in the Snowdonia 7 Summits Winter Trek and purchasing one of these environmentally friendly reusable alternative bottles compared to single-use plastic water bottles. Grab a Water-to-Go bottle through Adventurous Ewe and receive a 15% discount. Even better, Water-to-Go will donate a further 15% to our charity partner, Cool Earth. For more info please visit Adventurous Ewe – Water to Go Partnership or email us at info@adventurousewe.co.uk to buy your Water-To-Go bottle.
Loos
Naturally there are bathroom facilities at the hotel however during your trek the facilities will be limited to the great outdoors. If nature calls during this time, please be prepared with biodegradable waste bags (dog poop bags are ideal) and biodegradable loo paper and leave no trace of your paper items. Thank ewe.
Payment info
Deposit: £75 per person is required on booking onto the Snowdonia 7 Summits Winter Trek.
Remaining balance: £410 per person is due for payment no later than 4 weeks prior to your trek start date.
Monthly payment plan
A monthly payment plan can be arranged for this trip. Please contact us for more information or to set up your plan. Simply email info@adventurousewe.co.uk or call 01492 588 069.
Free date changes
You can change your departure to a later date. We've added extra 2021 and 2022 dates to choose from, or you can request a new date that works for you or organise your own private bubble trip.
Flexible deposit
You can transfer your deposit to another available trip or hold your deposit on file indefinitely.
Convert it to credit
Save it for later. This, along with all payments, is 100% financially protected.
Get a refund
Being a small family business, we pride ourselves on personalised customer service and offer full
Cancelled trips
If you book on a trip that we are forced to cancel due to the pandemic, you will have the option to join another trip at a later departure with no admin costs or receive a full refund or credit note (excluding flights or insurance payments as these have their own booking conditions directly with the supplier).and prompt refunds.
If you choose to cancel your trip within 30 days of departure despite no official advice against travel
We respect your decision if you no longer wish to travel regardless of the destination or official advice. If you choose to cancel your trip, we will happily make those arrangements for you though please note, if there is no F&CO advice against travel, our standard cancellation terms will apply.
Fundraising
You are welcome to fundraise for a charity of your choice if you wish to do so. All sponsorship monies are to be sent directly to your chosen charity.
Book with confidence
As well as carefully crafting amazing and meaningful adventures across the planet, we've made booking them as flexible, safe and as simple as possible. With the ongoing impact of COVID-19, we've made a number of updates to our safety guidelines, flexible booking conditions and trip departures. For more info, please our Book and Travel with Confidence page.
Stay connected
All your trek info will be sent to you through a travel mobile app which is free to download. You will receive an email from Adventurous Ewe with your personalised log in code for this app. For the latest and greatest from the land of adventures, simply follow us at:
Facebook: @adventurousewe
Instagram: adventurousewe
Twitter: @adventurousewe
LinkedIn: Adventurous-Ewe-Ltd
Youtube: Adventurous Ewe
You're most welcome to use the hashtags #ewecandoit #thisflockrock #adventurousewe
Emergencies
Your Adventurous Ewe Leader/s and Crew will have a mobile phones and radios communications in case of emergencies. The team are trained to deal with these situations. Please ensure you listen to your Leader during these times and refrain from putting any posts on social media during this time. Should you find yourself unable to continue with the trek, your Leader and crew will make the necessary arrangements. Depending on the situation, you will be met by the support vehicle (depending on access) and you will be transferred back to your accommodation or nearby medical facility as required. Your Emergency Contact at Adventurous Ewe HQ is Jim Young on 07747 346 588.
Our charity partner-sheeps
Snowdonia Society
Locally, we help support the vital work of the Snowdonia Society who since 1967 continues to work tirelessly to ensure that Snowdonia is well-protected, well-managed and enjoyed by all.
Cool Earth
We are very excited to have teamed up with leading climate change charity Cool Earth, who share our mission to protect the planet's precious environment in a sustainable manner. The future of rainforest protection is where everyone makes a difference to climate change! We invest a % of our revenue into supporting critical conservation projects around the world through Cool Earth. You are most welcome to help make a difference too by sparing a few pennies. Please give what you can and help save the world's rainforests today by visiting Cool Earth Just £2.50 will save 10 trees and lock up 10 tonnes of CO2. Together, we can all make a difference in helping preserve this precious and wonderful planet. Thank-ewe
What's Included?
Pre-trip:
Personalised trip support in the lead up to your Snowdonia 7 Summits Winter Trek from Adventurous Ewe
Training guide
Discount on personal kit from Joe Brown, The Climber's Shop and ashmei athletic apparel both in shop and online
Trip info supplied via our free mobile travel app, Vamoos
Public liability insurance
Risk assessment and emergency management planning.
During your trip:
Safety briefing
Certified Local Mountain Leaders with winter trekking experience
Vehicle transfers as outlined in your itinerary
Full back-up support including first-aid qualified staff and first-aid supplies
Entrance permission to national parks including council fees
Three nights accommodation in local hotel
Welsh breakfast x 3
Home-made packed lunches x 3
Filling of water bottle/s and thermos (please provide your own water bottles and thermos for refilling)
All challenge management and hygienic cleaning procedures of equipment before, during and post trek.
What's Not Included?
Clothing and equipment listed on your Kit List
Water bottle/s and/or camelbaks/platypus and thermos for filling and refilling. Please provide your own bottles as this is to minimise the use of plastic bottles
Personal snacks and electrolytes
Evening meals
Personal spending money
Any costs incurred with retiring from the event early ie. hotel accommodation, change of travel tickets, any medical costs, etc.
If you are travelling by train, please ensure you book an open-ended ticket for your return journey.
Sustainable and Responsible Travel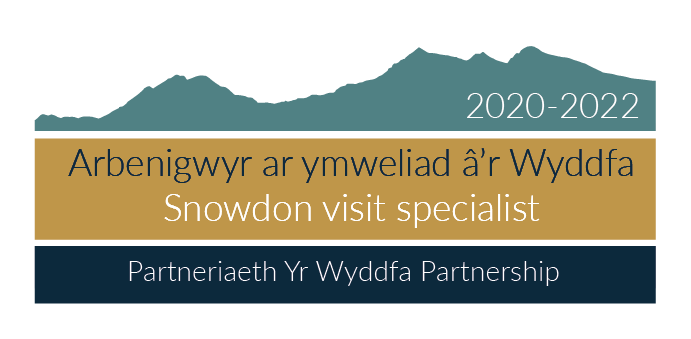 As part of the Snowdonia National Park Authority Partneriaeth Yr Wyddfa Partnership, we are an accredited Snowdon Visit Specialist. We are also a corporate partner of the Snowdonia Society and help support their vital work who since 1967 continue to work tirelessly to ensure that Snowdonia is well-protected, well-managed and enjoyed by all.
Ethical Trip Management
Some of the ethical event management features embedded in our Snowdonia 7 Summits Winter Trek are:
Use local leaders who are qualified Mountain Leaders and experienced with winter trekking
Use local family owned hotel
Sufficient time allocated in the itinerary to give you the opportunity to enjoy tea & cake in local cafes after a day in the mountains
Evening meals enjoyed in local restaurants
Our lunch packs are home-made by local providers using local produce wherever possible and also do not contain any plastic packaging
Minimising plastic waste wherever possible as we refill water bottles and flasks
We do not use markers on mountain routes
Where possible our Leaders and Crew collect any rubbish that is seen
We recycle and reuse wherever possible
We always operate by our 'Leave no travel ethos' – Take nothing but photos, leave nothing but boot-prints, keep nothing but memories.
By taking part in this trip you are helping us support the climate change charity, Cool Earth, and local environmental charity, the Snowdonia Society.
Duration
3 days & 3 nights
Difficulty