Overview
Map & Itinerary
Essential Info
Pics & Vids
Dates & Prices
Highlights
Experience the cinematic landscapes on this 4-day trekking journey in Southern Iceland
Marvel at endless black deserts, rough volcanic mountain ranges and glistening glaciers of the majestic Icelandic Highlands
Every day is unique as the fire and ice trail leads through landscapes spanning gorges, glaciers and multi-coloured rhyolite mountains
Pull up a front-row seat to the soft pinkish hue of the midnight sun whilst camping amidst diverse landscapes
Learn about the unique Icelandic geology and wonderful folk tales from your local guides
Take on one of National Geographic's "20 Best Hikes in the World"
Immerse yourself in the cyan geothermal warm waters of the Blue Lagoon
Free Water-To-Go Bottle on departure to help eliminate our plastic footprint in Iceland.
Adventurous Ewe is a 'Certified Inspired by Iceland Specialist'.
Overview
Trek Iceland, a vast volcanic landscape where mighty forces shape the earth: geysers gush, mudpots bubble, ice-covered volcanoes rumble and glaciers cut great pathways through the mountains. This is your chance to immerse yourself in 68km journey by foot along the Laugavegur trail from Landmannalaugar to Thorsmörk. Experience the uninhabited wilderness of Iceland discovering the most varied scenery this exceptional country has to offer.
With steam rising from the ground and snowy peaks sparkling in the distance, the cinematic landscape is set for your incredible Iceland trek. You will travel along rugged fields of solid lava covered with thick green moss and patches of snow. Hike across colourful rhyolite hills, icy glaciers, ancient lava fields and desolate highlands. You'll feel the chilling temperatures of crossing glacial rivers to soaking in warm geothermal hot springs along the trail. Enjoy vast campsites and locally cooked meals as the sun hovers low in the sky for hours bringing changing tints to the majestic landscape. Iceland is a photographers and adventurers paradise.
Prepare for a colourful Icelandic adventure. Trek rhyolite hills streaked in orange gravel, pale blue tarns, black sand deserts, exquisite skyscapes of soft pinkish hues, green rolling hills, titanic icy masses of white glacier caps and the hues of azure at the famous Blue Lagoon will be one that you'll treasure for years to come.
The Laugavegur Trail was voted in Nat Geo 20 Best Hikes in the World. Trekking with Adventurous Ewe and not only will you have an incredible and insightful trek, you can take pride in knowing your journey will help continue our support of the leading climate change charity, Cool Earth.
Private bubble groups
If you have a group of over 6 people whether it's family & friends or a private bubble group, please get in touch as we'd be happy to host our Iceland Trek for you between July – September (dependent on accommodation availability). Simply email: info@adventurousewe.co.uk or call 01492 588 069.
Day 1
Flight from UK to Keflavík, Reykjavik Iceland
Flight direct from UK to Reykjavik for the start of your adventure. Flights are not included in your Icelandic Adventure giving you the flexibility to travel from your nearest airport or extend your stay in Iceland if you wish. We will provide you with the recommended flights for this trip in order for you to take up the airport transfers included in Iceland. Alternately, you can book your flights through our flight agent. Return flights from the UK (LHR, STN or LTN) to Keflavík, Reykjavik (KEF). Flights operated by British Airways, Easy Jet, SAS or IcelandAir and cost between £150pp – £280 return. You will then be transferred to camp passing through areas of active volcanoes to arrive in Landmannahellir with dinner followed by briefing.
Included:
Transfer from Keflavík, Reykjavik (KEF) airport to Landmannahellir camp
Camping equipment and tents
Dinner
Day 2
Trek from Landmannahellir to Landmannalaugar (13.5kms)
Full of excitement with being immersed in a totally new environment, your trek begins one of the world's great hikes – the Laugavegur Trail. From Landmannahellir (590m) to Landmannalaugar (575m) your trail winds past lakes and the magnificent Domadalslava lava fields. Enroute the views of Lodmundur, a table mountain formed by a volcanic eruption, are amazing. The trail continues through grassy meadows, between rocky peaks and into stunning gorges making way towards the multi-coloured mountains of Landmannalaugar. Tonight you can enjoy a relaxing soak in the hot springs for which this area is known. Overnight camp surrounded by nature at its wildest.
Trek details:
Distance: 13.5kms
Approx time: 6 hours
Included:
Local guides and support crew
Camping equipment and tents
Breakfast, lunch and dinner
Day 3
Trek from Landmannalaugar to Álftavatn (25kms)
Today sees your longest and toughest day. From Landmannalaugar (575m) the trail traverses the ancient lava field of Laugahraun, formed in 1477. It's an area of much geothermal activity with steaming vents and bubbling hot springs. The route then crosses over the Hrafntinnusker plateau at 1000m. From this vantage point the views are spectacular with rugged mountains dominating the skyline. The surrounding area is full of ravines, as rivers easily cut through the soft rock. Climbing for most of the morning with a height gain for 500m in 12km, you may find yourself crossing snowfields left over from the long Icelandic winter. From the hut at Hrafntinnusker the trail descends over the lava slopes of Reykjafjoll. As the afternoon progresses the landscape changes considerably. Behind the land is barren with colourful rhyolite mountains but in front are dark tuff mountains and glaciers. Continuing on flatter terrain to the Álftavatn Valley you will reach camp which is idyllically located by the lake at 537m.
Trek details:
Distance: 25kms
Approx time: 9 hours
Included:
Local guides and support crew
Camping equipment and tents
Breakfast, lunch and dinner
Day 4
Trek from Álftavatn to Emstrur (15kms)
Leaving the colourful rhyolite landscape in your tracks, the route journeys into the glacial areas and fast running streams of the Myradalsjokull Icecap. Here is probably the most intrepid part of your trek with wading through the ice-cold streams in Bláfjallakvisi. After a few short climbs and descents you'll reach an extraordinary desolate and surreal landscape – a black volcanic plain devoid of vegetation. Moving through this mesmerising landscape you'll encounter the raging Kaldaklofskvisi river with heading towards the deep canyon of the Markarfljot river. Tonights camp is next to the Emstrur hut near the river.
Trek details:
Distance: 15kms
Approx time: 7 hours
Included:
Local guides and support crew
Camping equipment and tents
Breakfast, lunch and dinner
Day 5
Trek from Emstrur to Thorsmörk (15kms)
Your final days trek sees you off along the Markarfljot canyon which is well over 100m deep, heading in and out of small valleys. As the trail draws closer to Thorsmörk the landscape becomes more green and wooded. It is a stark contrast to the barren lava flows encountered earlier in the trek. Three dramatic glaciers preside over the valley: Mýrdalsjökull, Eyjafjallajökull and Tindafjallajökull (jökull means glacier in Icelandic). With a final river crossing at the Pronga River, the trail descends leading to the finish line in Thorsmörk. After some well deserved celebrations you'll be transferred back to Reykjavik (2 ½ hours) by 4×4 bus with views of the glacial rivers as you travel overland to the main road. In the evening you'll have the chance to enjoy a celebration dinner in a great restaurant in down town Reykjavik and overnight in a local hostel.
Trek details:
Distance: 15kms
Approx time: 7 hours
Included:
Local guides and support crew
Hostel accommodation
Breakfast, lunch and dinner
Day 6
Reykjavik to UK
In the morning there is time for some optional excursions such as whale watching or a tour to the Blue Lagoon. In the afternoon you'll be transferred to Keflavik for your return flight back to the UK with a huge sense of achievement having just completed one of the world's great treks.
Included:
Transfers
Breakfast
Departure & Return
Duration
Availability
Deposit
Total Cost*

(*Total cost includes the deposit)

Jun 27, 2022
Jul 02, 2022
6 Days
Available
£175.00
£1325.00
Book Now
Aug 08, 2022
Aug 13, 2022
6 Days
Available
£175.00
£1325.00
Book Now
Jun 19, 2023
Jun 24, 2023
6 Days
Available
£175.00
£1325.00
Book Now
Aug 21, 2023
Aug 26, 2023
6 Days
Available
£175.00
£1325.00
Book Now
What's Included?
Pre-trip:
Personalised trip support in the lead up to your trek from Adventurous Ewe
Training guide
Discount on personal kit from Joe Brown, The Climber's Shop and ashmei athletic apparel both in shop and online
Trip info supplied via our free mobile travel app, Vamoos
Digital trip briefing sent before your arrival in Iceland
Financial protection of your booking
Public liability insurance
Risk assessment and emergency management planning
Monthly payment plan available.
During your trip:
Free Adventurous Ewe Water-to-Go Bottle
Safety briefing
Certified Local Icelandic Mountain Leader
UK Mountain Leader for groups over 12 people
Local ground crew and kitchen crew
Landrover support vehicles and all camping equipment
Camping tents
Vehicle transfers as outlined in your itinerary
Full back-up support including first-aid qualified staff and first-aid supplies
4 nights camping accommodation
1 night hostel accommodation
All meals as outlined in your itinerary
Filling of water bottle/s and thermos (please provide your own water bottles and thermos for refilling)
All trip management and hygienic cleaning procedures of equipment before, during and post trek.
What's Not Included?
Return flights from UK to Reykjavik Iceland. These can be booked via our flight operator (ATOL protected)
Travel insurance (mandatory)
Clothing and equipment listed on your Kit List
Water bottle/s and/or camelbaks/platypus and thermos for filling and refilling. Please provide your own bottles as this is to minimise the use of plastic bottles
Lunch on day 1 and day 6 (whilst travelling)
Personal snacks and electrolytes
Personal spending money
Any costs incurred with retiring from the trip early ie. hotel accommodation, change of travel tickets, any medical costs, etc
Tips for local crew.
Sustainable and Responsible Travel
Impressively, Iceland has been described as a world leader in addressing pollution control and natural resource management challenges. Almost one hundred sites, with a total area of 2,000,000 ha (including glaciers and marine areas) are protected in Iceland under the Nature Conservation Act. In addition, 85% of Iceland's primary energy needs are met with indigenous renewable resources, meaning Iceland is at the forefront of sustainable energy production.
Almost all electricity in Iceland is produced using renewable energy sources, with 73% of electricity provided by hydropower plants and 26.8% from geothermal energy, accounting for over 99% of total electricity consumption in Iceland.
This is just one of the many reasons we are so passionate with encouraging adventure tourism to Iceland given their level of care and diligence in helping the planet with such impressive renewable energy usage.
Some of the responsible travel features embedded in our Iceland Trek are:
Using local crew who are qualified Guides, support crew and drivers who are all extremely knowledgeable and experienced
Staying in locally owned accommodation wherever possible
Minimising plastic waste wherever possible with providing a complimentary Water-To-Go bottle on departure
Careful management of energy and water resources on the trip
Offering real life experiences which promote cross-cultural understanding with using local guides and crew
Operating with a 'leave no trace' ethos – take only memories, leave only footprints
Adventurous Ewe will make a financial contribution to the environmental charity, Cool Earth, as part of our business partnership.
Together, we can all make a difference in helping preserve this precious and wonderful planet.
We are also proud to be a 'Certified Inspired by Iceland Specialist' in order to create and provide ethical itineraries and a far more indepth and meaningful service to you.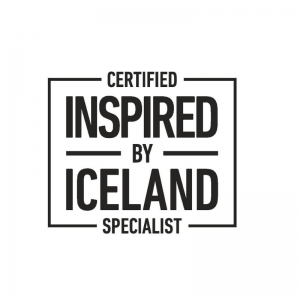 Duration
6 days & 5 nights
Difficulty
What an incredibly special place. Iceland, you're amazing! The scenery was epic and ever-changing and our local guide was a fountain of geological knowledge and intriguing Icelandic folk tales. The days were long but the landscape was so unique, vast and colourful. A big thanks Adventurous Ewe. I would definitely recommend it!
Jane